In this blog post, I am going to tell you how to survive your quinceanera in super hot weather. Because we are not letting the hot weather stop you from enjoying your Quinceanera!
Hello!
My name is Paloma, I am a Quinceanera photographer. Welcome to my blog where you are going to learn everything about a quinceanera and how to plan one.
If your Quinceanera is going to be in the middle of the summer on a super, super, super hot day.
Read this blog because I'm gonna give you some tips on how to keep your guests and yourself cool and comfy on your Quinceanera day.
Get your iced coffee and let's get started!
Recommendations to survive your Quinceanera in super hot weather
1 Recommendation to stay cool on your Quinceanera day
Stay Hydrated
First thing is going to be stay hydrated, keep water always available for your guests your damas your Chambelanes and for yourself.
Especially if there are parts of your Quinceanera that are happening outdoors and even if it's not happening outdoors.
I have photographed Quinceaneras where the church gets so hot. Because there are some places that are really old and they don't have AC and there are other places where they have it but they just don't turn it on, I don't know why.
There have been Quinceaneras where we need to stop because they starts feeling bad. And, this had happened to not only Quinceanera but also Brides. One time the groom.
And they need to be moved to a fresh cool area because the church got so, so super hot.
I have also seen people hand out fans. And at the end of a mass I have seen people handing out small water bottles personalized with the Quinceanera's name and colors
I have seen this happen too at a photo shoot.
As an example, I'm here in San Diego and we do the photo shoot at Balboa Park really often. You can see some examples here.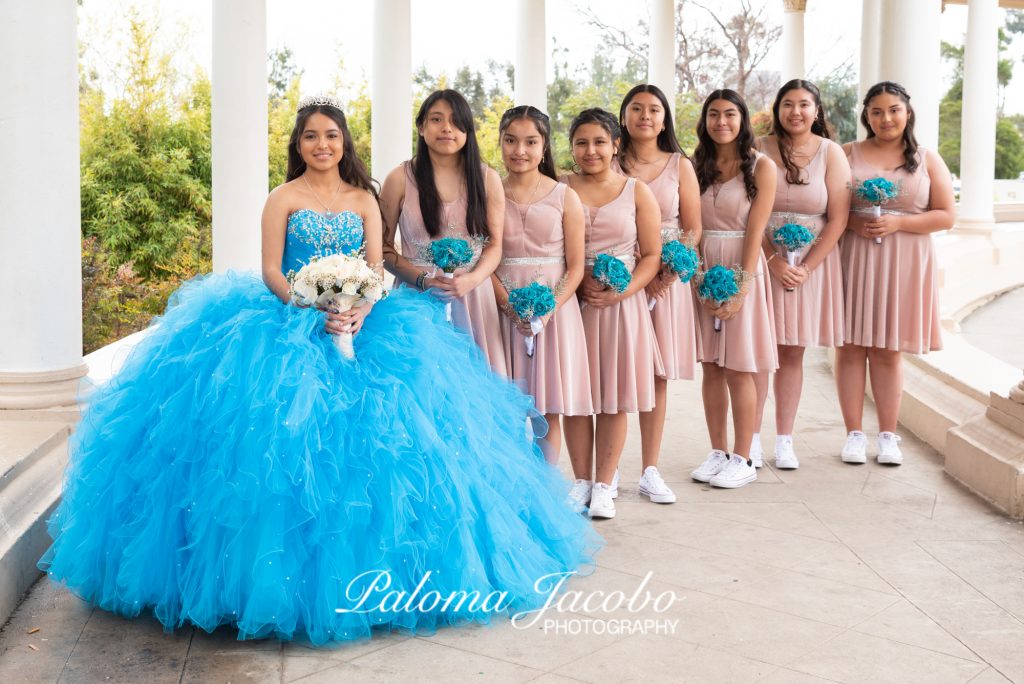 And, sometimes from the spot where the limo drops them off it's like a 10 minute walk to a different spot at the park.
When you are walking this in a 90 degree weather, it can get really, really hot.
So at one of the photo shoots I saw one of the cousins was carrying a backpack and at the end of the photo shoot. Before they had to walk back to the limo. He was handing out the waters.
---
Another great idea is to keep water and drinks always available in the the party bus or in the limo.
That way after the mass when you get in the limo to go to the photo shoot. You guys can have some water. And, after the photo shoot when you are driving around, before getting to the reception. You guys can have some more.
So always have some water, some drinks available and snackies.
2 Recommendation to survive your Quinceanera in super hot weather
Use sunscreen
Do not skip this on your Quinceanera day. Especially if you're going to be outdoors, we want to take care of your beautiful beautiful skin so make sure to apply sunscreen. Here is an example.
I know you will be wearing makeup so ask your makeup artist. What she recommends for you.
If you are a makeup artist and you have a recommendation please let us know in the comments.
3 Tip for a hot weather Quinceanera
Keep in mind the outfits
You will also want to keep in mind the outfits for the quinceanera day. Including your Damas and your chambelanes, even for yourself.
If your Quinceanera is going to be in the middle of the summer, try and choose a light fabric for your dress.
Because keep in mind, those dresses are really, really, heavy. You are going to be wearing an underskirt, so it's going to get really hot.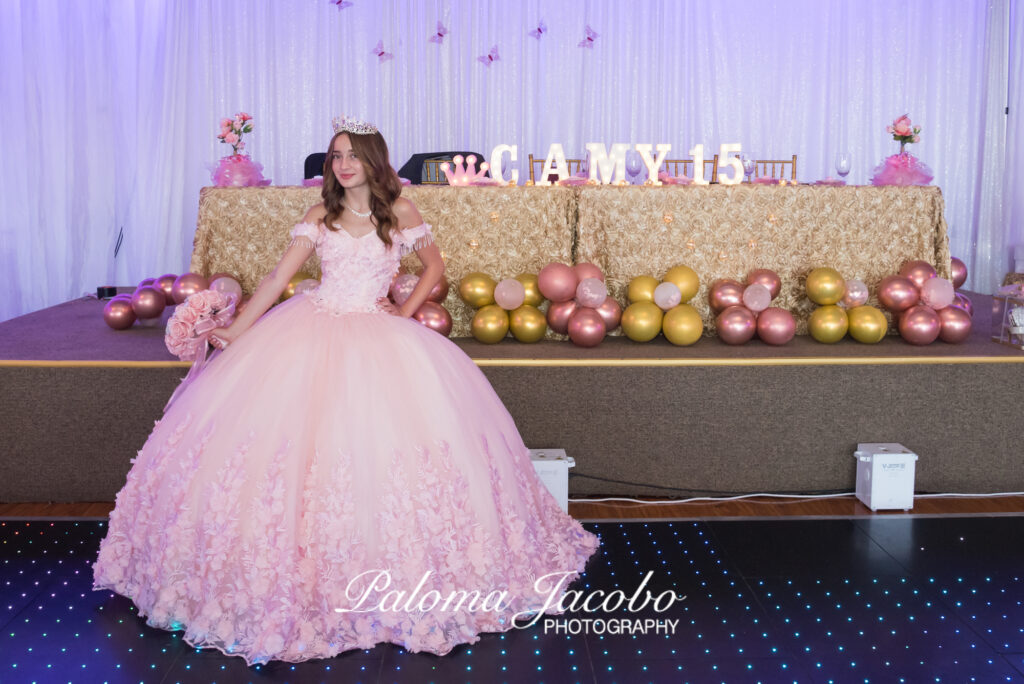 Quinceanera Damas outfits on a hot day
For the Damas also try choosing a light fabric, so it's like flowy and light and fresh for the day of the Quinceanera.
I have mentioned this before, but you can also look at bridesmaid stores and you can choose a short dress for the Damas.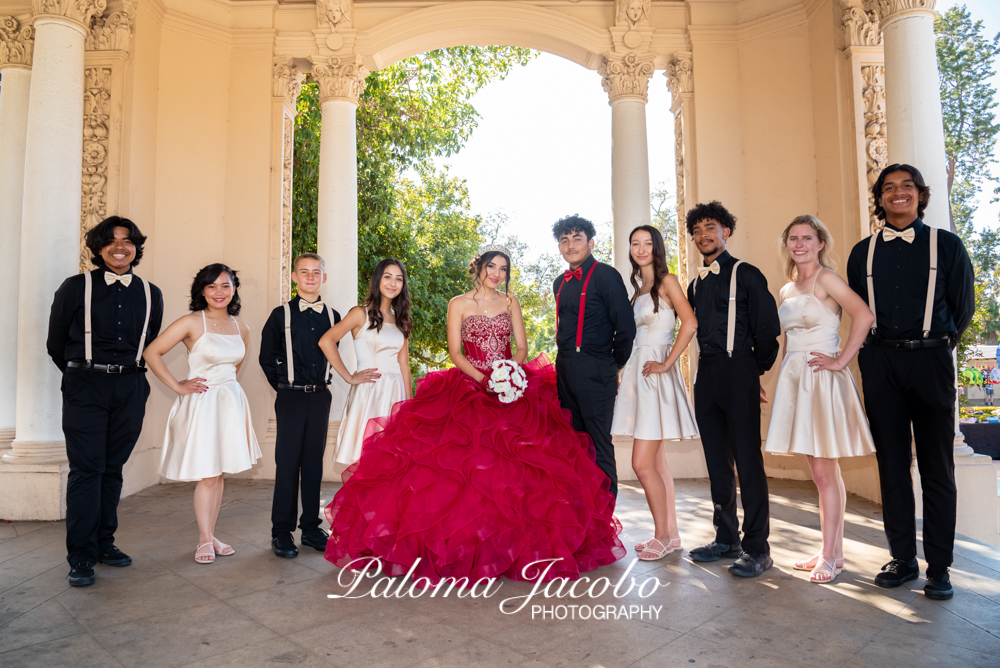 Quinceanera Chambelanes outfits for a hot day
Now the poor Chambelanes, I feel like they are the ones who suffer the most when it comes to outfits.
Because they usually wear: long sleeves, vest, a jacket and also they had to be tied like all the way up with the bow.
I cannot tell you how much this poor boys were sweating, keep this in mind.
Don't have them wearing the jacket for all of the pictures, maybe for some of the pictures at the reception when there is AC and it's all nice and fresh.
Then maybe they can wear the jacket but for the rest of the day. I know they have to be some sort kind of formal. But if you can give them a little bit of freedom and don't make them wear the jacket when we are taking your pictures in a 90 degree weather. That would be ideal!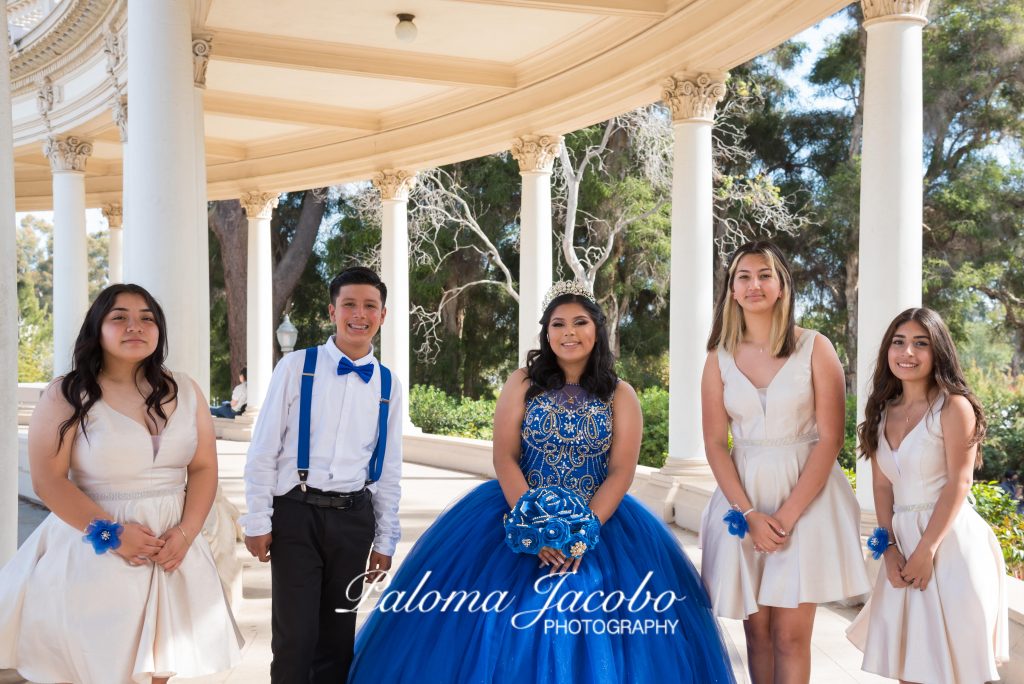 4 Recommendation on how to survive your quinceanera in super hot weather
Photo Shoots
Another recommendation is to schedule your photo shoots early in the morning or later in the day.
This is not going to be possible for the day of your quinceanera because you have other things to do. But for all the pre photo shoots if you can do it, this is also ideal.
Those are also the absolute best times for natural lighting: right after sunrise and right before sunset.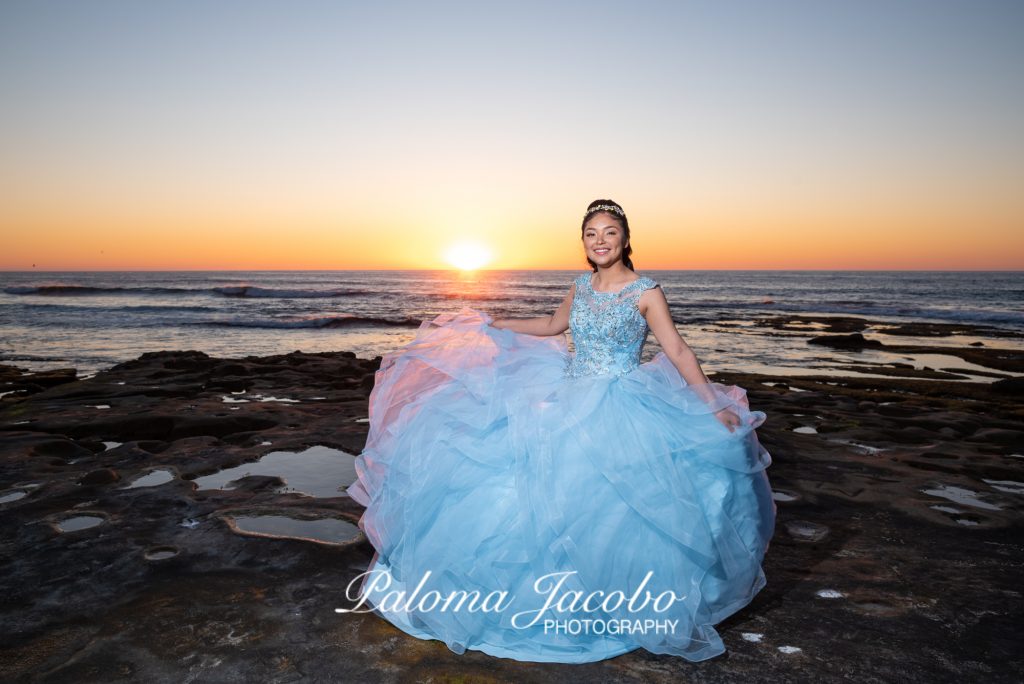 Avoid that middle of the day for your photo shoots.
5 Recommendation for a Quinceanera in hot weather
Provide tents
If your Quinceanera its going to be outdoors or there is anything happening outdoors provide tents or some sort of shade, even umbrellas can be a huge game changer.
For example if we are having your ceremony outside. Because, the venue has this space and it's beautiful.
But you are having your mass at noon and it's going to be 80 something on that day. Plan on providing tents to give your guests some sort of shade. Also have water available.
And if you are having the ceremony outdoors, talk to the priest beforehand. Let him know, ask him to make the ceremony shorter.
Because nobody wants to sit outside under the sun when it's super super hot.
Thankfully the outdoor ceremonies that I have photographed have lasted around 15-20 minutes.
6 Recommendation to survive your Quinces in hot weather
Hot and humid weather
Finally if it's gonna be hot and humid, you are probably going to be sweating a little bit more than usual and your hair is probably going to get frizzy sooner than if we were working in a different environment.
But don't worry, for this I do recommend you to bring a towel. Maybe not for your face because we don't want to ruin your makeup. And, once again your makeup artist will definitely have recommendations on this.
The Chambelanes will also sweat so much. Those poor boys, and those long sleeves, and jackets. So a towel to dry off the swear will be very helpful.
For your hair if it's humid and it gets frizzy, bring pocket size hairspray. It is going to be very, very helpful to fix up and do any touch-ups on your hair. Something like this.
It's actually one of the items I recommend to include in the gift bags for your court for the day of your Quinceanera. Click here to watch the video.
---
Now you have some recommendations and some ideas on how to stay cool and comfy on a super hot Quinceanera day.
Because we are not going to let the hot weather stop you from enjoying your quinceanera!
Thank you so much for stopping by and I hope you have a wonderful Quinceanera!