This Quinceanera Party in San Diego was so beautiful!
You will see pictures of the whole Quinceanera day, from getting ready to Ceremony at Our Savior's Lutheran Church, Photo shoot at Balboa Park in and XV Party at Boulevard Hall in San Diego.
You can also watch the Quinceanera Party video on the Youtube channel: https://youtu.be/MdHTUfbieKA
GETTING READY
We started the day at the Quinceanera's house where we photographed her dress, shoes, bouquet and everything that she was going to wear that day.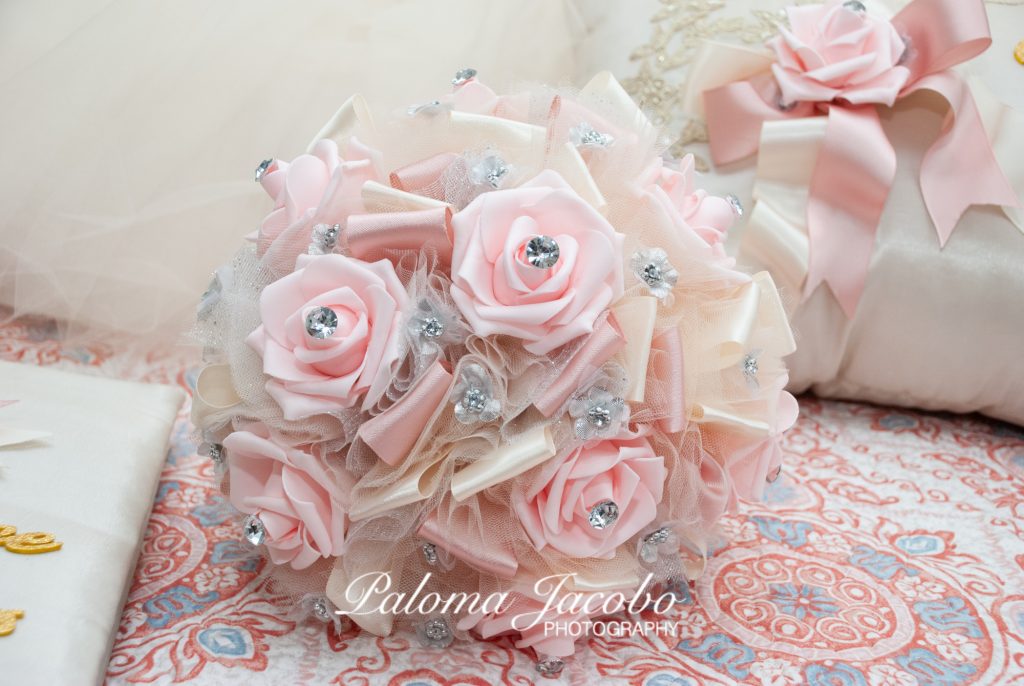 I like taking a picture of the Quinceanera wearing regular clothes and just admiring her gorgeous dress.
Here is the Quinceanera all dressed up and walking out of her bedroom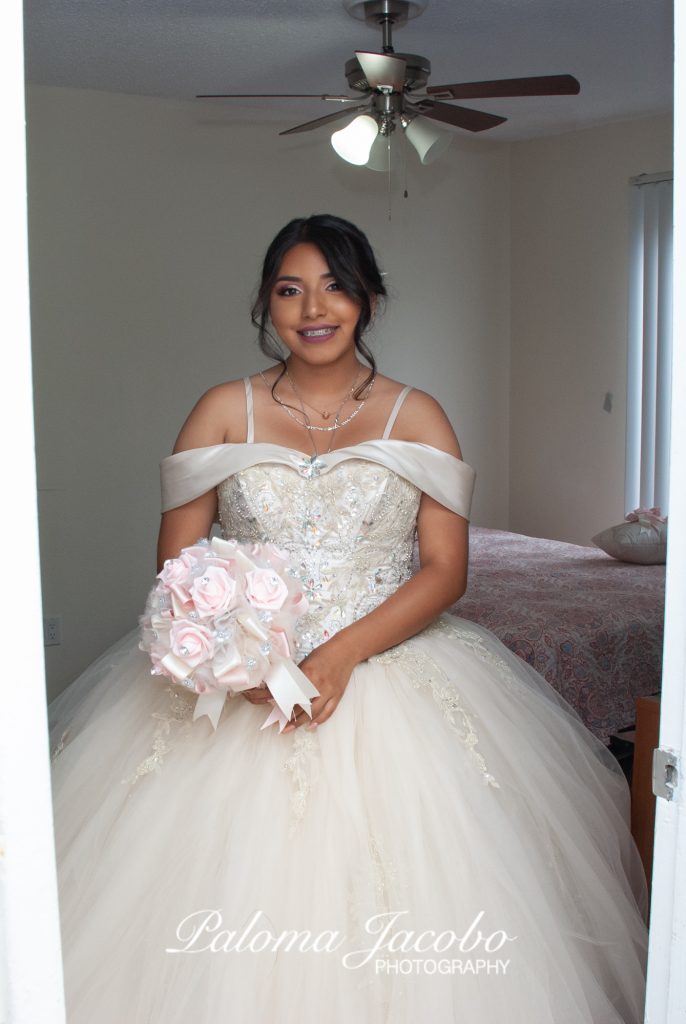 CEREMONY
The Ceremony was held at Our Savior's Lutheran Church, this is a beautiful and cozy church located in the heart of San Diego, here you can see the altar setup.
Here you can see more pictures of the Ceremony: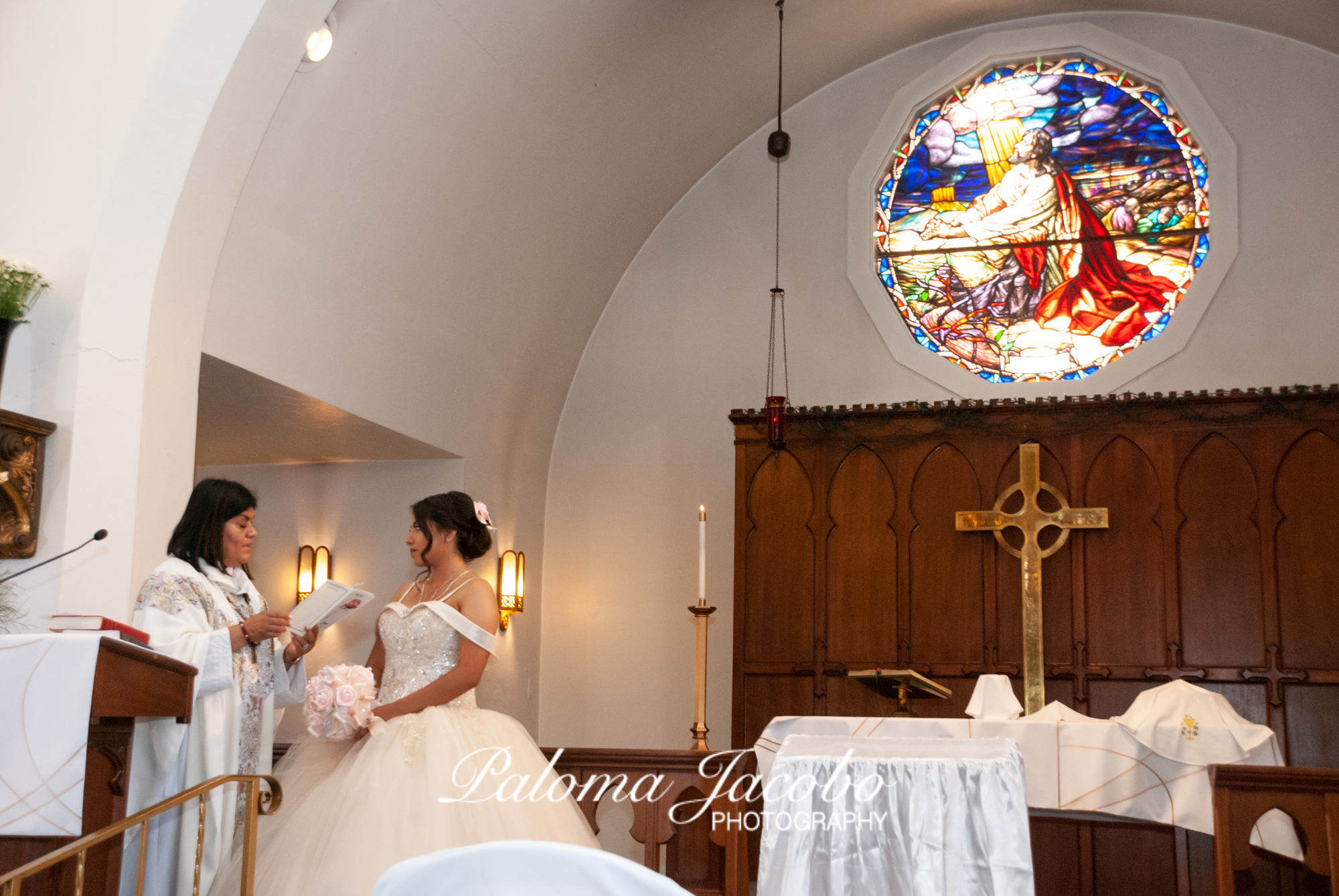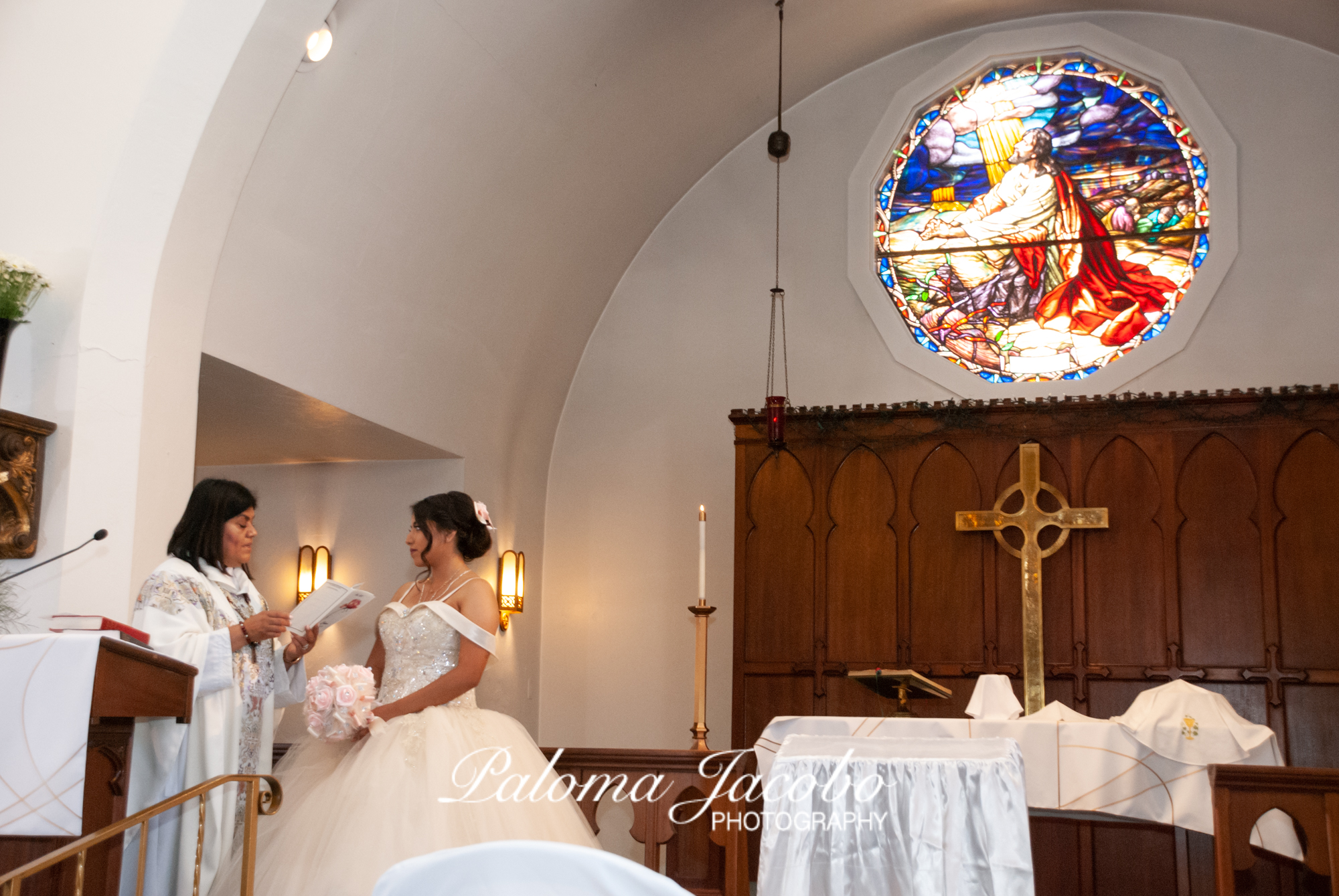 PHOTO SHOOT – BALBOA PARK
It is very usual to do a photo shoot after the Ceremony. For this  photo shoot we went to Balboa Park and this Quinceanera arrived in a white Hummer Limo by A Plus Limos: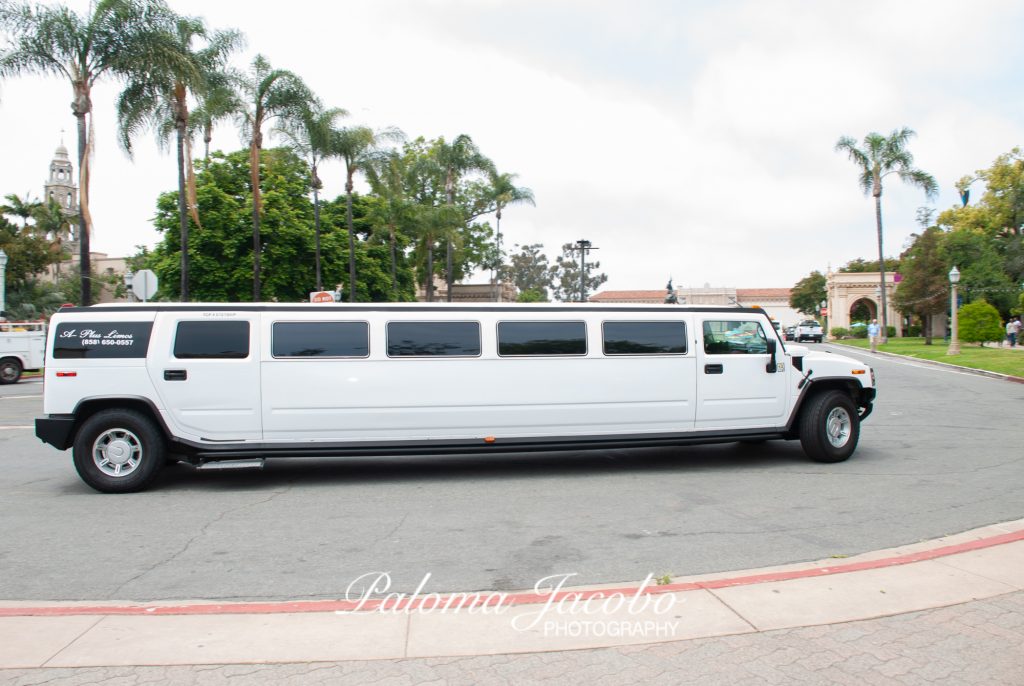 I absolutely love Balboa Park, it is such a beautiful location in the heart of the city. There are amazing gardens, buildings and so many spots that we can use. We started at the Organ Pavilion, you can see some pictures here: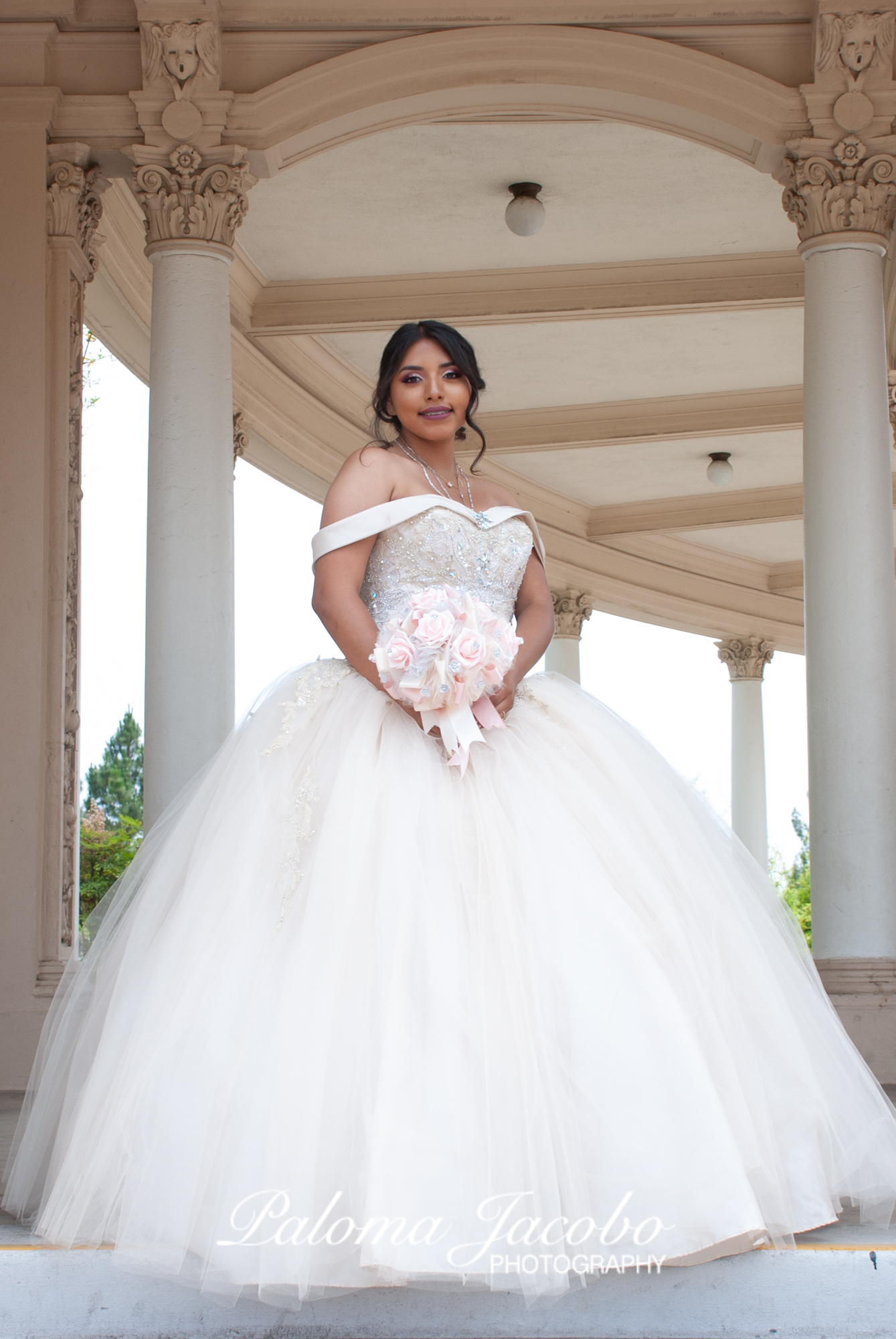 After that we walked to the Lily pond, this is a great background for pictures. It was spring so we had lots of flowers, look how amazing she looks!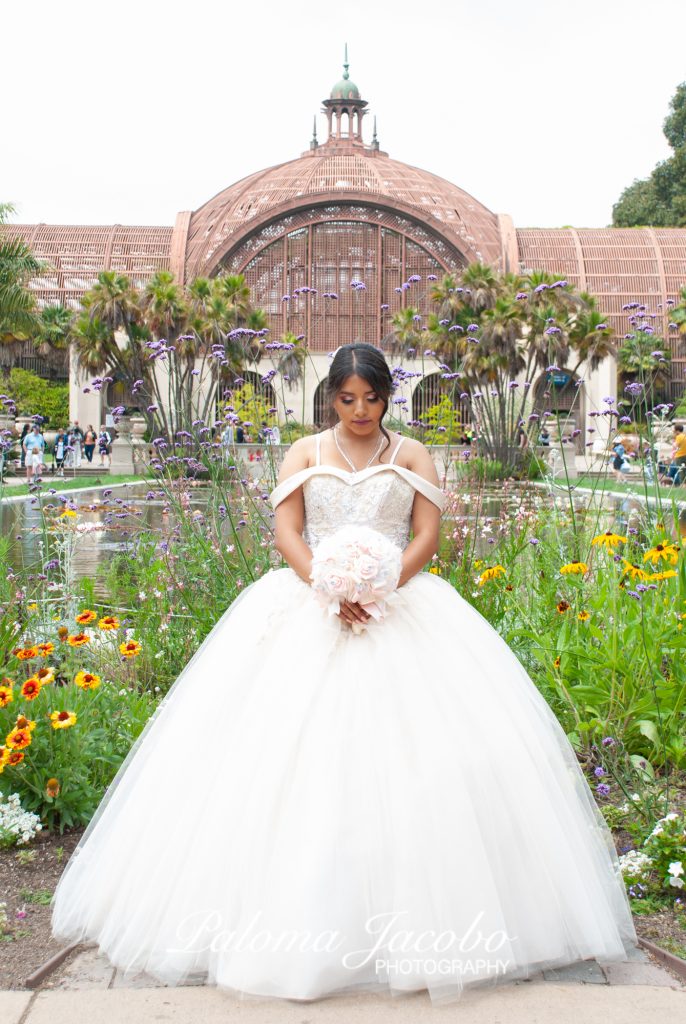 Here you can see a picture of the Quinceanera with her 6 Chambelanes.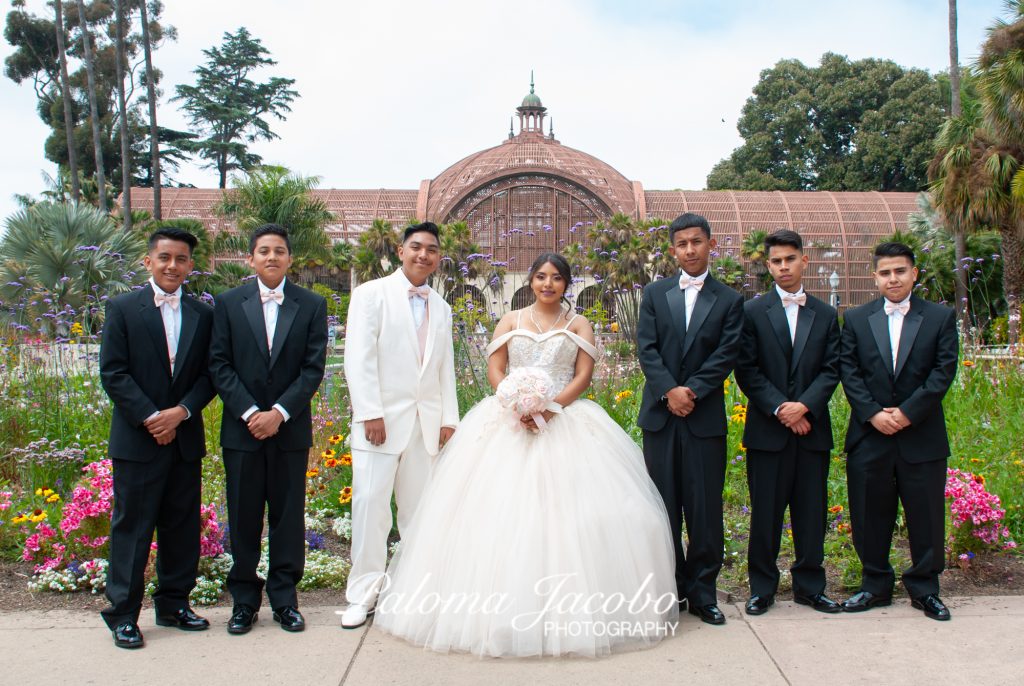 I really like taking pictures when the Quinceaneras are not expecting it, here she is walking from spot to spot but the view was so beautiful with the the museum of us tower and it's just very representative of Balboa Park.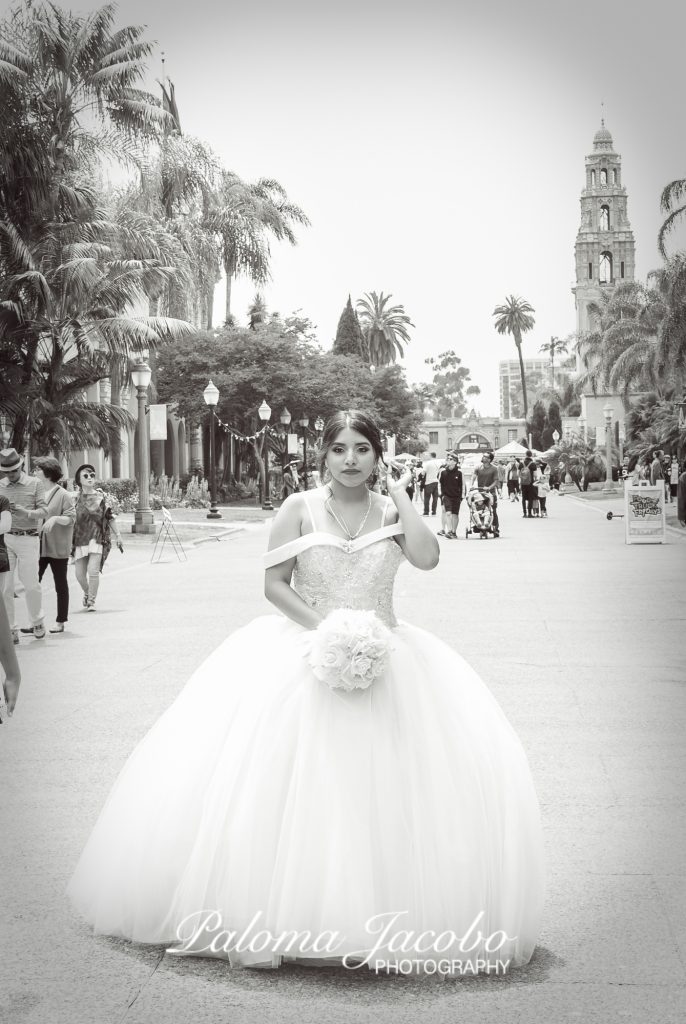 To finalize the photo shoot we walked to the big fountain by the Fleet Science Center, this is a great spot for pictures too, lighting on this spring day was absolutely perfect.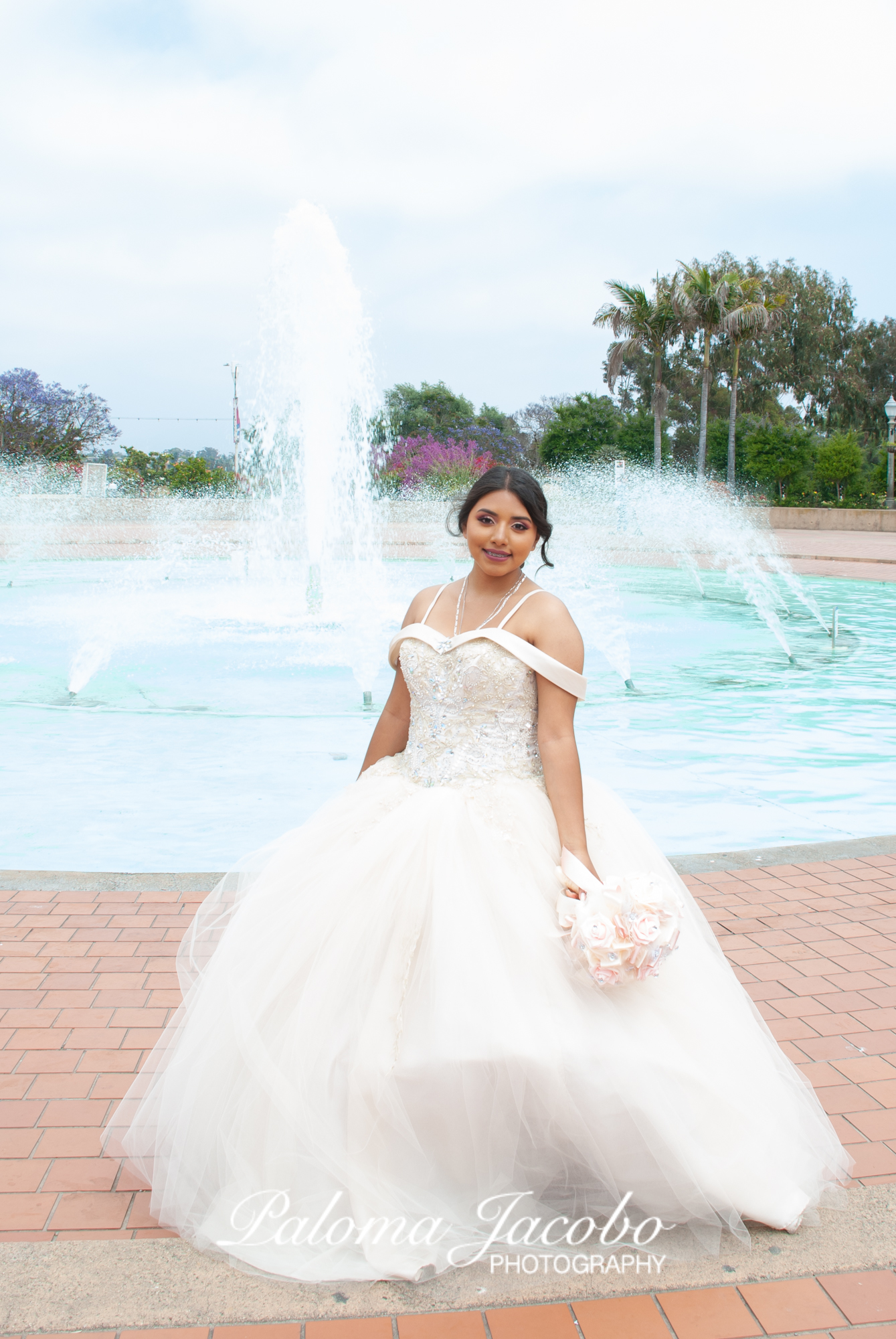 If you are looking for the best places to take your Quinceanera pictures click here to check out the blog post: http://blog.palomajacobophotography.com/top-5-locations-for-a-quinceanera-photo-shoot-in-san-diego
Or click here to watch the Video.
QUINCEANERA PARTY – BOULEVARD HALL
Like I mentioned before this Quince party was held at Boulevard Hall in San Diego.
The entrance was decorated with a big green wall and the Quinceanera had her very own version of a guestbook, it was a big wooden and crystal jar with wooden small hearts. Guests could sign the hearts and put them in the jar, check out the picture: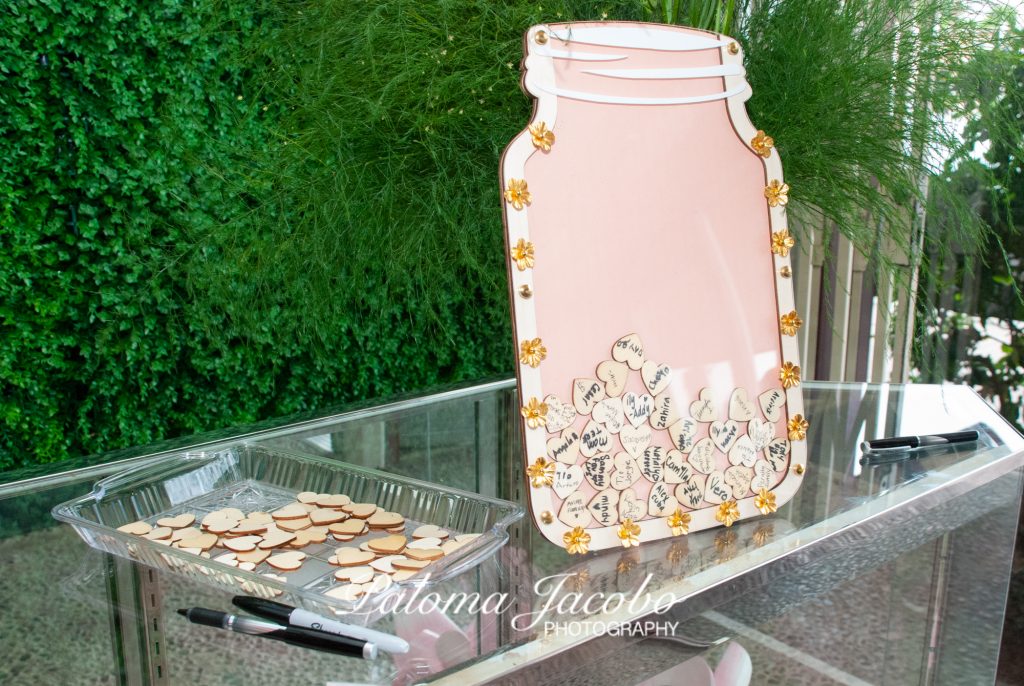 This amazing backdrop was setup at the entrance too, perfectly decorated with golden pick and pale pink flowers.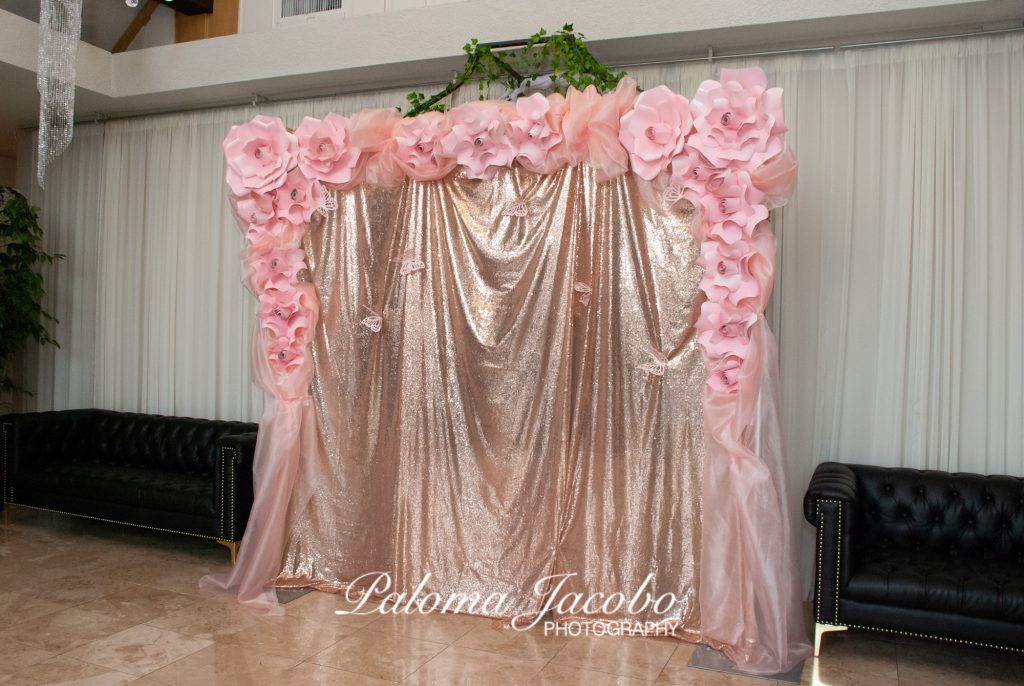 The whole room was decorated with the Quinceanera colors: soft pink, gold and ivory.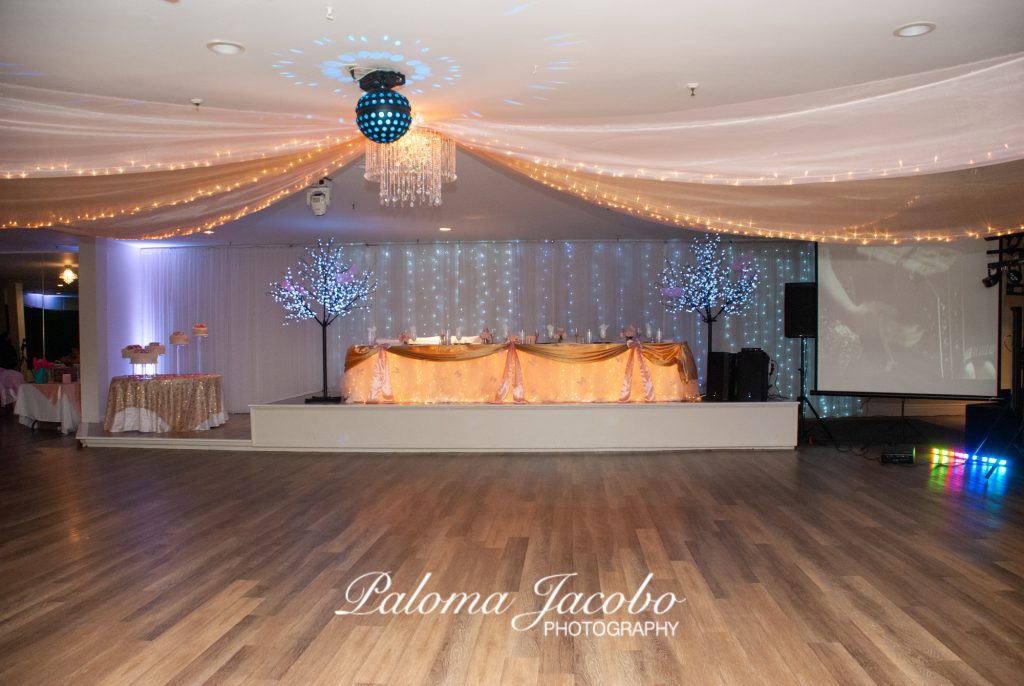 This is the super cute floral piece setup at the main table, they had a couple of those spread on the table.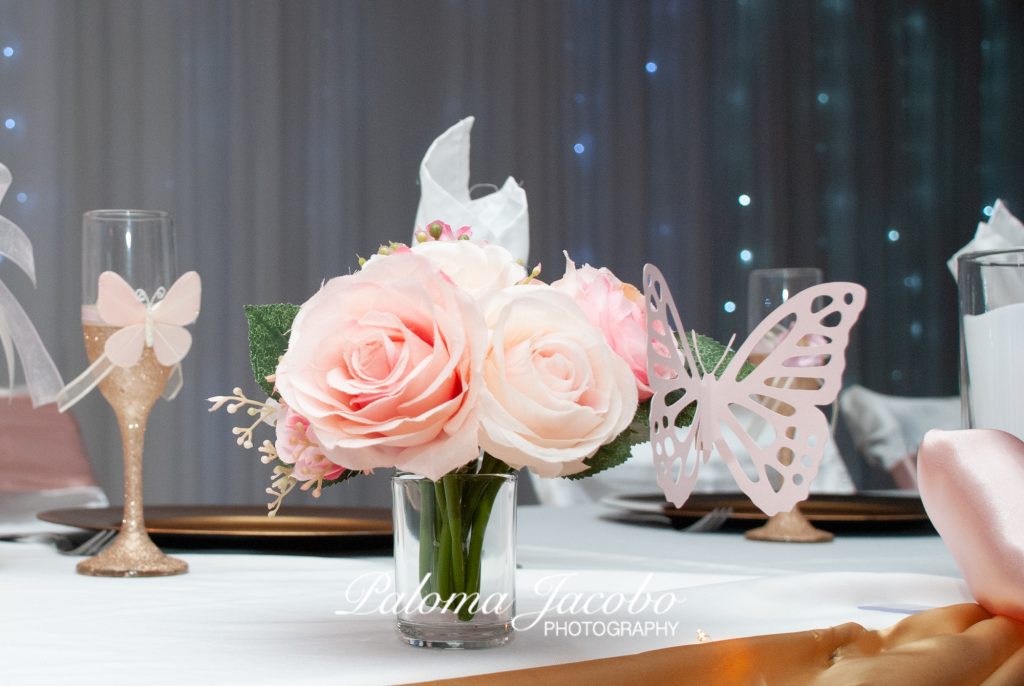 And look at this amazing cake!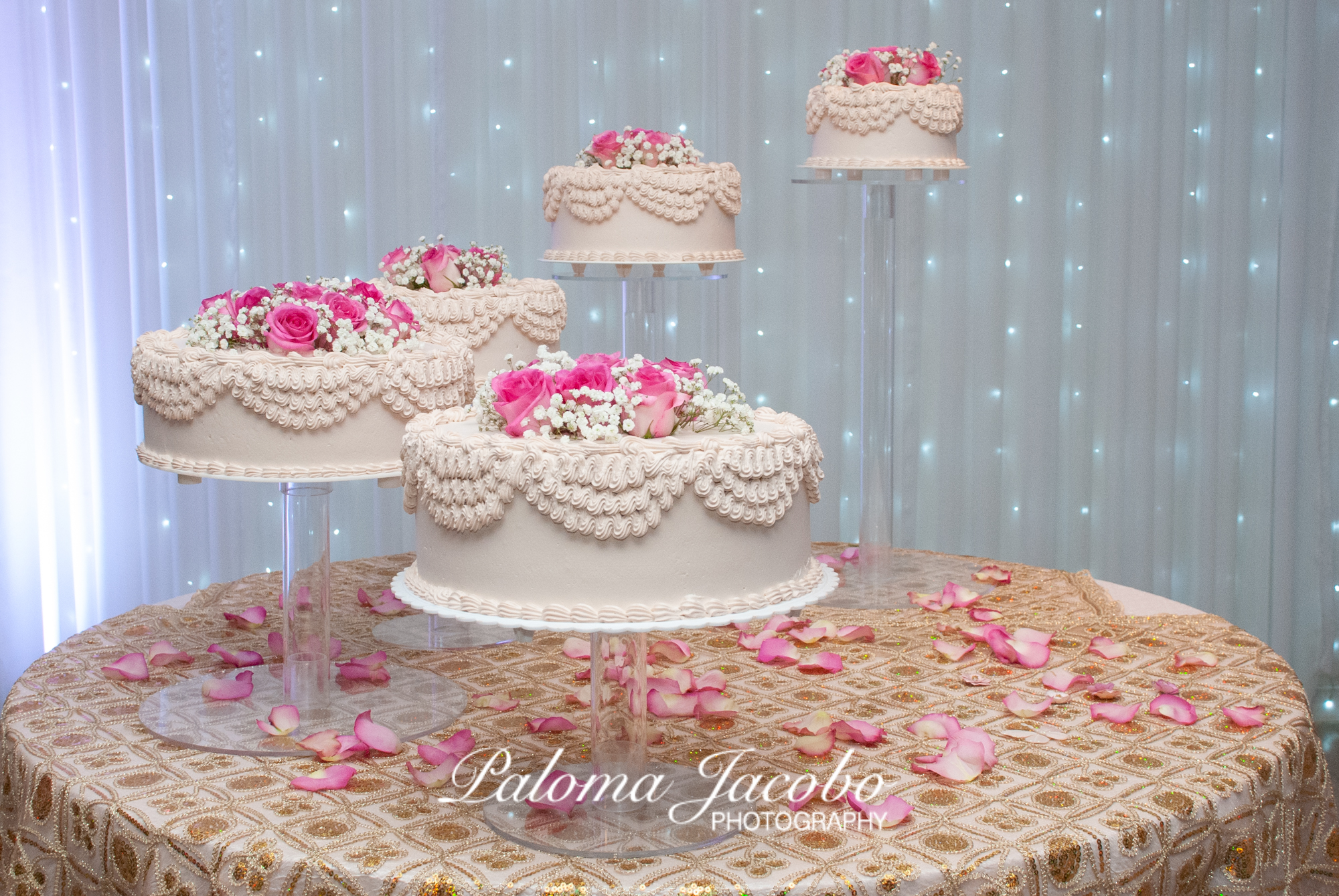 The Quinceanera had a mariachi band at the Party and she danced with her family, it was such a cute part of her video, check it out here: https://youtu.be/kyw1bqn103I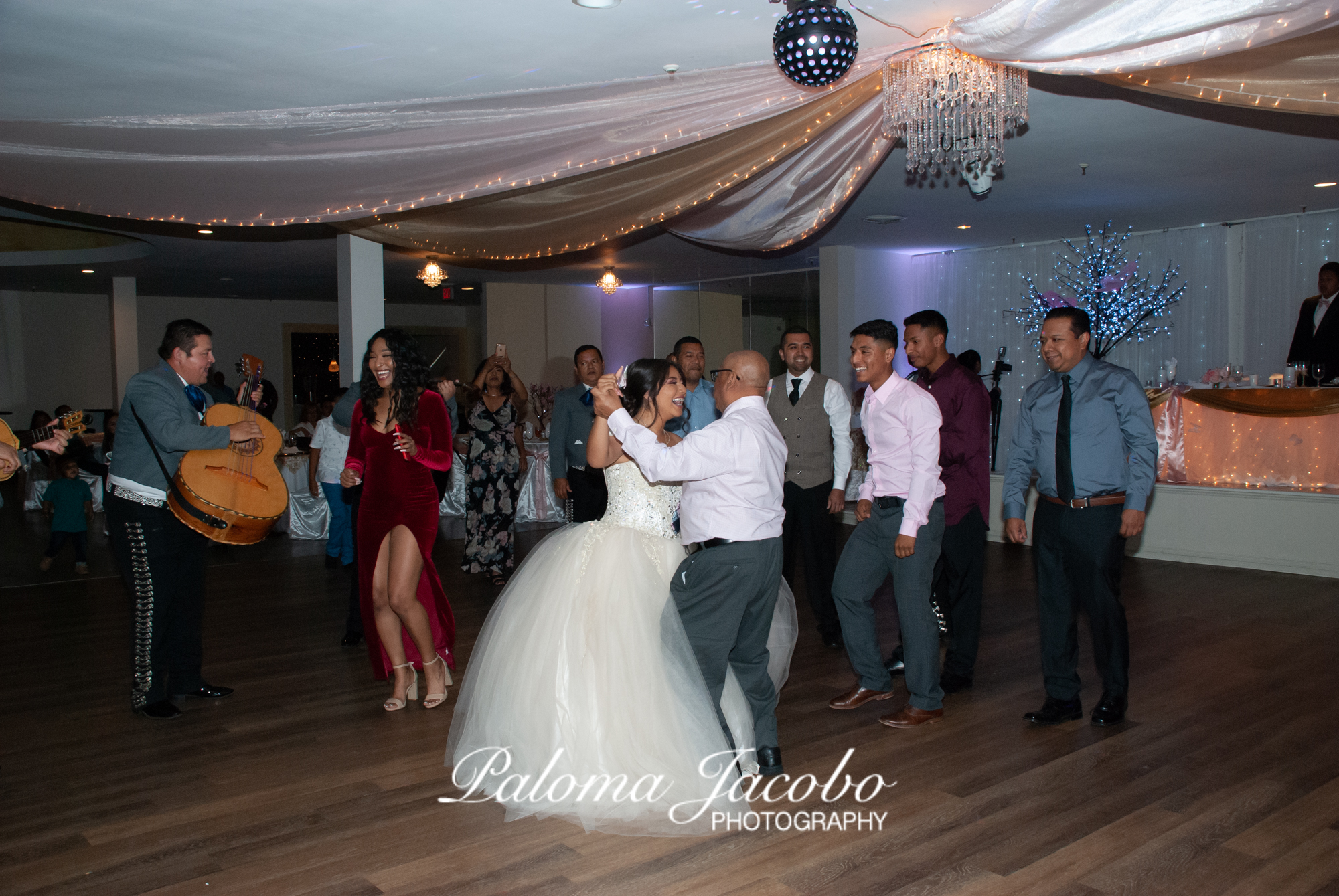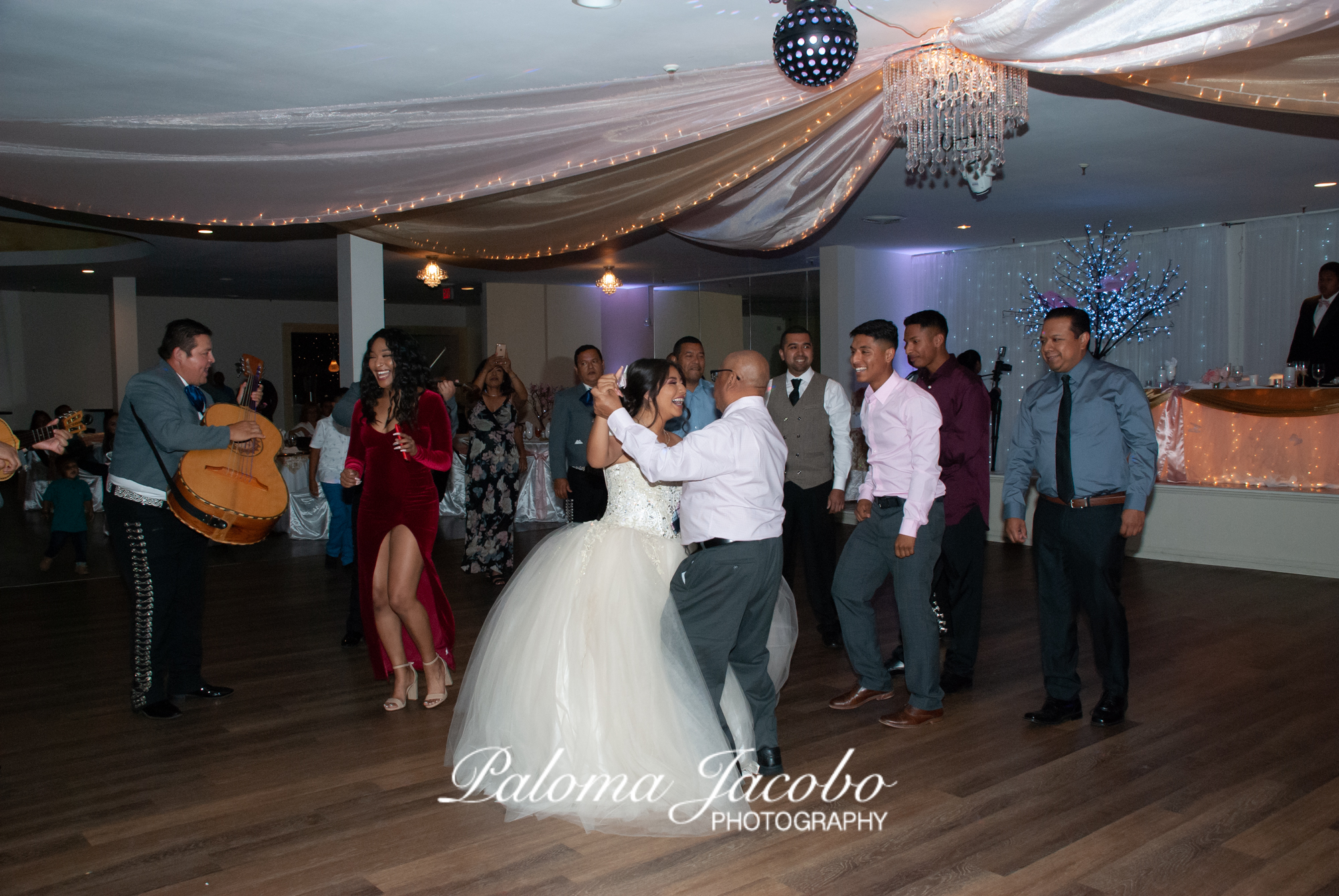 Here are some pictures of the Quinceanera dancing her Vals with her Chambelanes: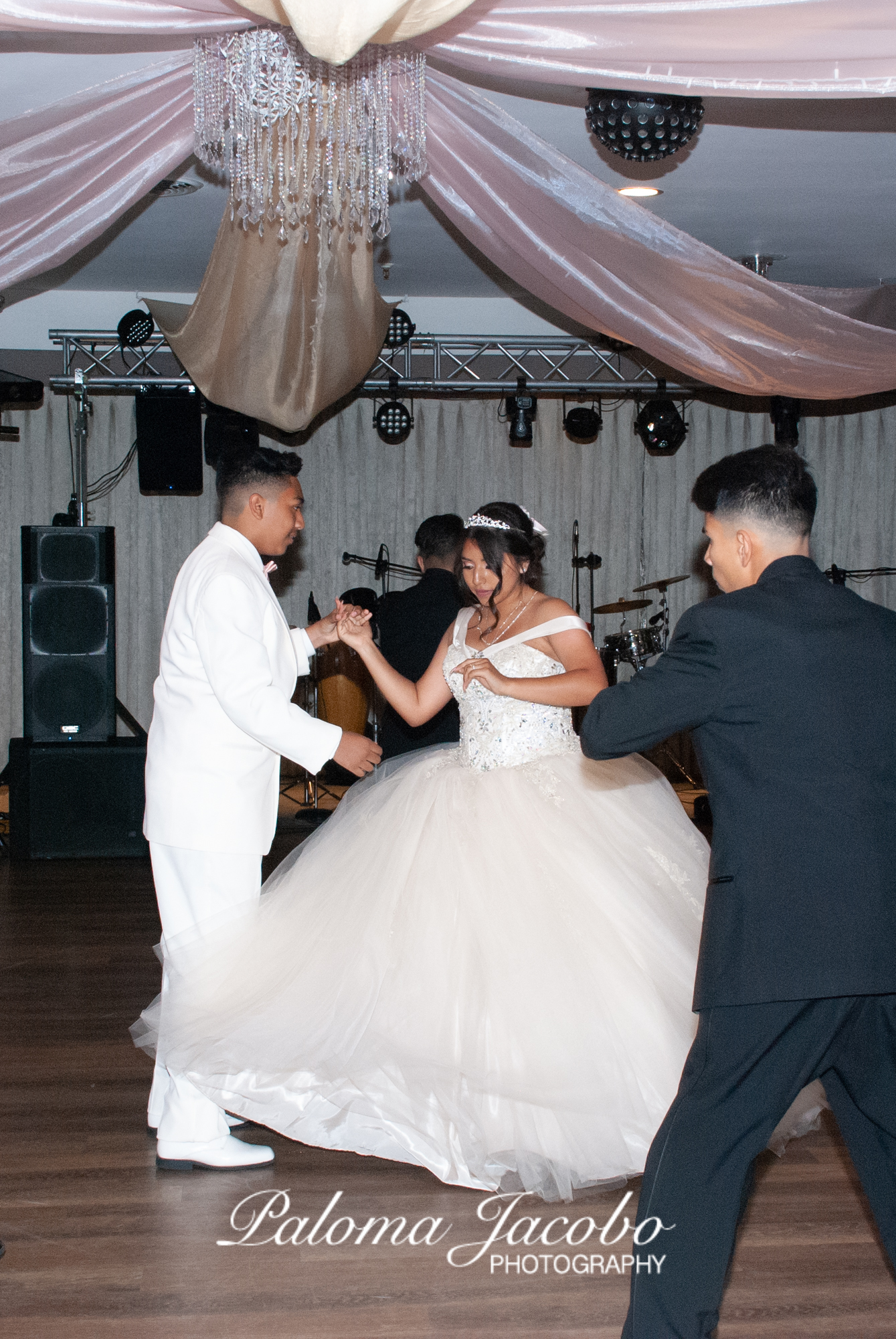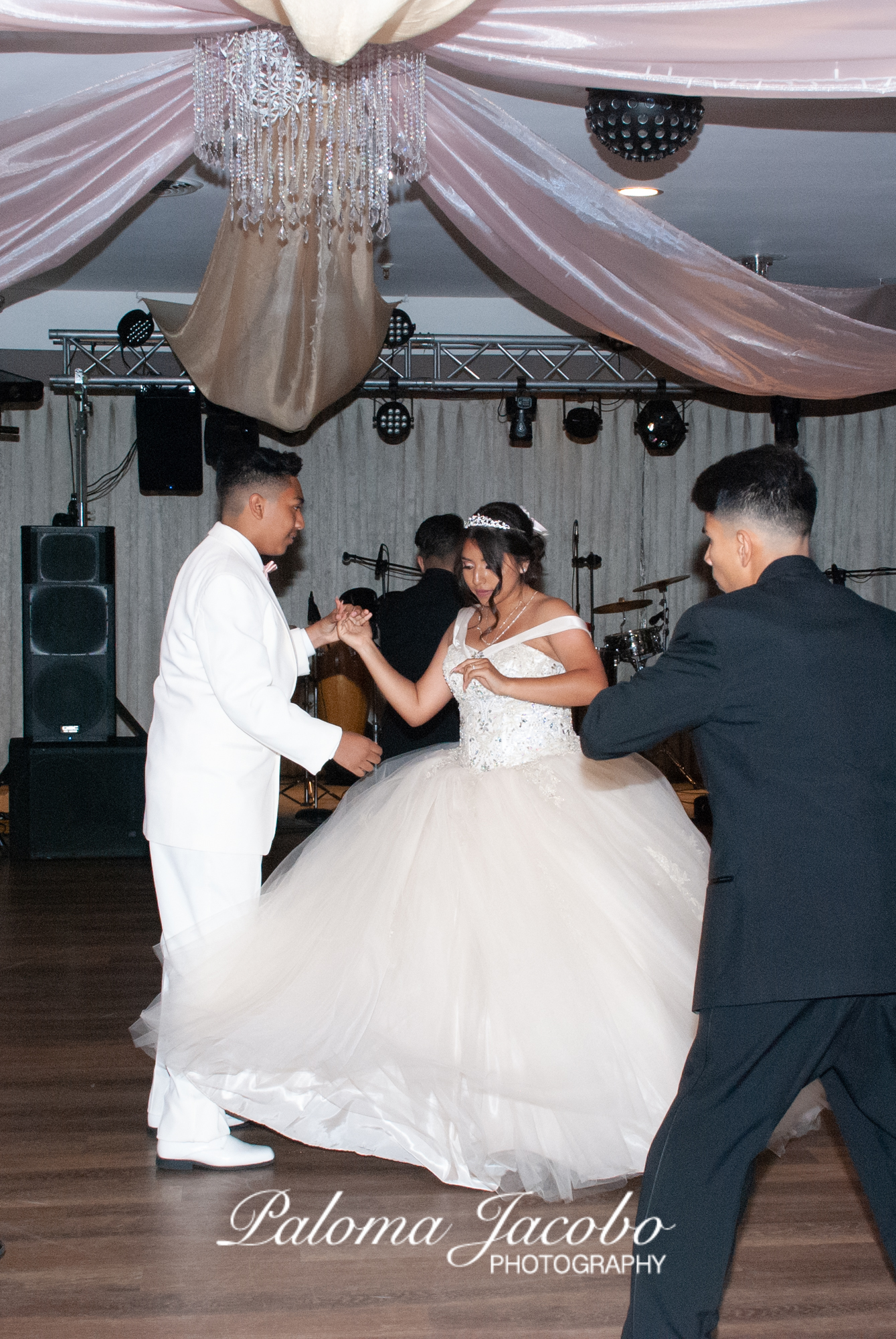 She also had a Surprise Dance, she changed to a different outfit you can see it here:
She had live music in addition to the DJ, here you can see some pictures of the party: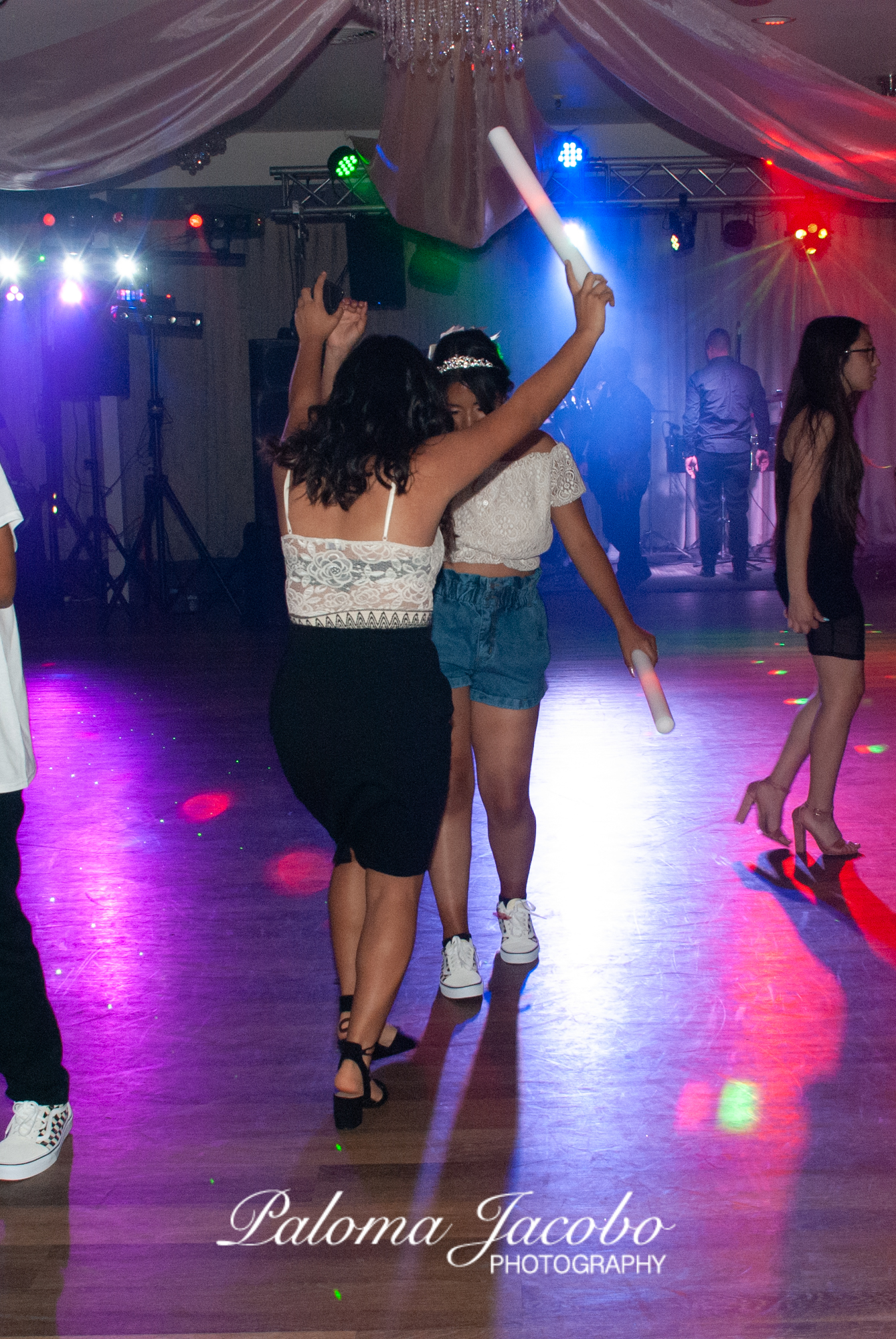 I hope you liked this Quinceanera Party ath Boulevard Hall in San Diego!
Are you planning your Quinceanera? Let me know in the comments.
And if you are looking for a Quinceanera Photographer or Videographer in San Diego, CA get in touch!
https://palomajacobophotography.com/contact
I'd be delighted to document your super special Quinceanera!