Today I am sharing with you a Quinceanera party at Marina Village in San Diego, it was held at the Sunset Room. Check it out!
You will see pictures of the whole Quinceanera day, from getting ready to Mass at Holy Spirit Catholic Church, photo shoot at Balboa Park and Reception at Marina Village.
You can also watch the Quinceanera video on the Youtube channel: https://youtu.be/LhnfaHECA0w
Quinceanera Getting Ready
The Quinceanera's color was red and I must say I absolutely loved her dress, we started at her home. Here you can see a picture of her beautiful crown.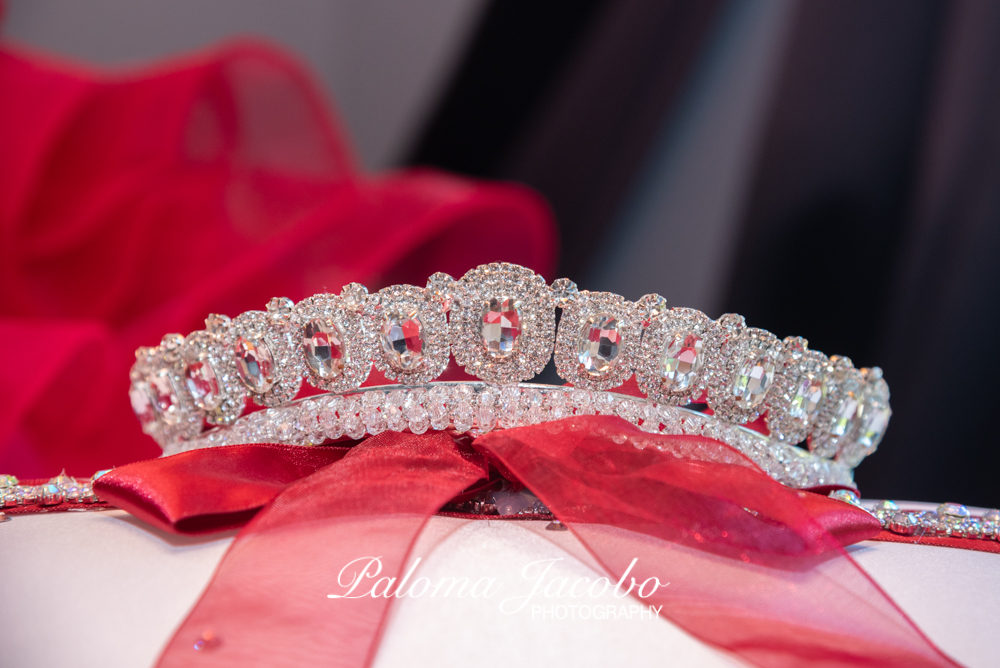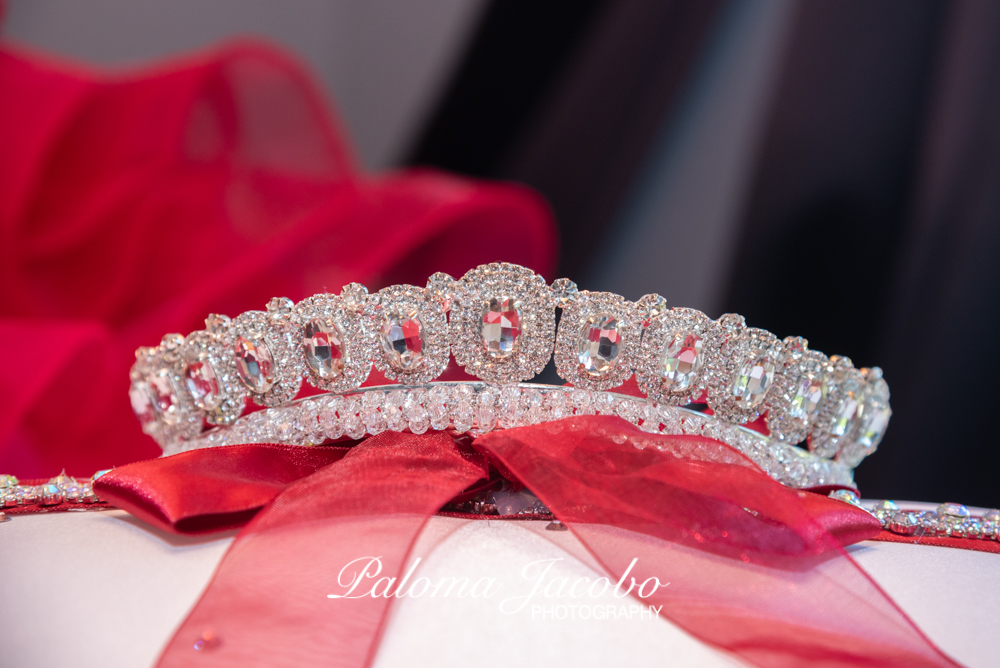 One of her aunts was able to make it to the getting ready part of the day so we included her here; you can see mom and tia putting on the Quinceanera's crown.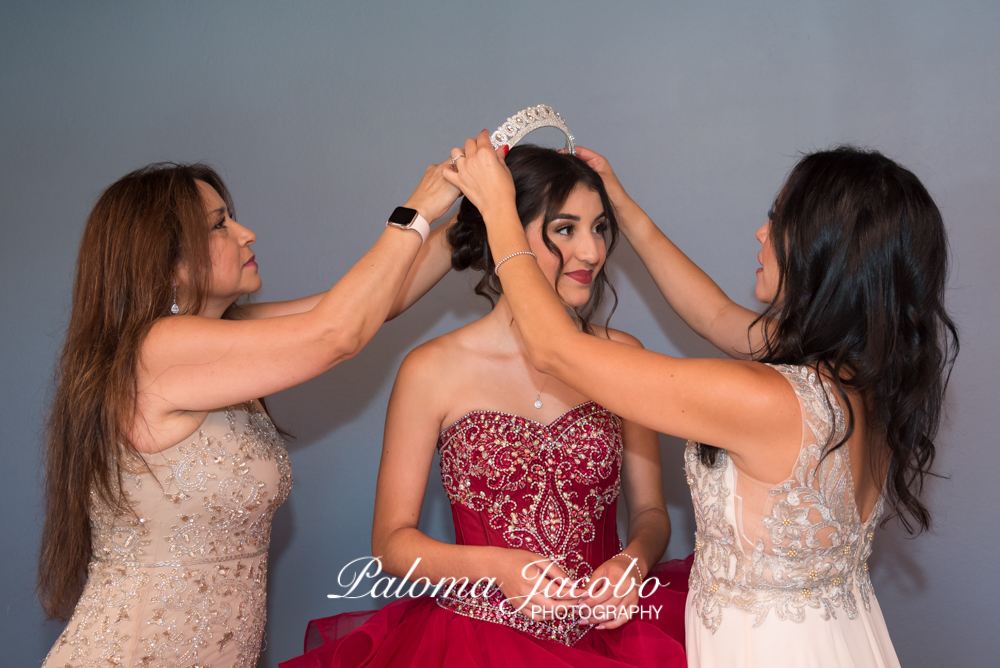 QUINCEANERA CEREMONY
The Ceremony was held at Holy Spirit Catholic Church, here you can see the Quinceanera's car parked right outside of the church, this makes such a good picture for your XV.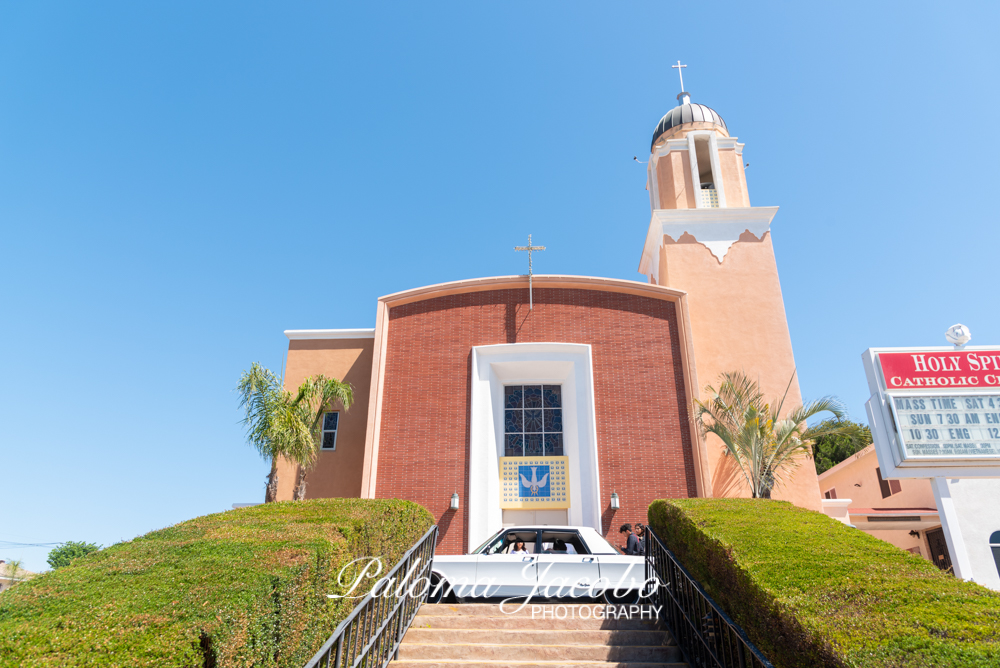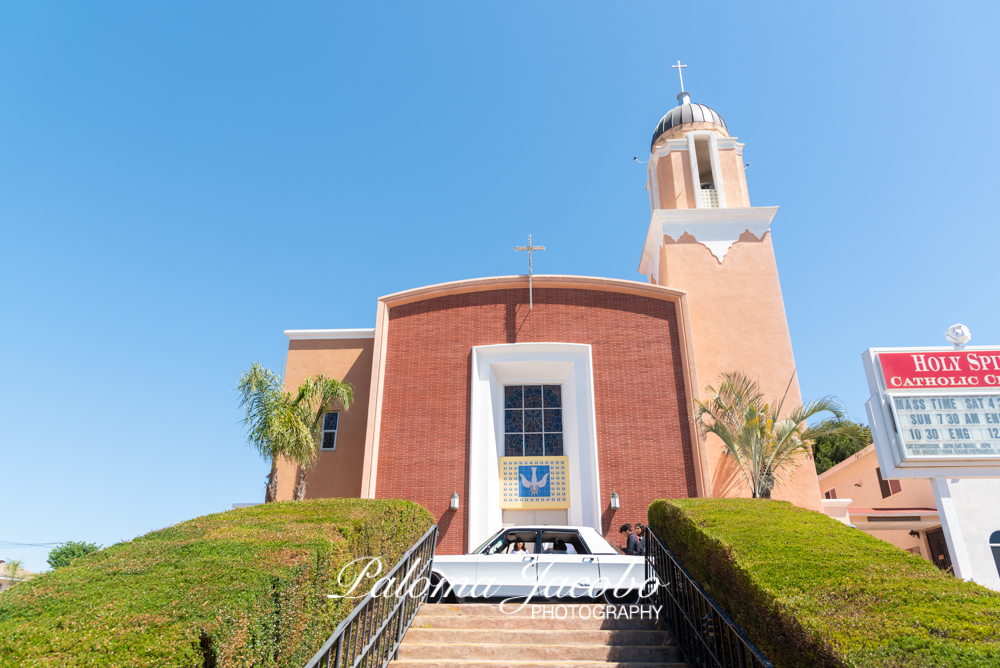 The church is bright and open, here is a picture of the altar: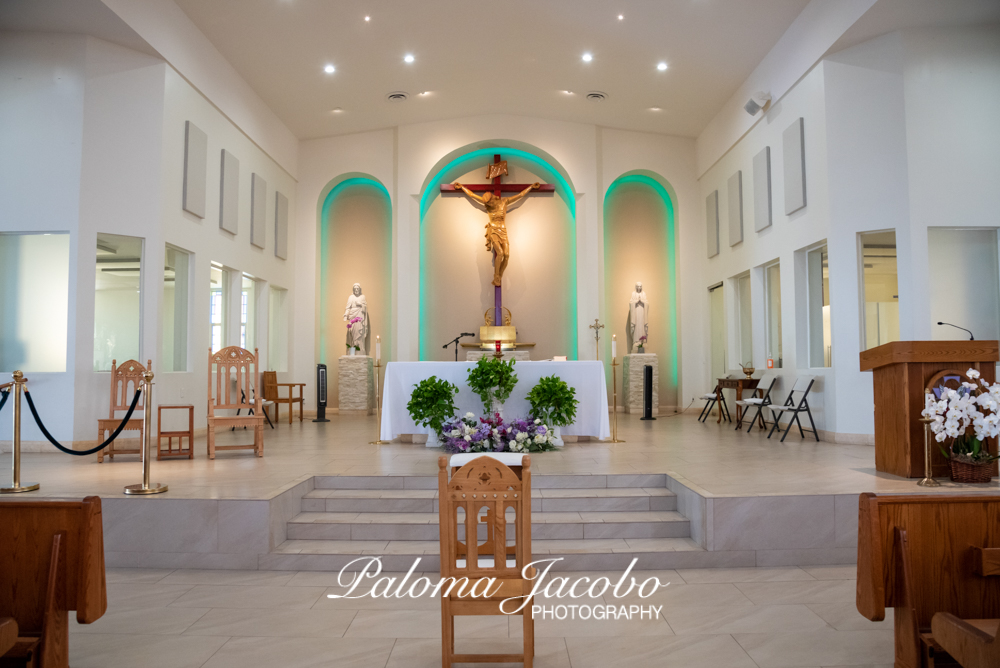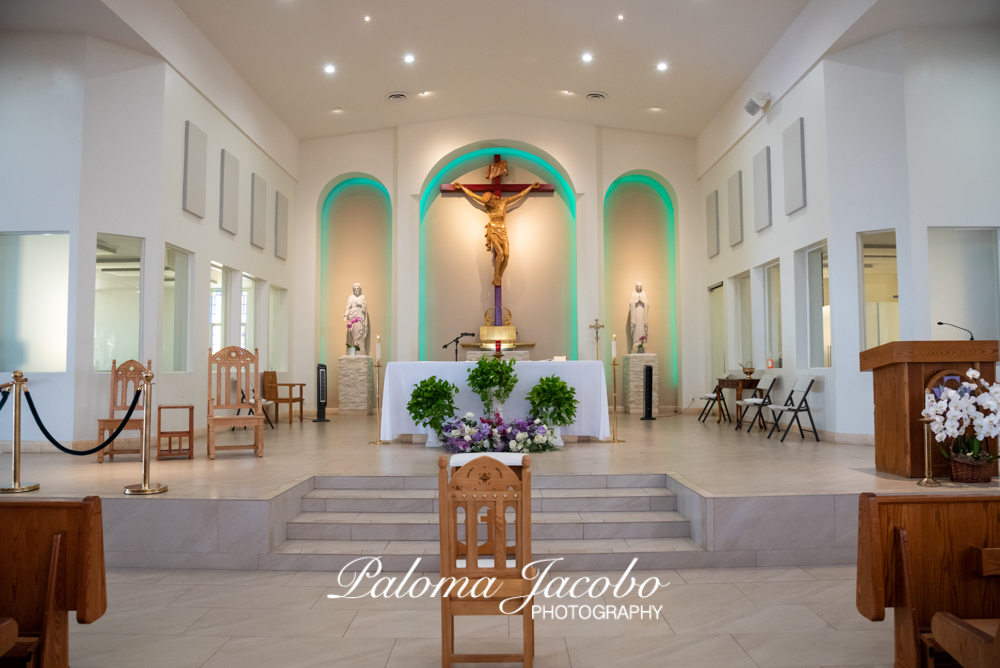 Here you can see two of the most important parts during a Quinceanera Mass; the Quinceanera reading her prayer and receiving the communion.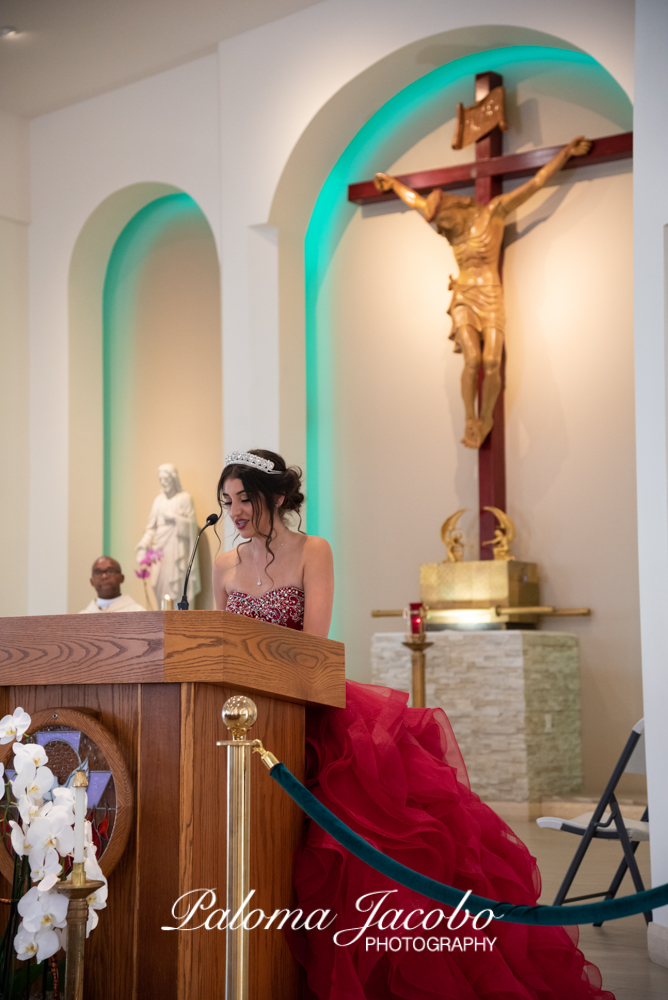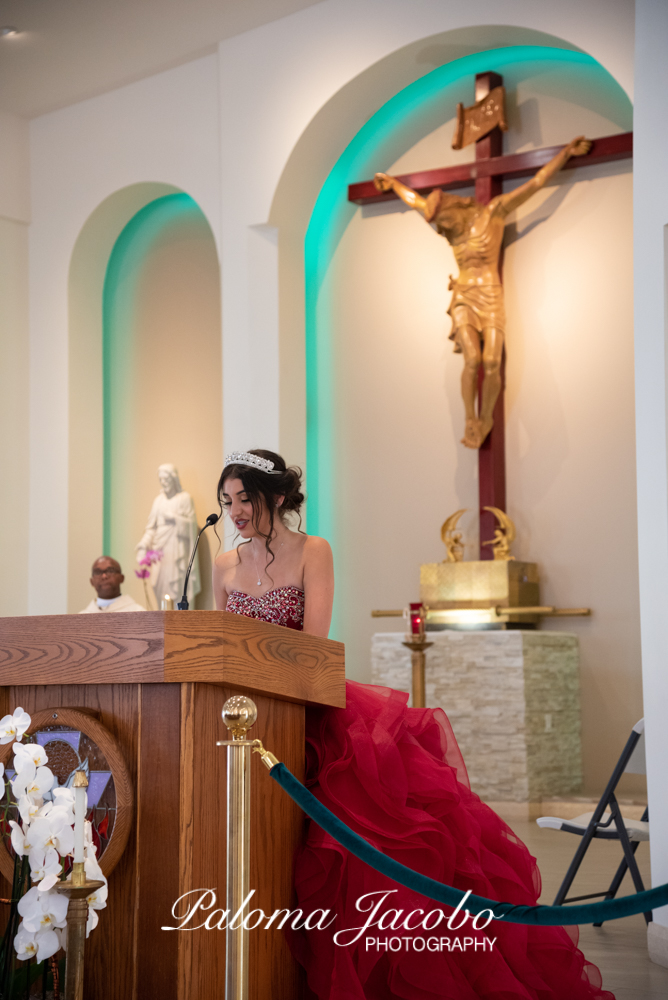 Offering a bouquet of fresh flowers to the Virgin of Guadalupe is such a beautiful and traditional part of the Quinceanera Mass.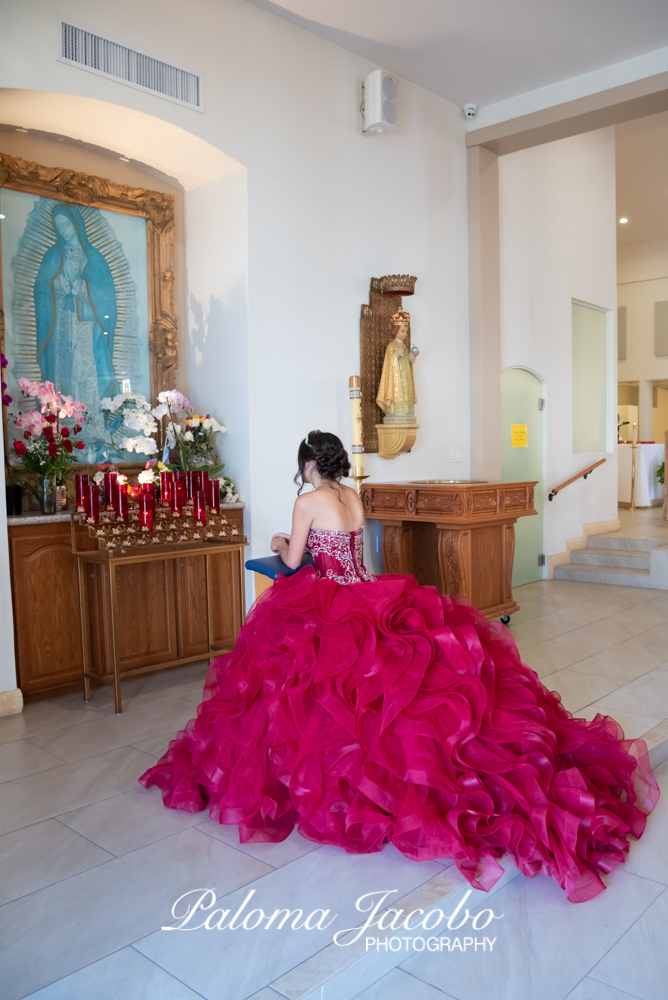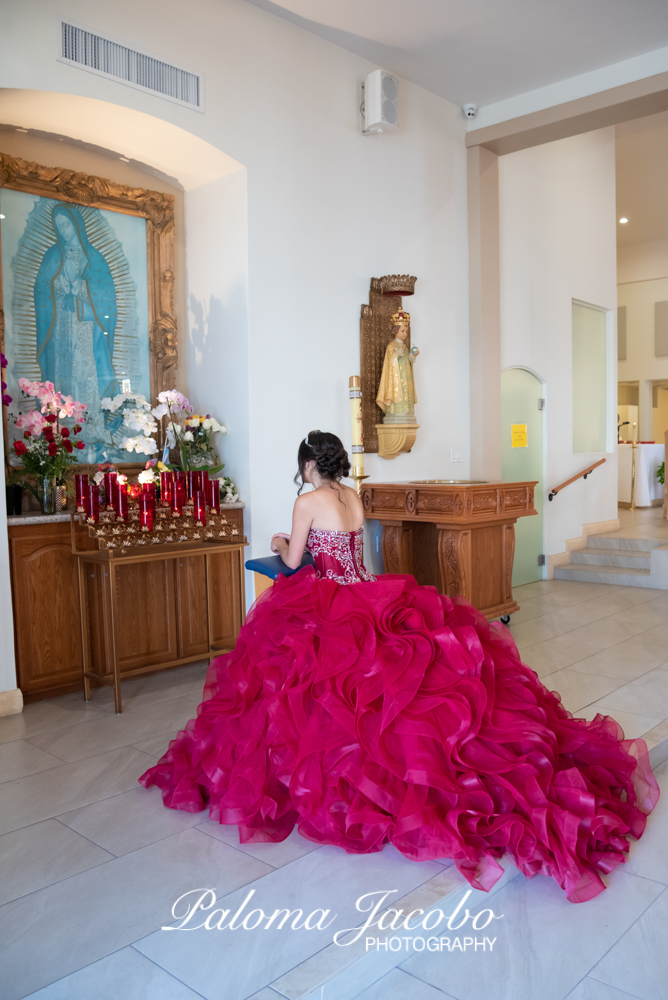 Quinceanera Photo Shoot
For the Quinceanera photo shoot we went to Balboa Park with all damas and chambelanes. I always like to get pictures of the Quinceanera on her own, here you can see some of them.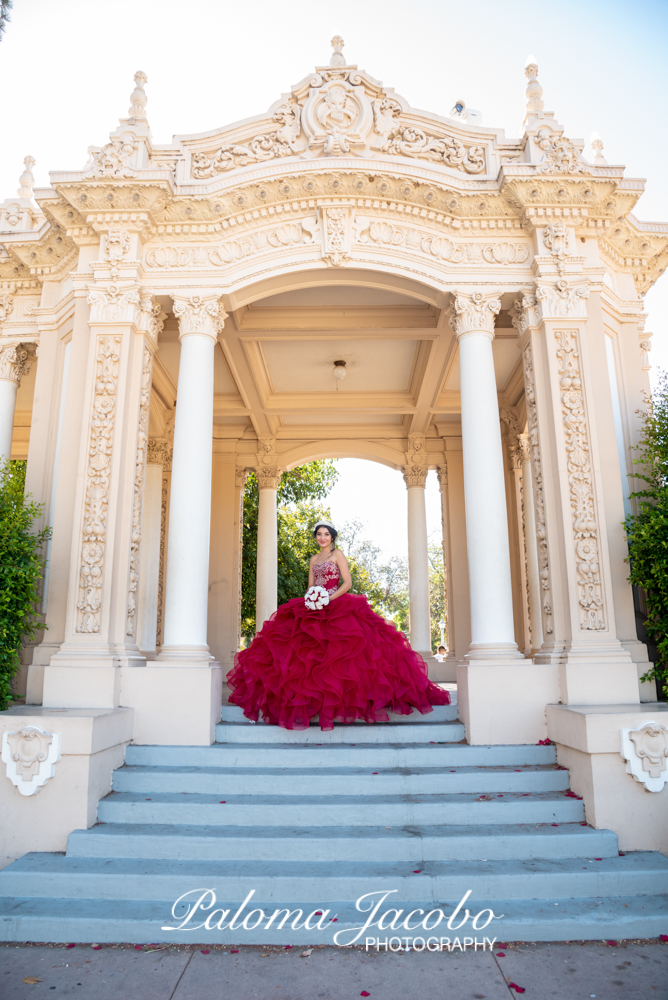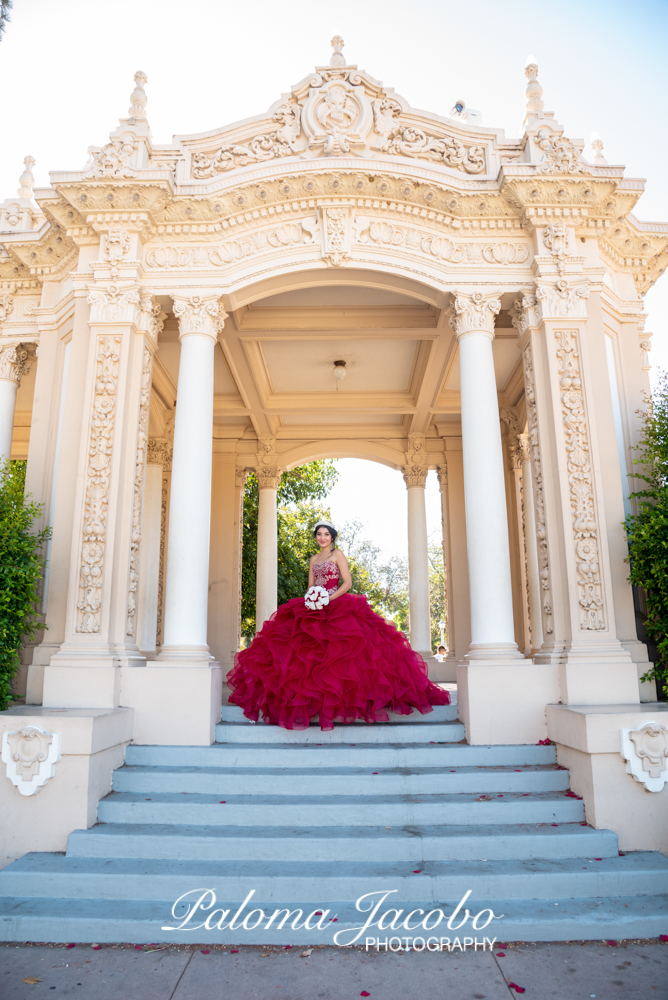 She had 4 Damas, 4 Chambelanes plus the main Chambelan. Damas were wearing beautiful Ivory dresses and Chambelanes wore all black with ivory bowties matching the girls.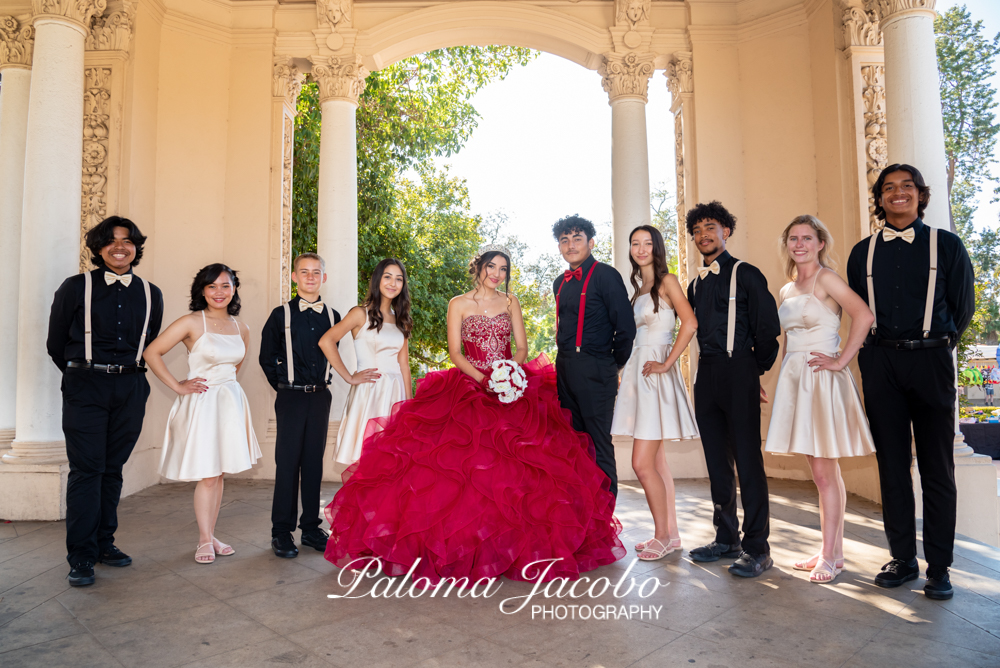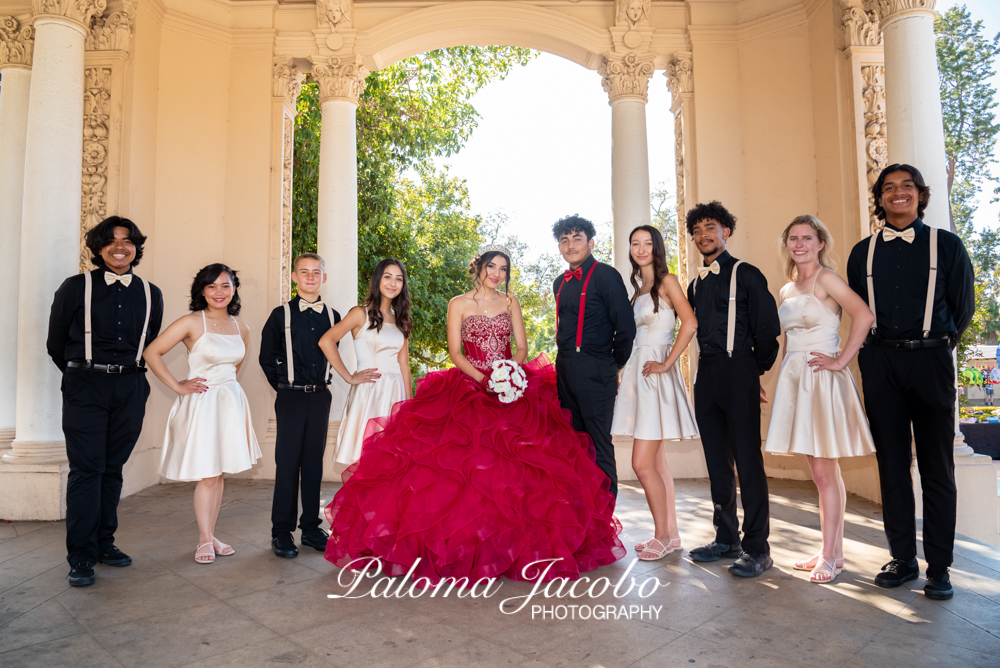 Check out this blog post for ideas for your Quinceanera photo shoot: http://blog.palomajacobophotography.com/5-ideas-for-quinceanera-pictures
MARINA VILLAGE QUINCEANERA PARTY
Like I mentioned before this Quince party was held at the Sunset Room on the second floor at Marina Village in San Diego.
This room is beautiful because you have a great view of Mission Bay and it's a perfect spot to watch the breathtaking sunsets San Diego has to offer.
They setup a beautiful table at the entrance with the sitting chart, a framed picture of her pre Quinceanera photo shoot, the guestbook we created for her with pre quinceanera pictures and some beautiful red flowers details.
Here is a link to Marina Village's website: http://marinavillage.net/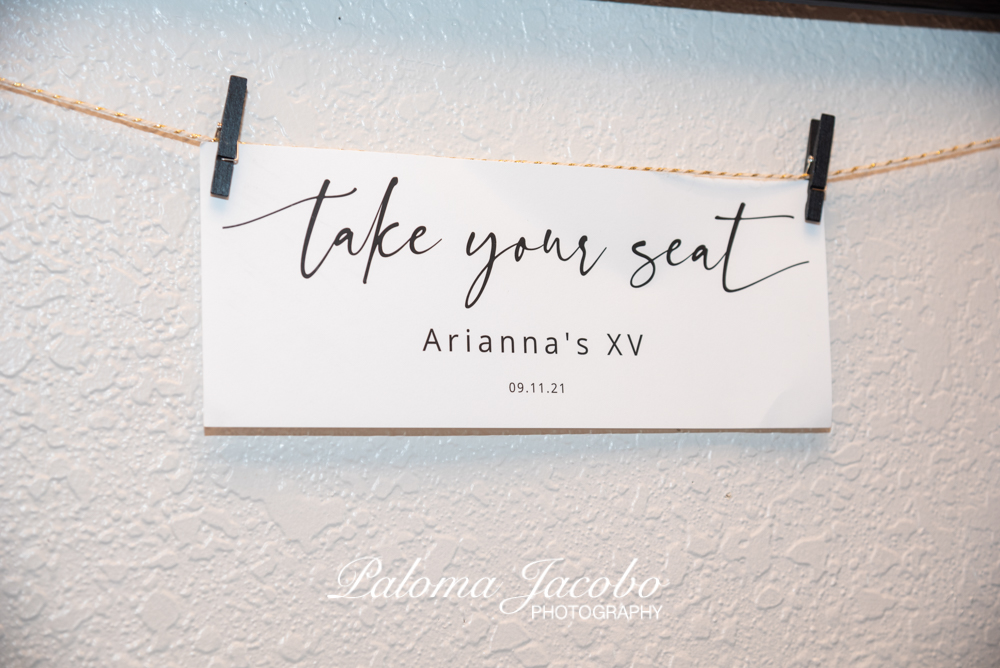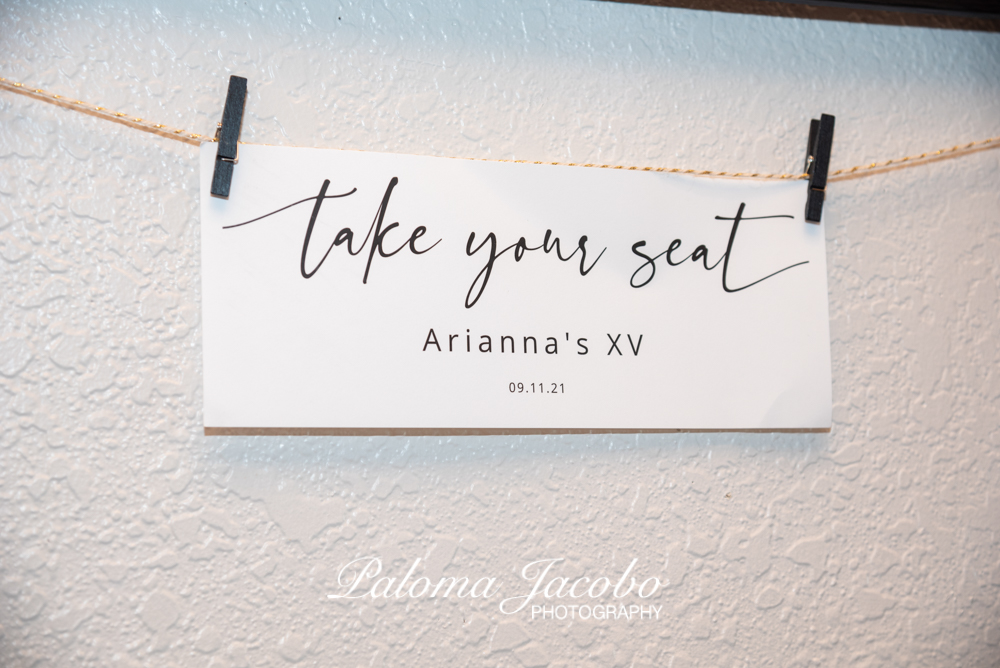 This is the amazing view you get at Marina Village, even the appetizers look amazing in that room.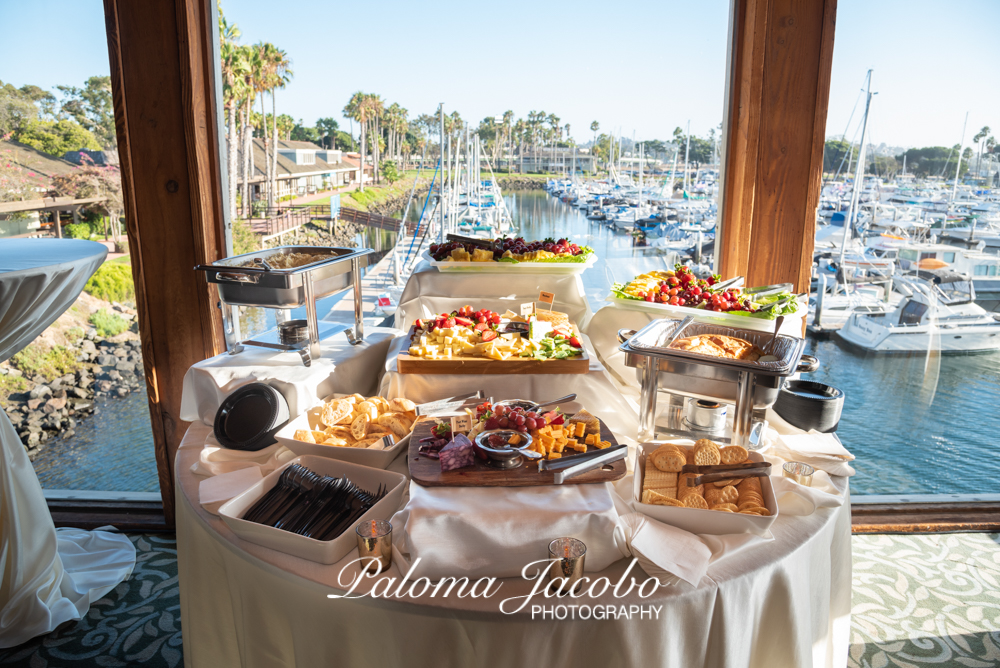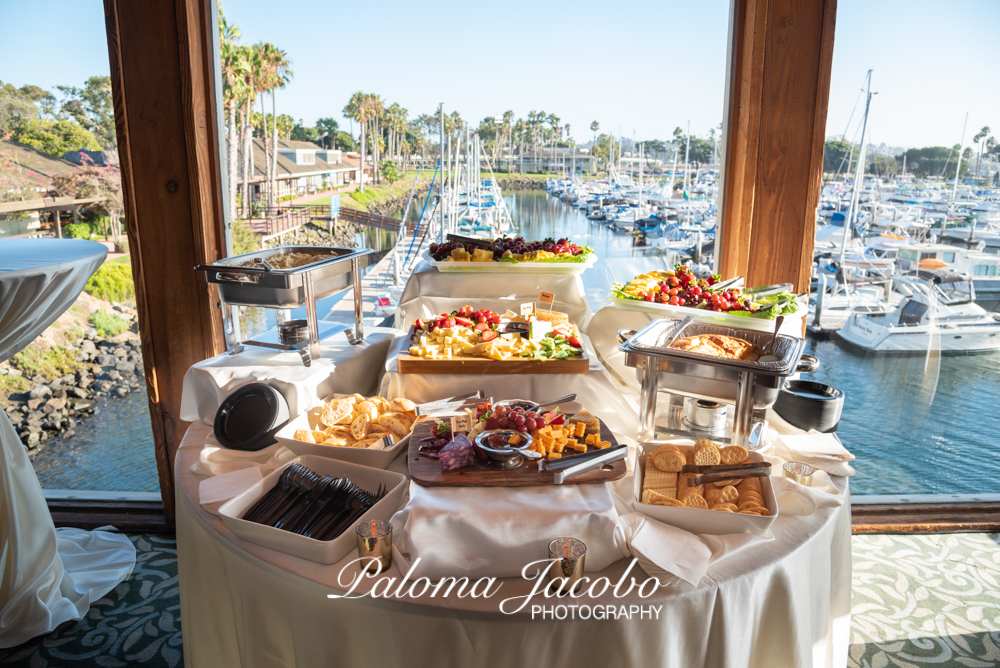 Check out this amazing decor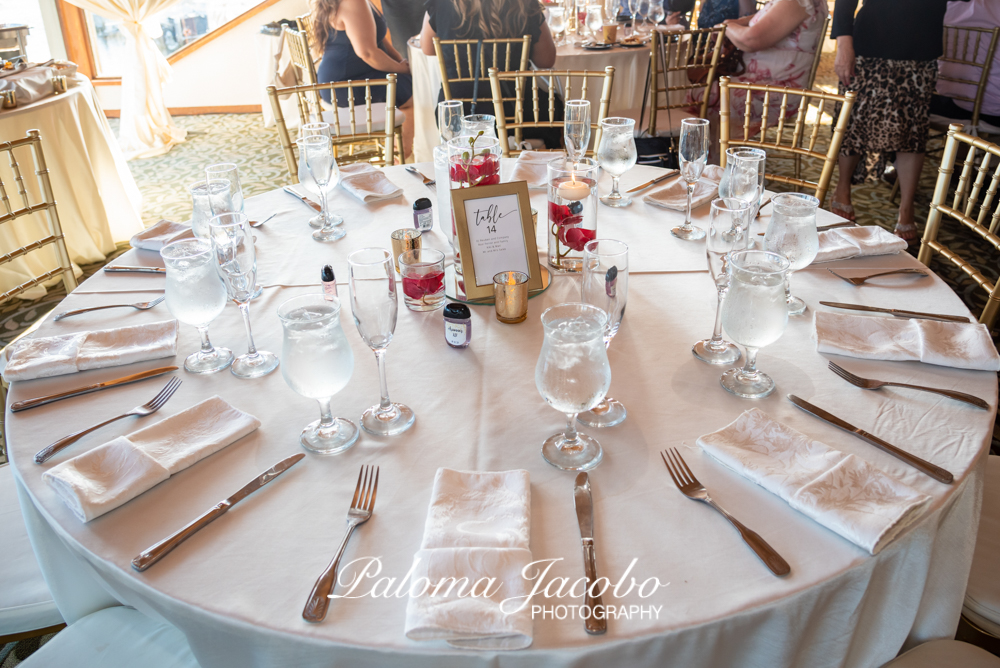 This is how your Quinceanera pictures will look like at the Sunset room at Marina Village, look at the sunset tones on the background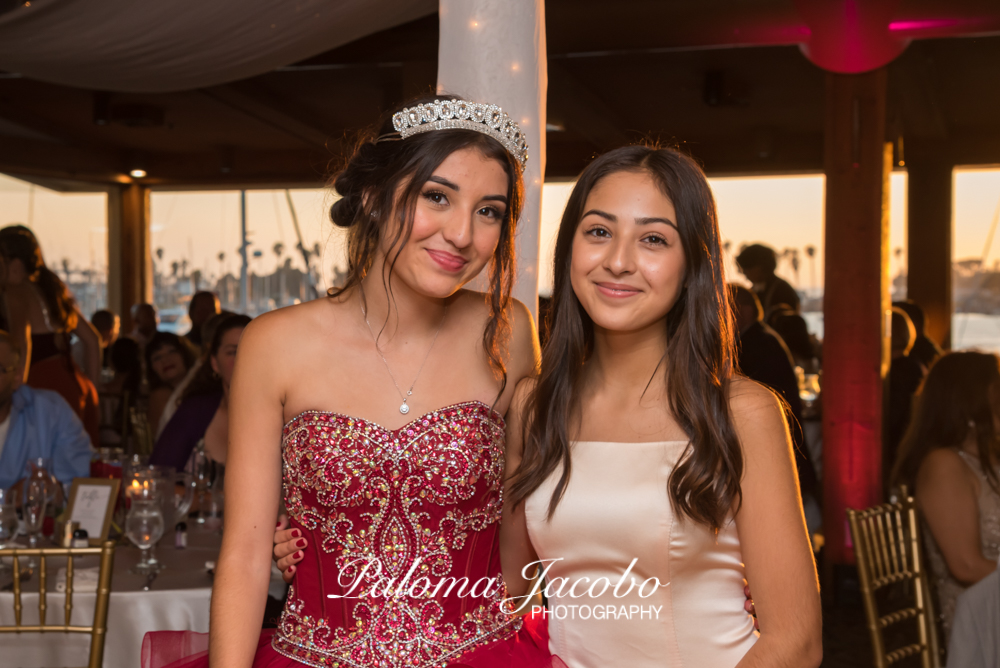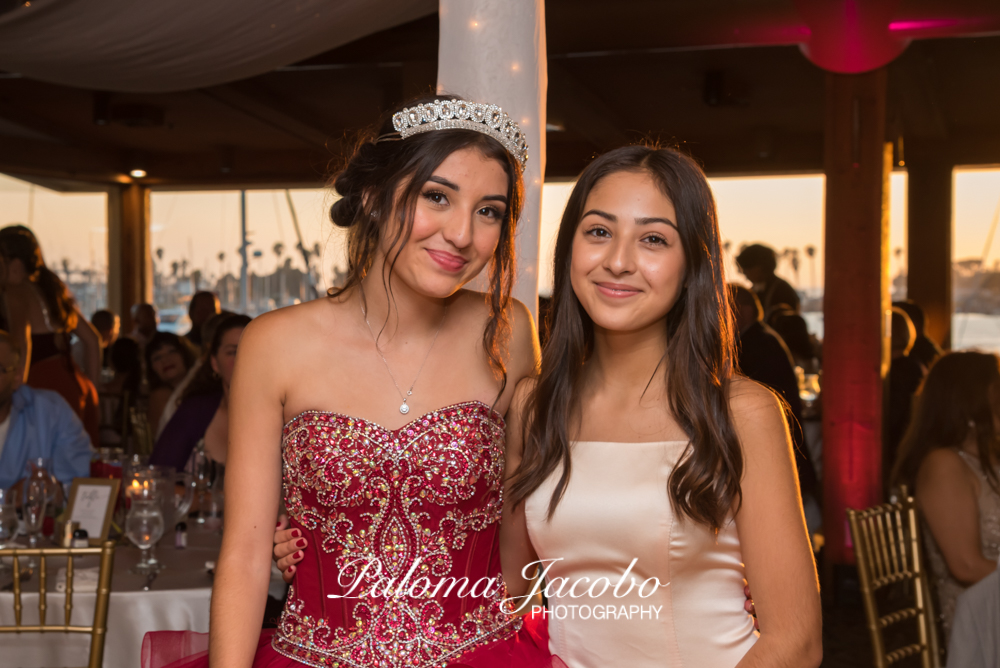 Whenever I photograph a quince party at Marina Village I ask my Quinceanera to come outside right when the sun is going down so we can make the most out of this wonderful venue and get pictures with those beautiful orange tones in the sky.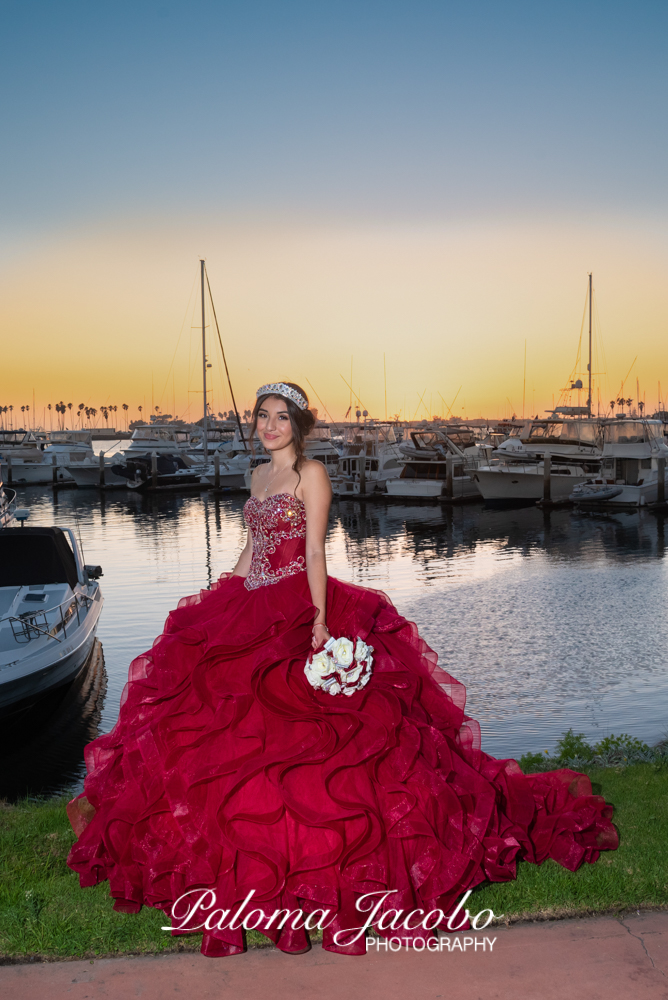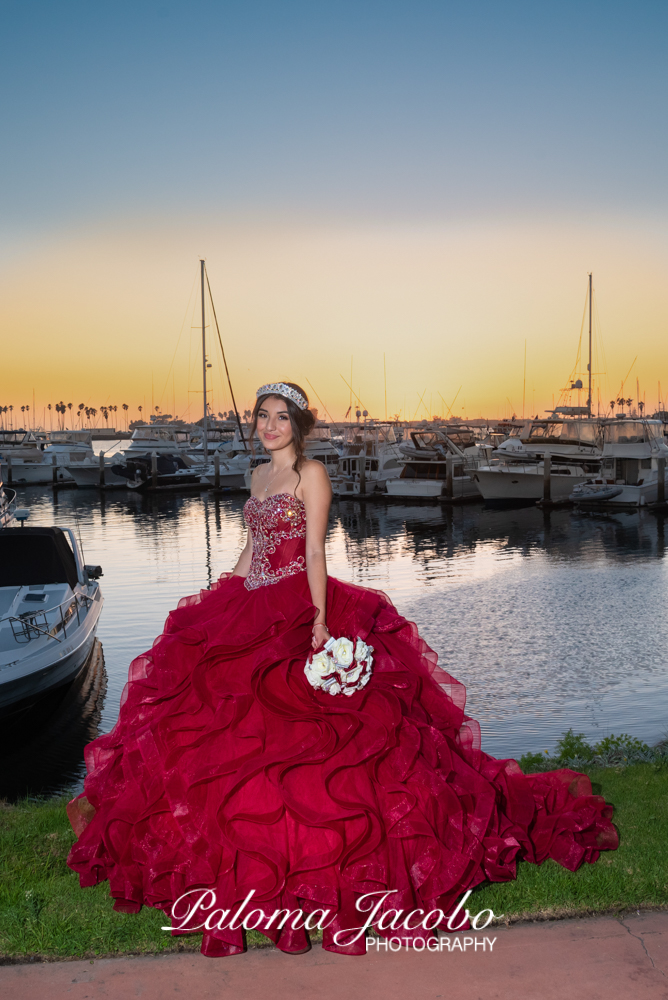 To finish up I'll leave you with a cake cutting picture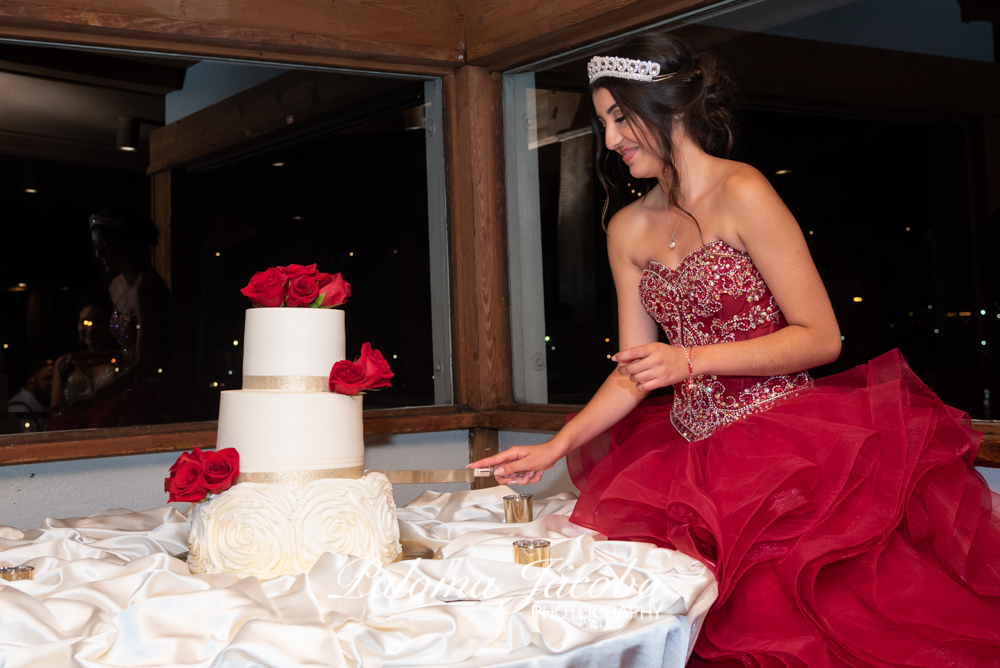 If you are planning your Quinceanera party, check out this video to help you to plan your timeline:
I hope you liked this Quinceanera Party at Marina Village, if you would like to watch a video recap make sure to watch the YouTube video.
Are you considering having your Quinceanera at Marina Village? Let me know in the comments.
And if you are looking for a Quinceanera Photographer or Videographer in San Diego, CA get in touch!
https://palomajacobophotography.com/quinceaneraphotography
I'd be delighted to document your super special Quinceanera!
Keep in touch!
Check out the website: https://palomajacobophotography.com/
Instagram: https://www.instagram.com/palomajacobophotography
Facebook: https://www.facebook.com/palomajacobophotography/
Pinterest: https://www.pinterest.com/PalomaJacoboPhotography/