Check out those 5 ideas for your Quinceanera pictures and must have poses for your Quince photo shoot.
If you are planning on taking your Quinceanera pictures soon this post will give you some ideas for your photos and guidance regarding some of the must have pictures.
Also if you are looking for a photographer for your Quinceanera photo shoot in San Diego get in touch by clicking here, I'd love to help!
1 Quinceanera picture idea: Standing up showing off your whole dress
You have put so much time and effort into selecting your dress that it is very important to show it off in your pictures. This picture idea for your Quinceanera pictures will make sure you showw of your dress.
In this picture you will be standing up and you can hold your bouquet with both hands.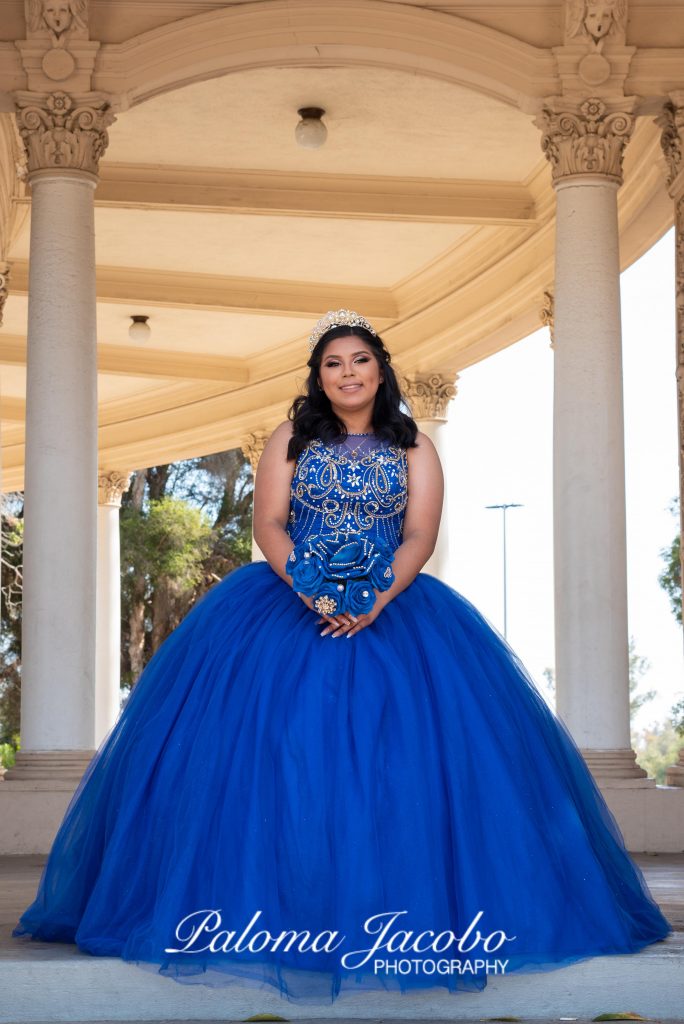 Or you could hold your bouquet with one hand only and hold your dress with your other hand. Another variation of this picture is looking away or at your flowers.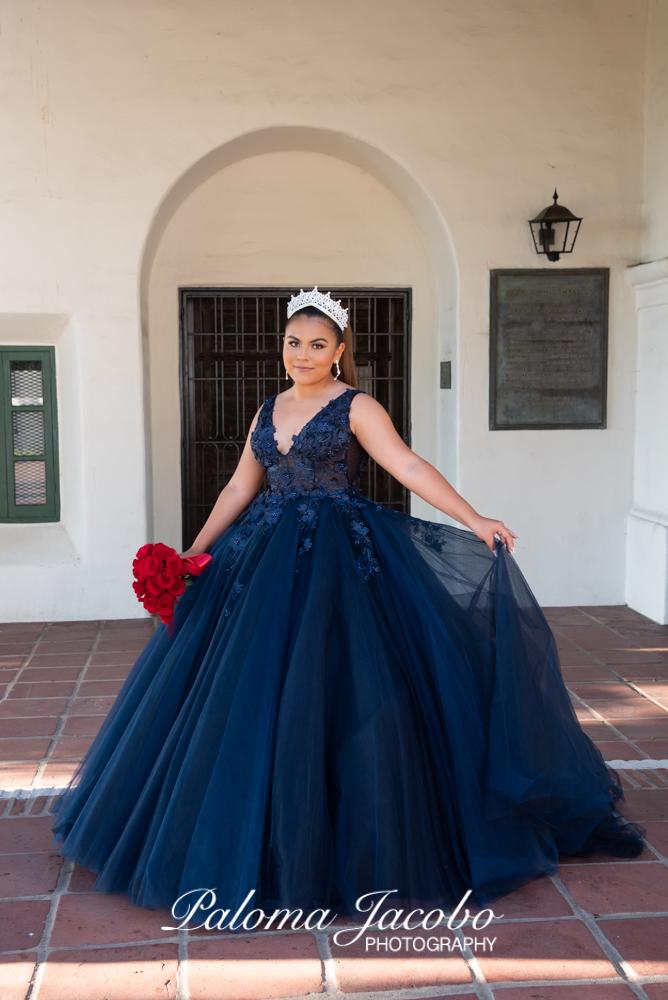 2 Quince picture idea: Sitting down
I love this picture idea because once again we get to show off your beautiful Quinceanera dress. You will sit down on a bench and we will fluff your dress and make it look all beautiful all over. This picture will look specially good when your dress is puffy so we have enough fabric all around.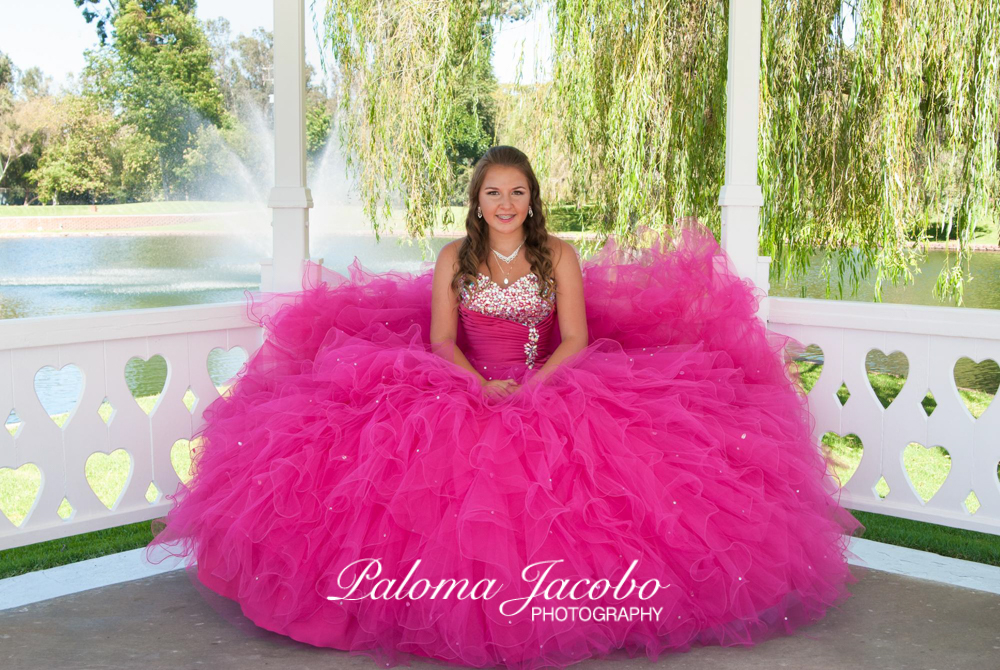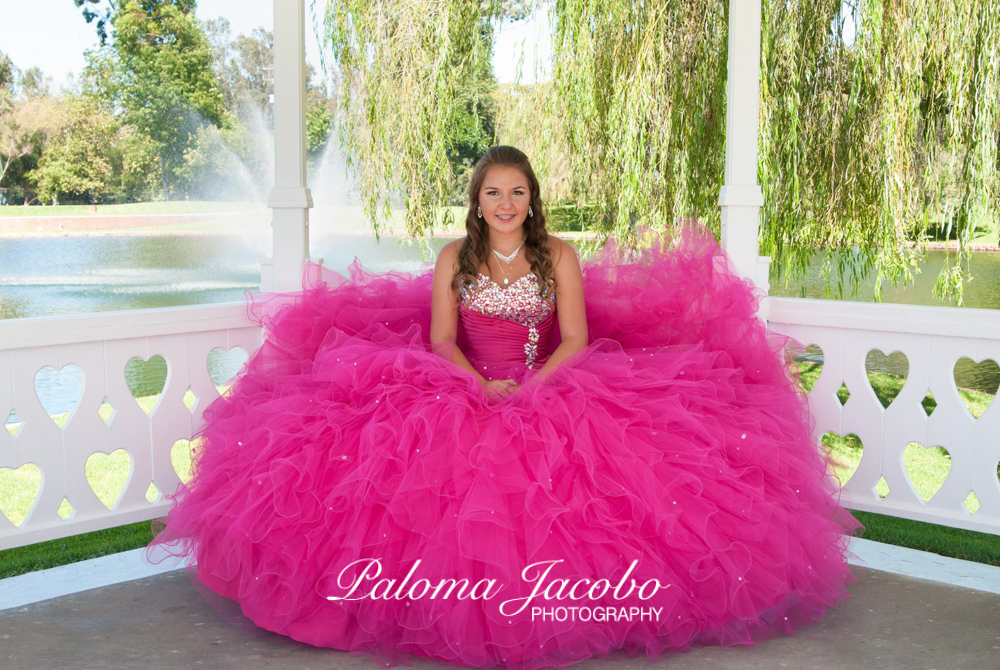 For this Quinceanera picture idea you can rest your hands on the sides without pushing down on your dress or you could hold your bouquet. Once again add some variations looking down or away.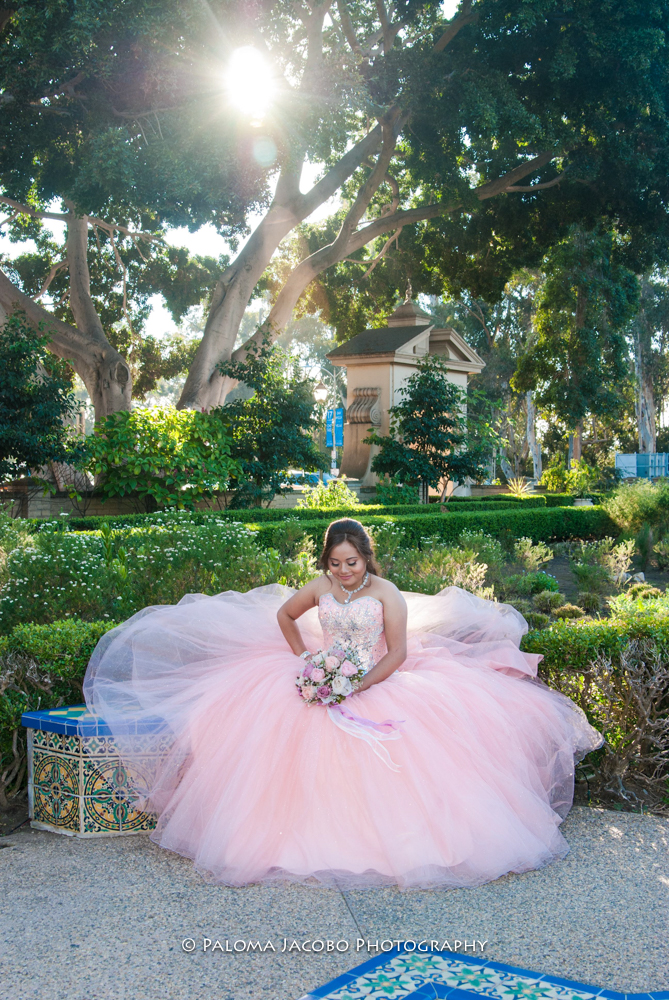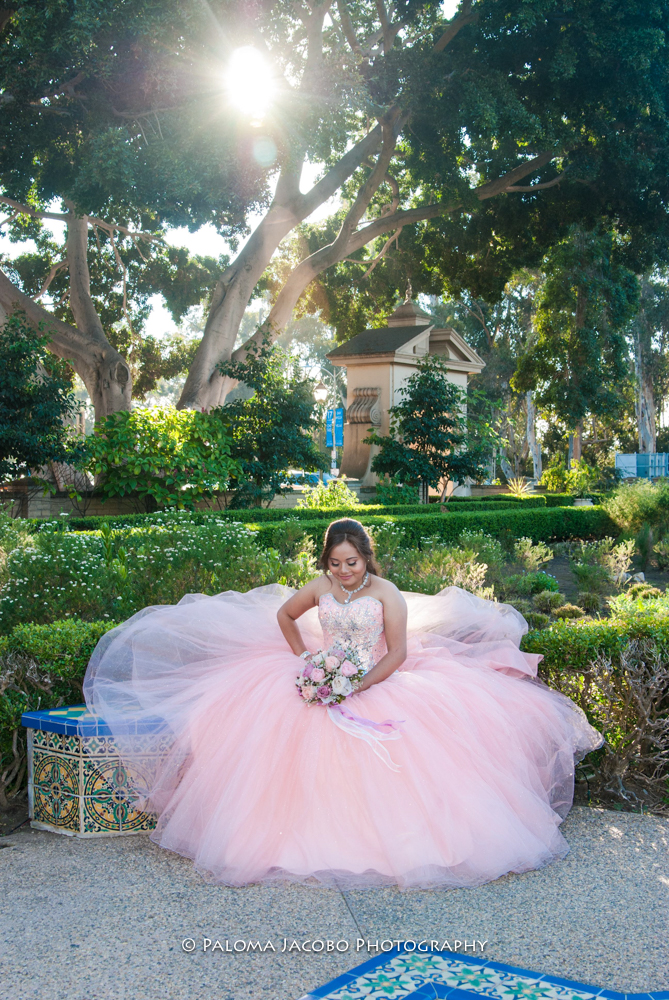 3 Quinceanera picture idea: Show off the back of your dress
The front of the dress is important but let's not forget the back of the dress, specially if there is a super cute detail that makes your dress different and unique.
Make sure you add this picture idea to your photo shoot so you have every detail covered.
Like this picture where we are showing the back of the xv dress and the super cute bow. As an added bonus we have the city of San Diego on the background.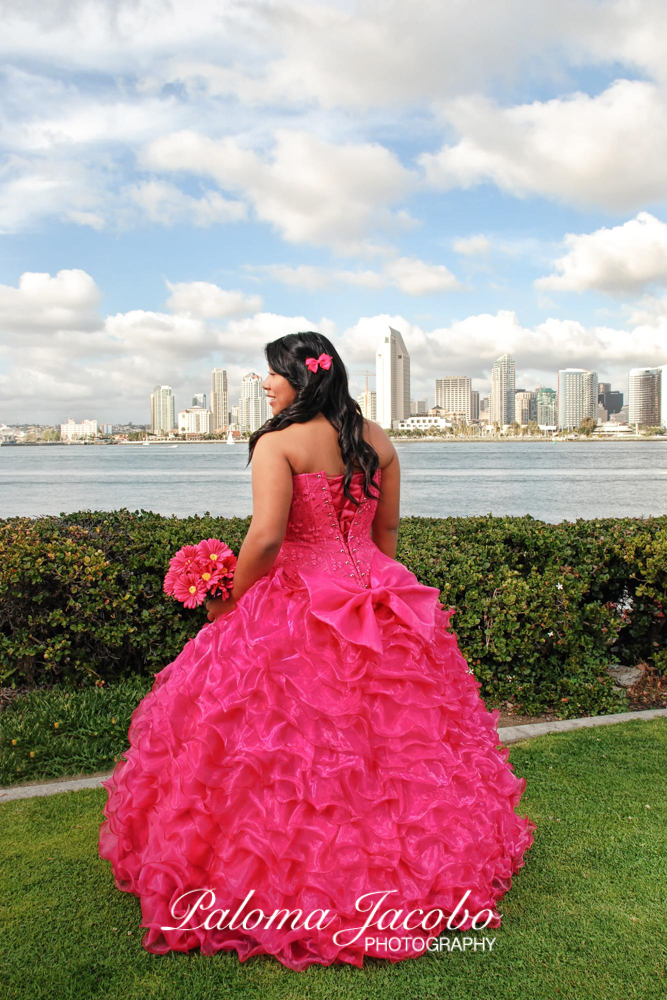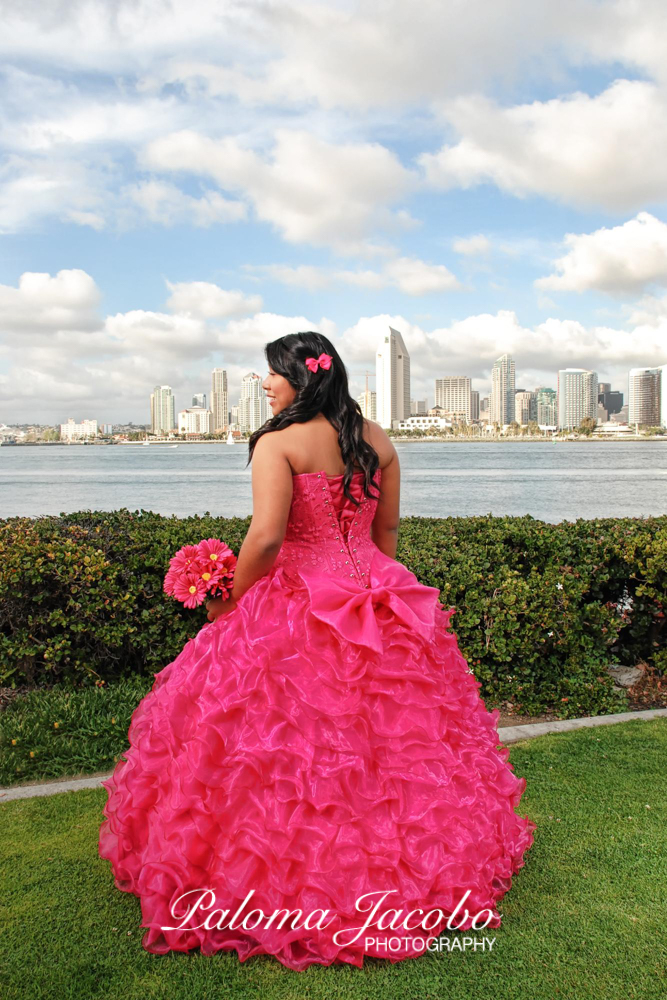 You don't even have to look at the camera for this one, just look away and it makes such a great picture.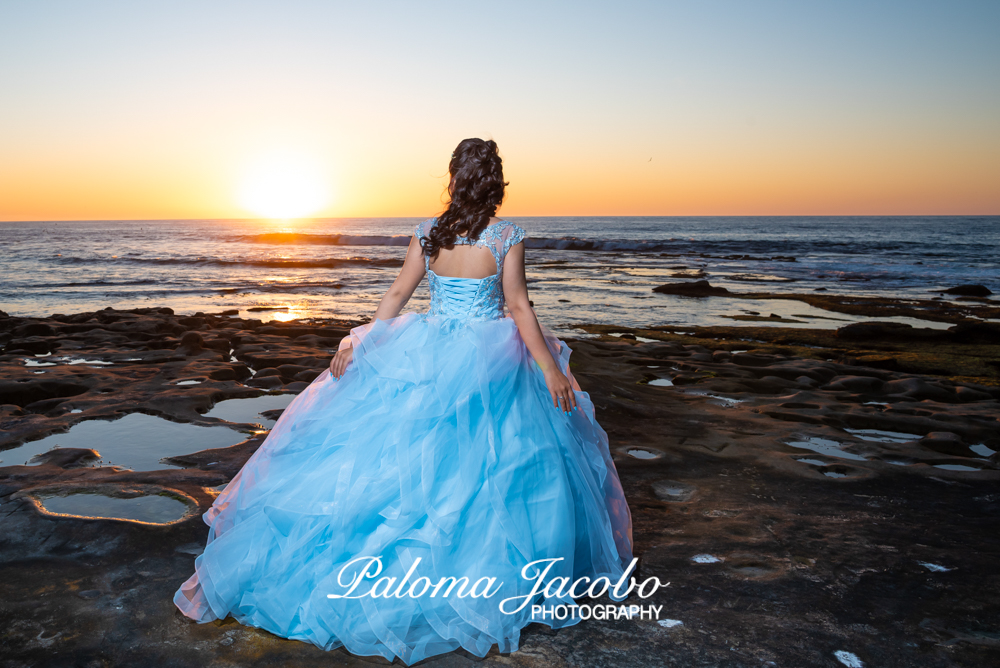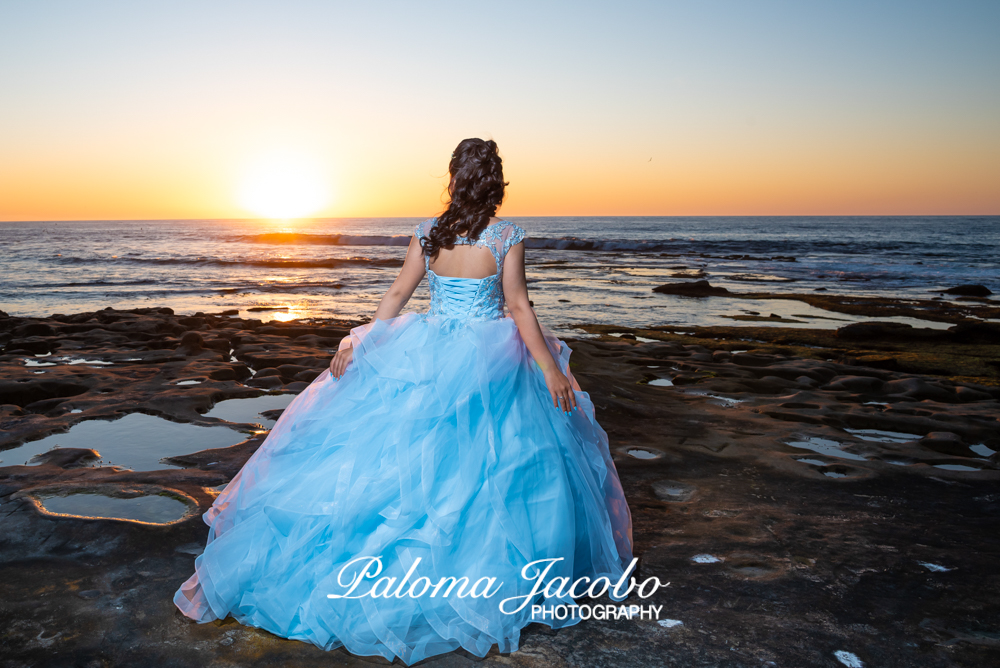 I absolutely love this picture, the sunset was beautiful and our quinceanera really showed off her green quinceanera dress on this one. Make sure to add this Quinceanera picture idea to your list.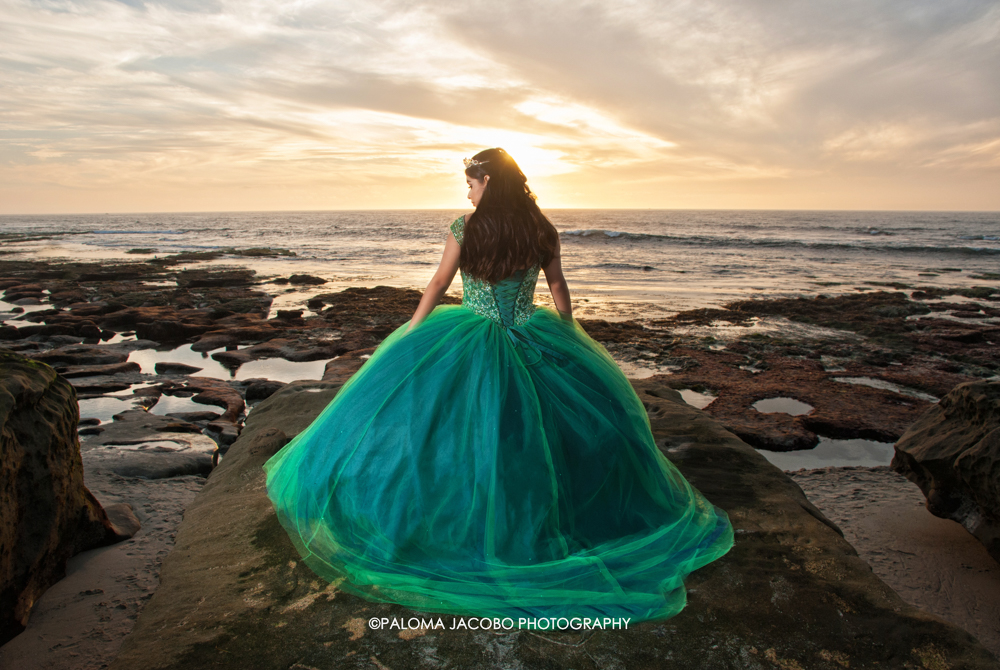 PD If you want sunset pictures in San Diego, click here and fill out the contact form, I'd love to take your pictures.
4 Idea for Quinceanera pictures: Close up
So far we have covered your dress from different angles and added some variety with a sitting down pose. Now it's time to focus on your beautiful face. This picture idea for your Quinceanera photo shoot is perfect!
In this picture you will be able to see your makeup better and I really recommend specially for Quinceaneras; you don't need super heavy makeup for the pictures.
Definitely hire a makeup artist, they will know how to make your makeup look wonderful without it looking super heavy.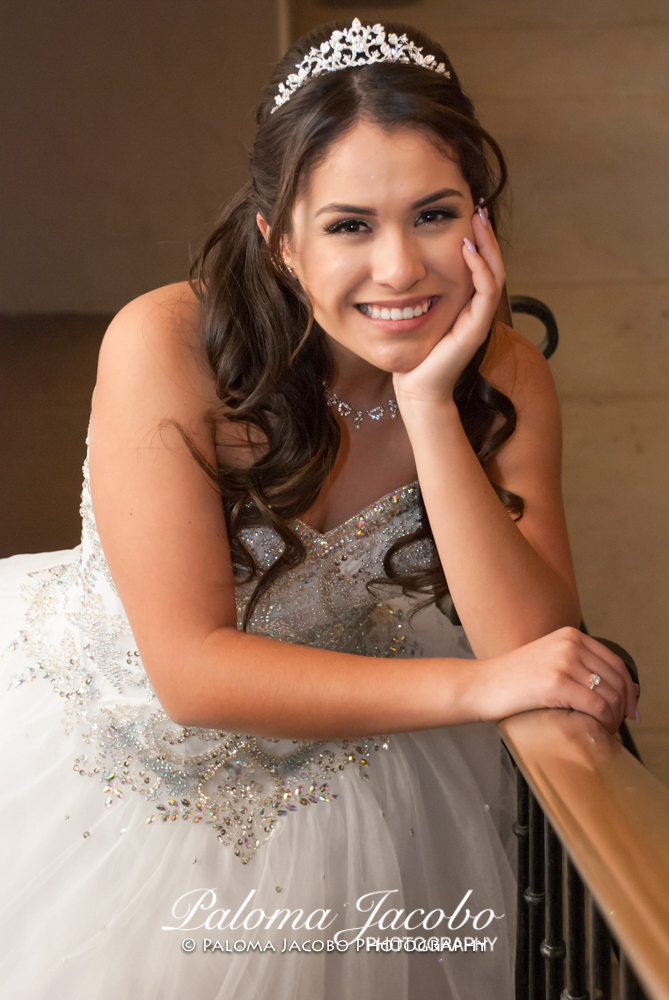 Another great thing from this picture is that we can have you do something with your hands and also show off your mani and we can also see the accessories you decided to wear more closely.
5 Idea for Quinceanera picture: Moving your dress
The reason why this picture idea is so wonderful is because there is movement in the image. You will be standing up and gently hold your Quinceanera dress and move, almost as if you are twirling. It also looks really nice when you look away or down so once again more variety to your quince pictures.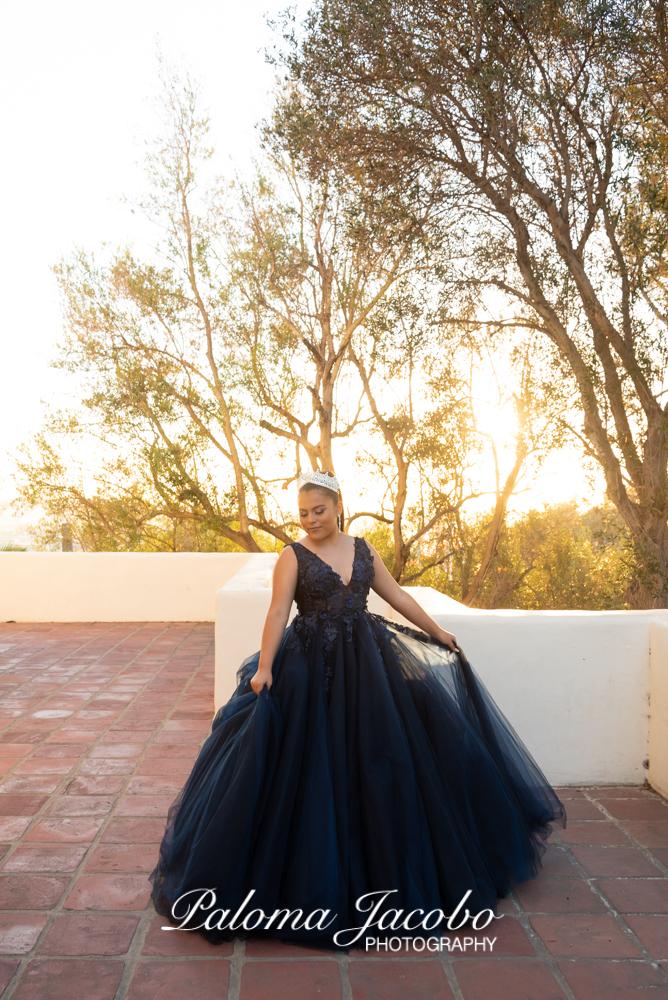 Here is another example where everything just worked perfectly: Amazing sunset, beautiful quinceanera and her with so much movement.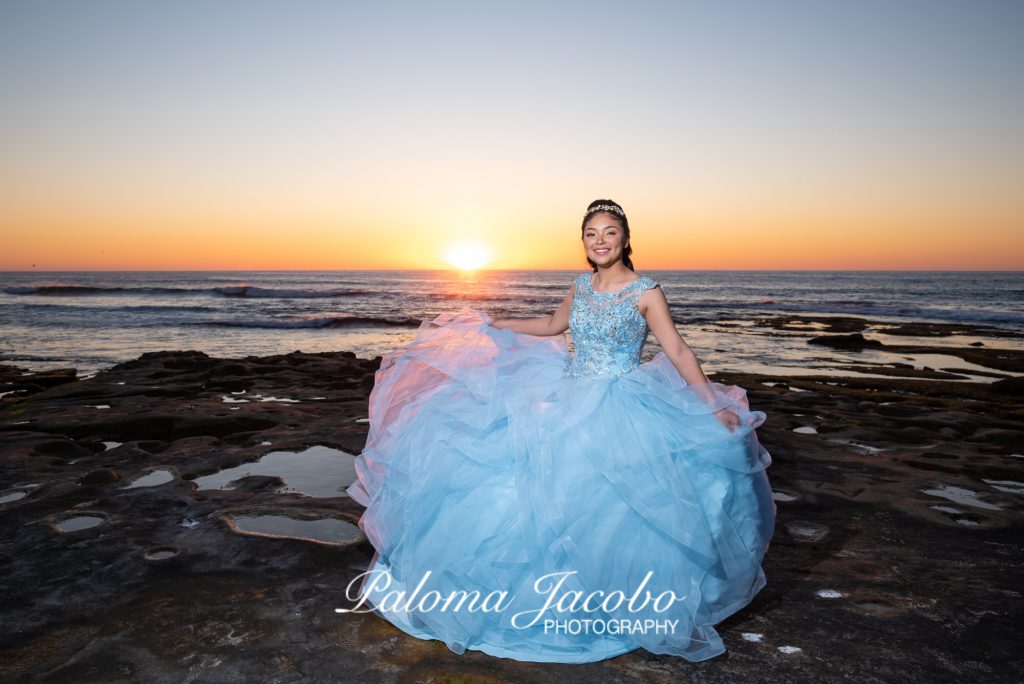 I hope you liked these Quinceanera picture ideas, if you would like to watch a video recap make sure to watch the YouTube video:
I have created another video for you with 5 tips for your quinceanera photo shoot, click here to watch it.
Looking for a location in San Diego for your Quinceanera photo shoot? Chek out this post: http://blog.palomajacobophotography.com/top-5-locations-for-a-quinceanera-photo-shoot-in-san-diego
Which one was your favorite? Let me know in the comments.
And if you are looking for a Quinceanera Photographer or Videographer in San Diego, CA get in touch!
https://palomajacobophotography.com/quinceaneraphotography
I'd be delighted to document your super special Quinceanera!