Learn what a Quinceanera Padrinos is and what is the role of each Padrino and Madrina at a Quinceanera.
In today's blog, I'm going to explain to you:
What a Quinceanera Padrino is
Do you even need quinceanera padrinos?
What their role is in your quinceanera
If you are new here my name is Paloma, I am a Quinceanera photographer. Welcome to my blog where you learn everything about a Quinceanera and how to plan one.
What is a Quinceanera Padrino?
You can think of them as the Padrinos for your baptism, they are just like another set of parents that can guide you and be with you through life. Some Quinceaneras choose their baptism padrinos to be their quinceanera padrinos too.
Traditionally you only have one set of padrinos, which are main padrinos or de Padrinos de Honor.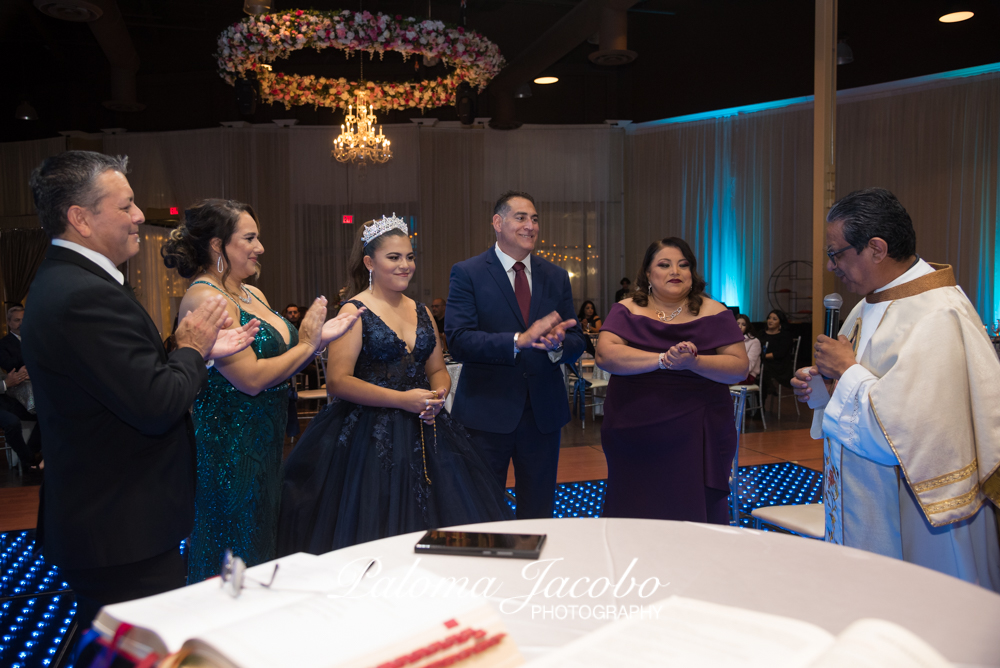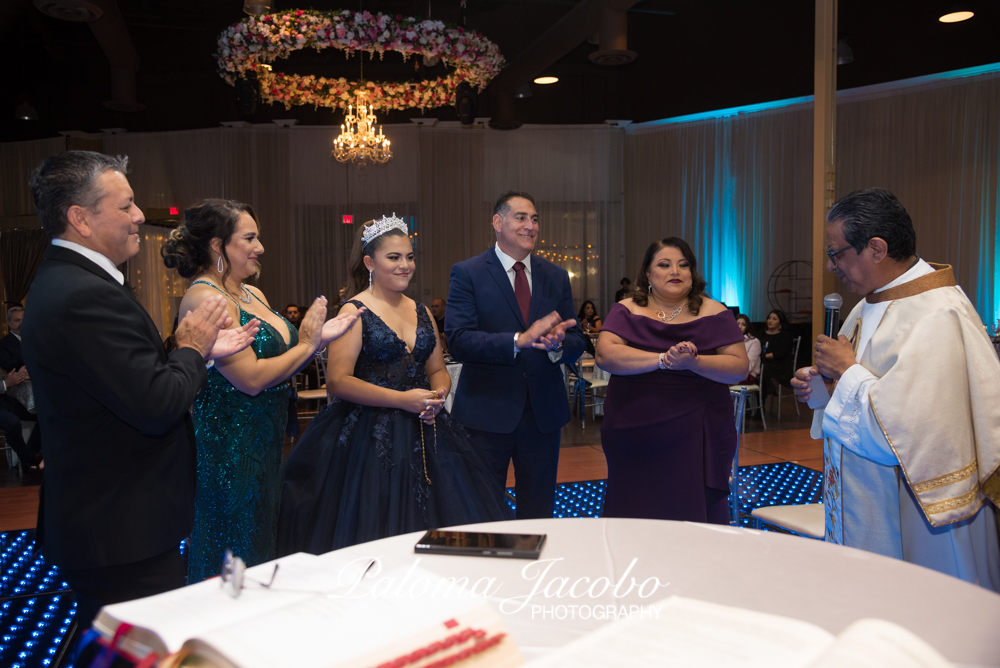 There is no rule saying you have to have padrinos for your quinceanera to be a quinceanera I have photogrpahed plenty of Quinceaneras who don't have any padrinos and the party is still called a Quinceanera.
2 Types of Padrinos for a Quinceanera
There are basically two schools of thought when it comes to Quinceanera Padrinos:
1 Padrinos who are sponsors
You can have Padrinos who are like sponsors so they pay for whatever it is that they offer to pay.
2 Padrinos who are not sponsors
Those are your Padrinos and Madrinas who don't actually really pay for the things they are giving you at your Quinceanera.
A good example of this is the last doll. If your little sister or little cousin is the one giving you the doll but she's like five years old. Most likely she is not paying for it, she's not sponsoring it but she is still your Madrina.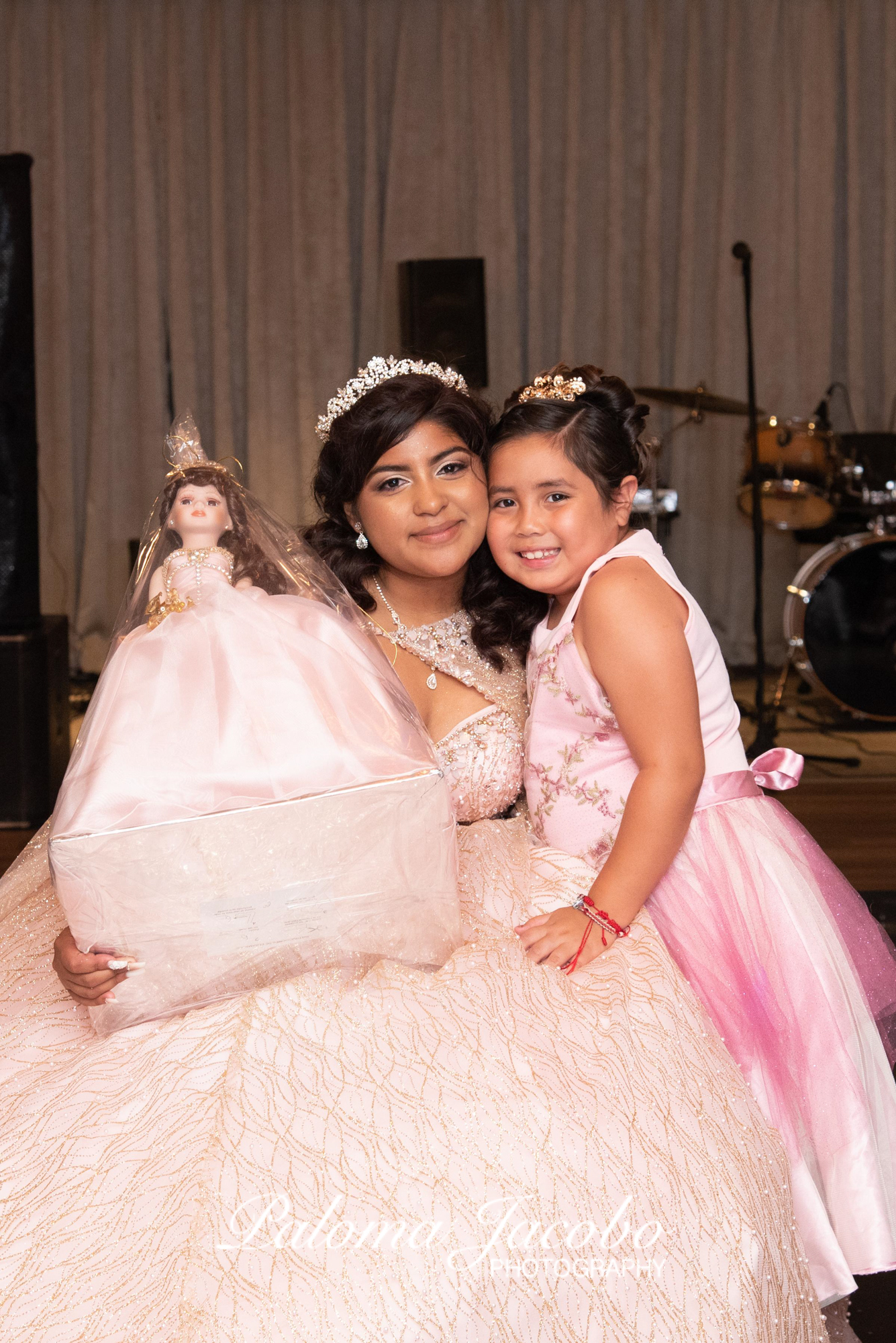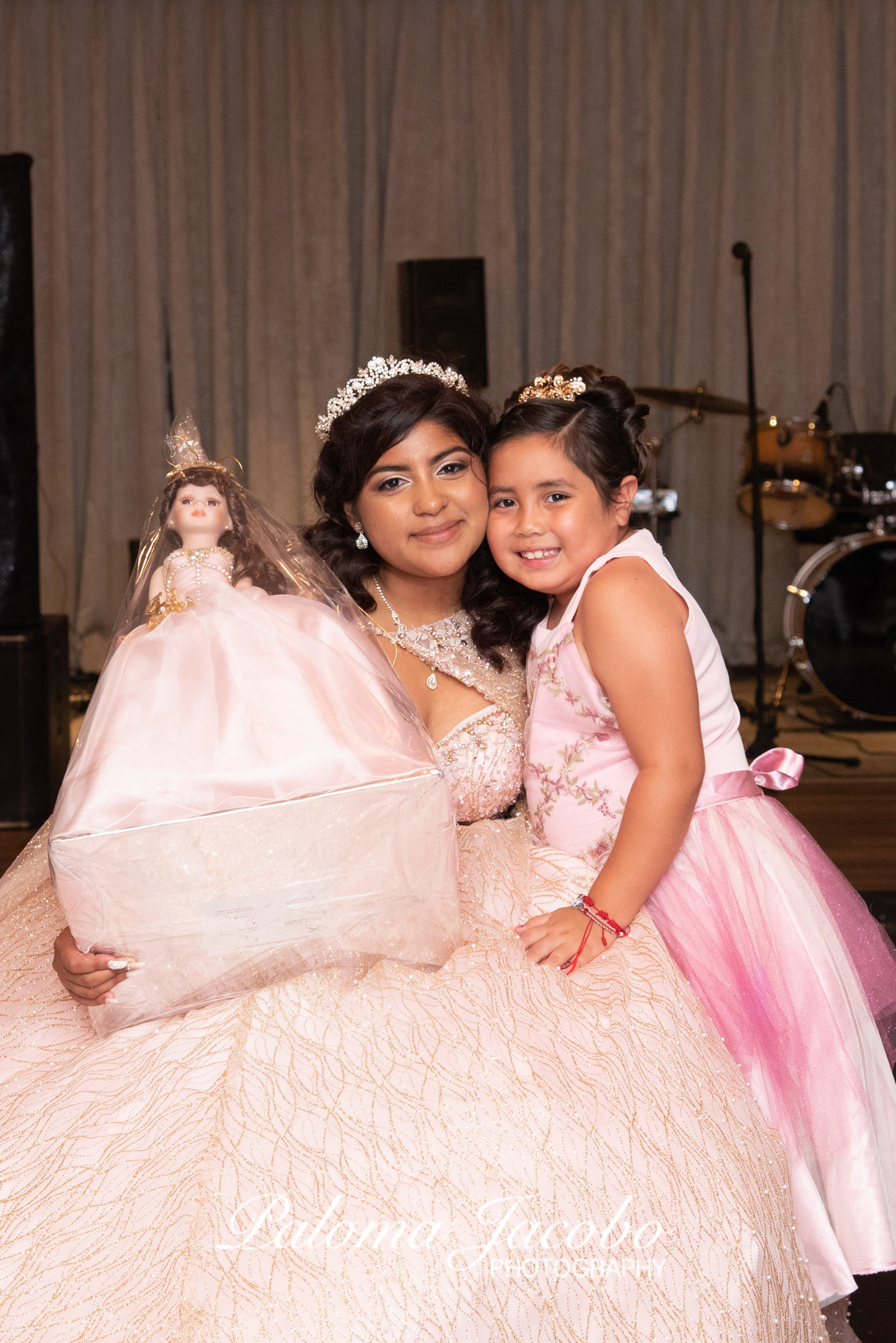 Important recommendation for Padrinos who are sponsors
Don't force anyone at all to pay for stuff for your Quinceanera. Don't go like: you are my Tia so you are paying for my dress or you are my Tio so you are paying for the Mariachi.
NO, that's a BIG NO!
Usually Padrinos will offer to give you something as a special gift to you if they can afford it.
What padrinos do you need for your Quinceanera?
Main Padrinos or Padrinos de Honor for a Quinceanera
First, we are going to start with the main Padrinos. Once again think of them like the Padrinos at your baptism.
Their role at the Quinceanera will be to accompany you the whole day. They will go to church with you and they will be sitting or standing next to you. It's usually Padrinos on one side and parents on the other side.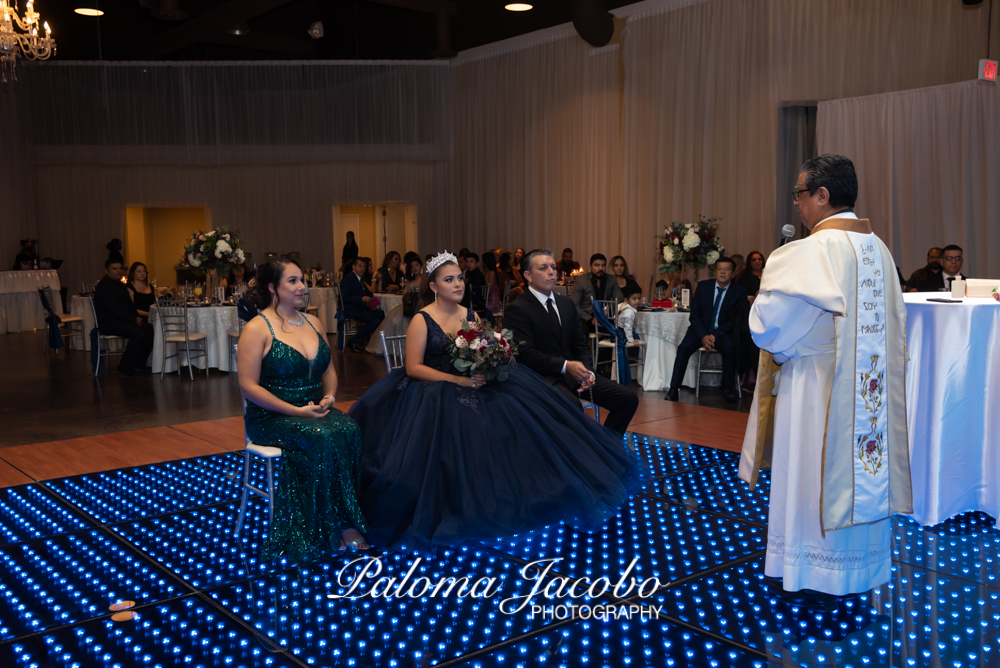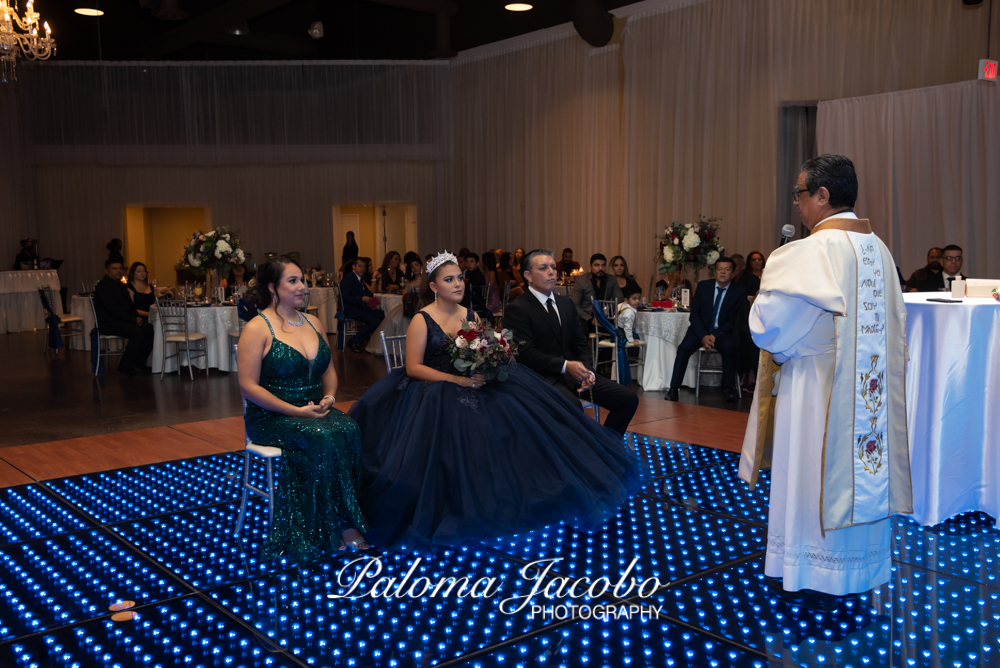 They're also the ones accompanying you during the whole reception, the Padrino will have a dance with you and they can stand with you at the center of the dance floor with your parents during the toast.
Padrinos and Madrinas for Quinceanera Ceremony
The Padrinos that you are going to need during the ceremony will vary depending on the kind of ceremony you are going to have.
As an example, I will list the ones you need for a Catholic Ceremony
Bible and Rosary
At some point during the mass, they are going to give you the Bible and the rosary. The Padrino or Madrina for Bible and Rosay are usually the same person, giving you both items.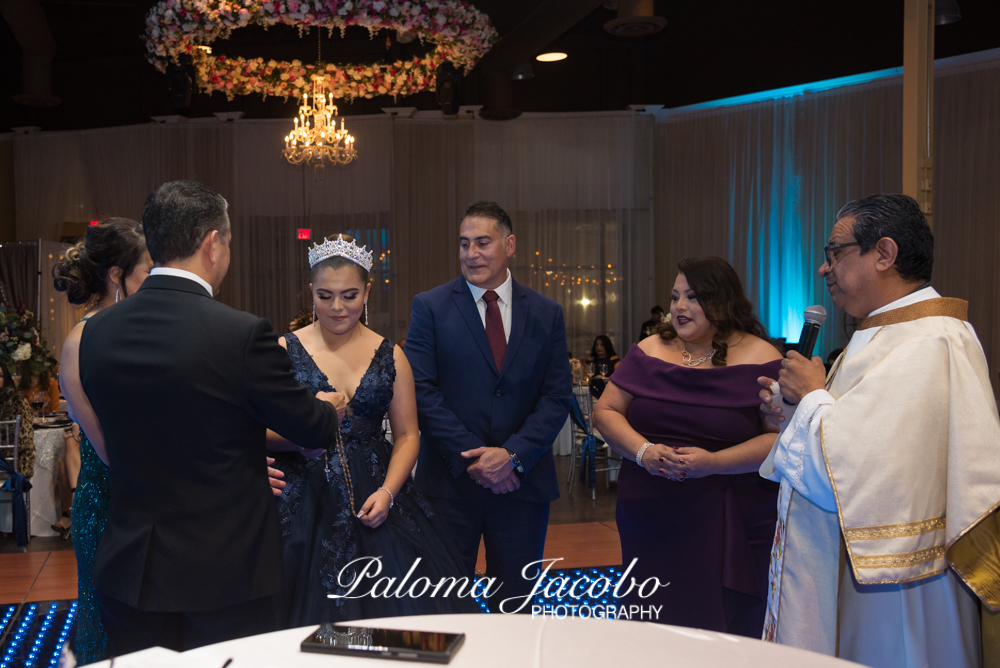 Ring and pendant or medalla
Your ring and medalla Padrinos will give you those gifts usually at the same during the Ceremony and they will put them on for you.
Pillow
They will give you the pillow where you're going to be kneeling. The Padrinos is usually a little sibling or a little cousin.
Bouquet of flowers
You are going to need a Madrina for the flowers that you will be offering to the Virgin.
Their role is to give you the flowers during the mass and then you will bring the flowers to the Virgin Mary.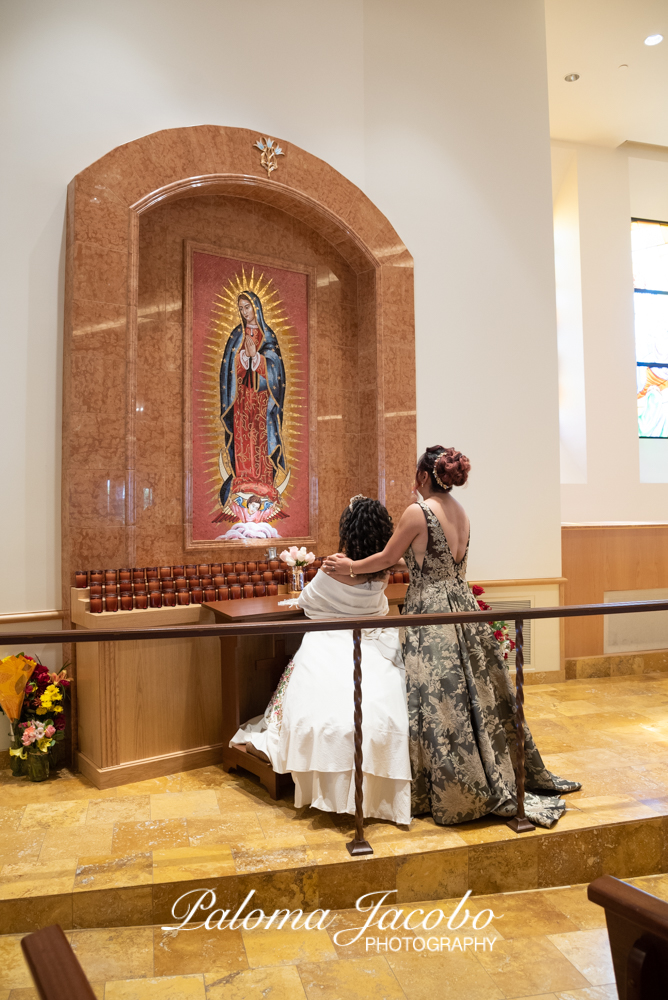 Christian Quinceanera Ceremonies
Crown
I have seen that some Quinceaneras do the crowning ceremony at the church so if you are planning on doing it that way you will need your Crown Padrinos.
Candle
Sometimes they also light a candle during the ceremony, if you are doing this you will also need Candle Padrinos.
Padrinos for Quinceanera Party
This will vary depending on what you want to do for your very own Quinceanera but we are going to start with the padrinos you will need for the Traditions.
Padrinos for Quinceanera Traditions
The way Traditions go it's usually the quinceanera is sitting down in the middle of the dance floor and all the different padrinos come to her and they give her whatever it is that they are going to give her.
Crowning ceremony Padrinos
We will start with the crowning, you are going to need a Madrina or Padrinos for the crowning ceremony.
The crowning ceremony means they're crowning you as Queen princess of the night so your Padrinos will put the crown on the quinceanera.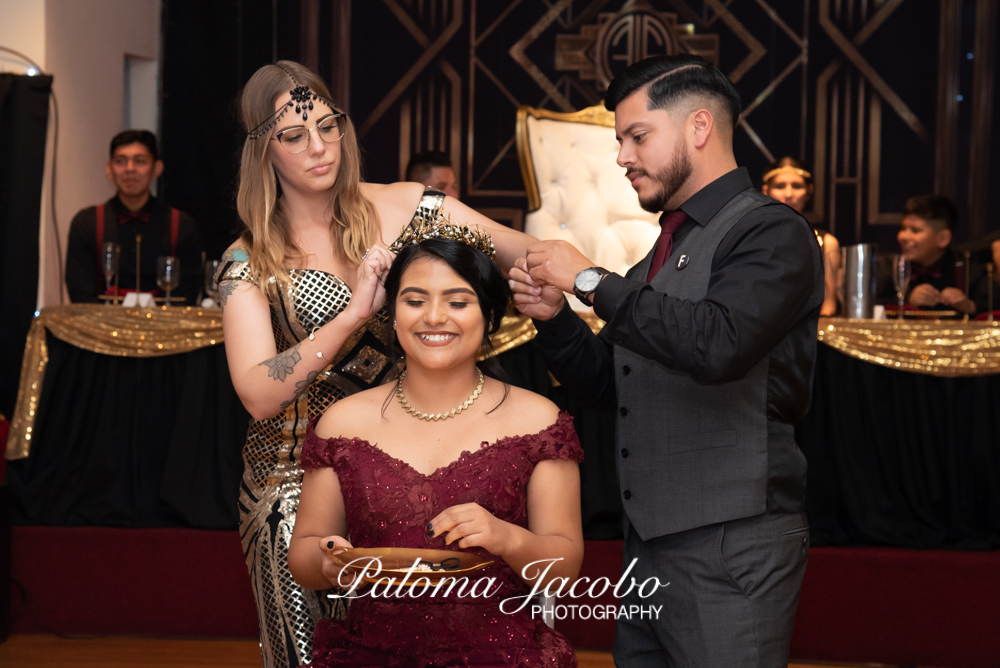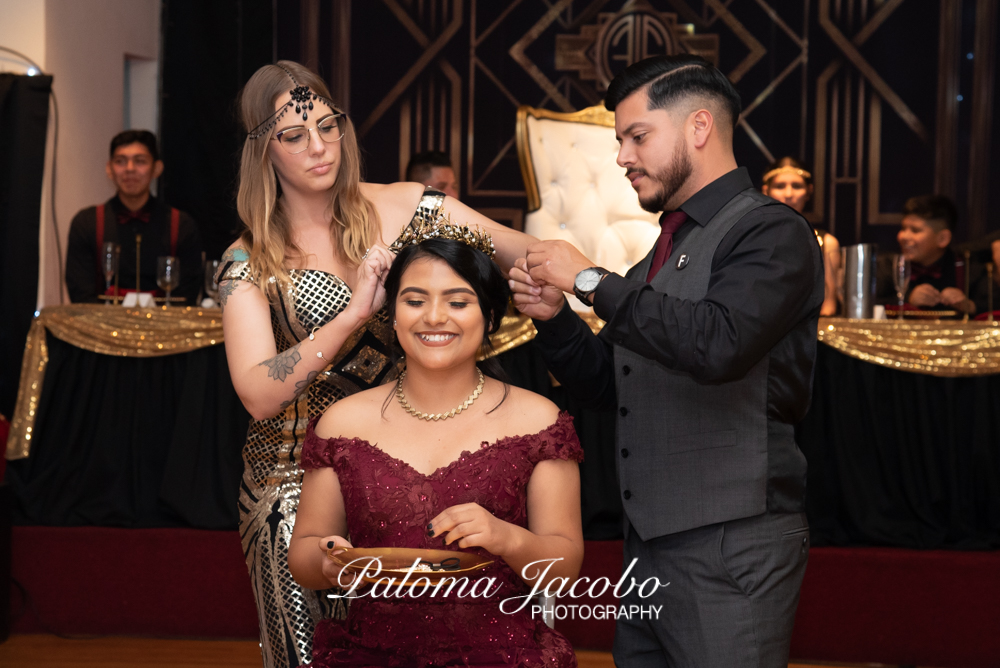 Change of shoes Padrinos
For the change of shoes, it's usually the Quinceanera's dad who does the change of shoes.
Sometimes it can be a different Padrino or a different Madrina, it's really up to you.
They are going to come to the center of the Dance Floor, they are going to bring the new shoes and they are going to change your shoes.
This is a very symbolic thing like you're going from childhood to Womanhood.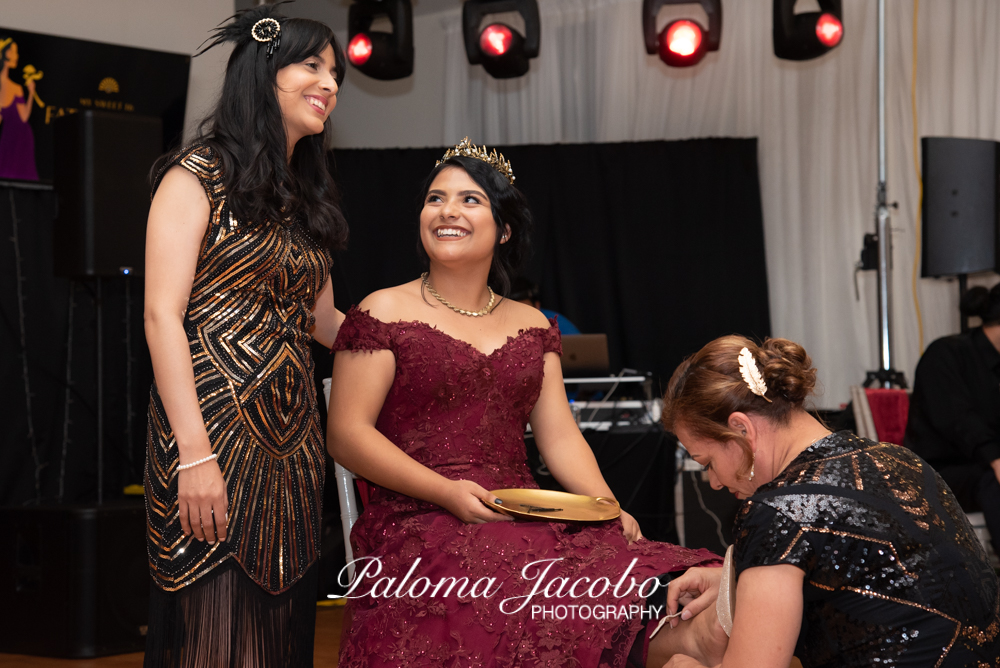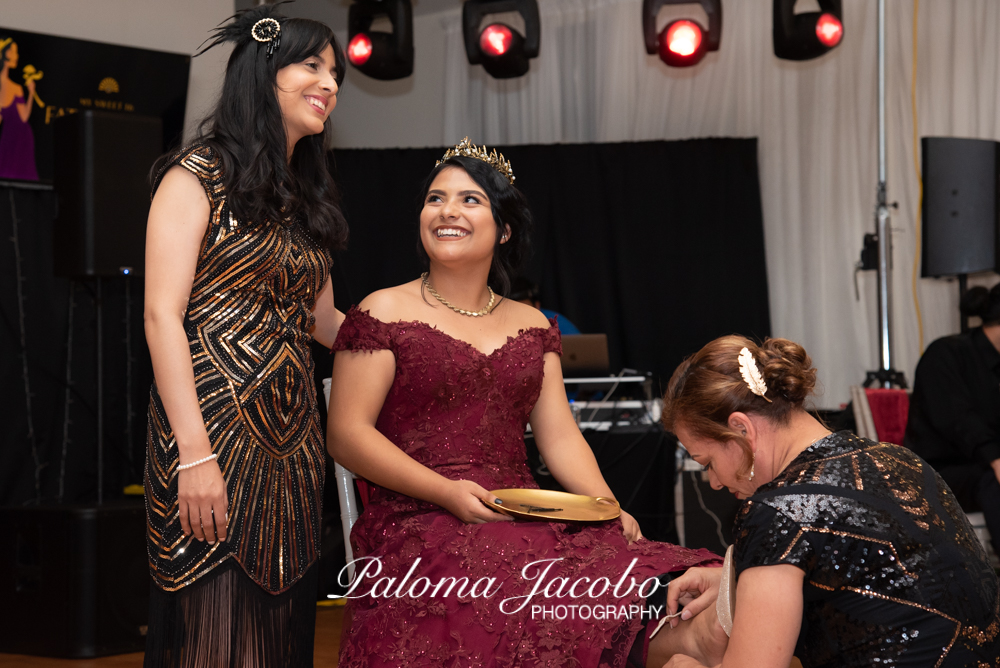 Last Doll Padrinos or Madrina
The Quinceanera's dad could be the one handing her the last doll or you can have a different set of Padrinos or Madrina.
Something I have seen and it looks super cute is your little sister or a little cousin giving you the last doll.
All that she is going to do once again is just walk into the center of the dance floor where you are and she is just going to hand you the last doll.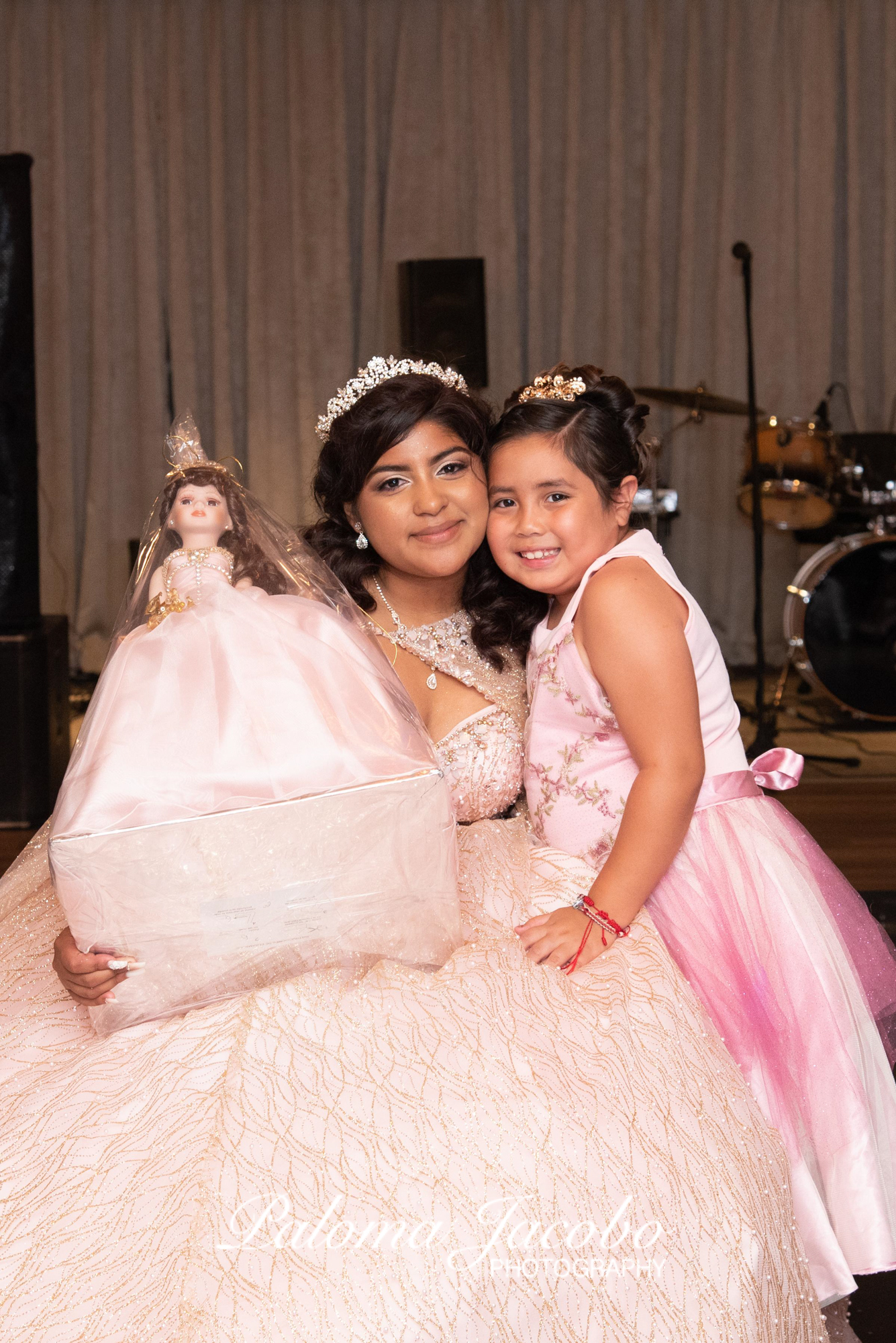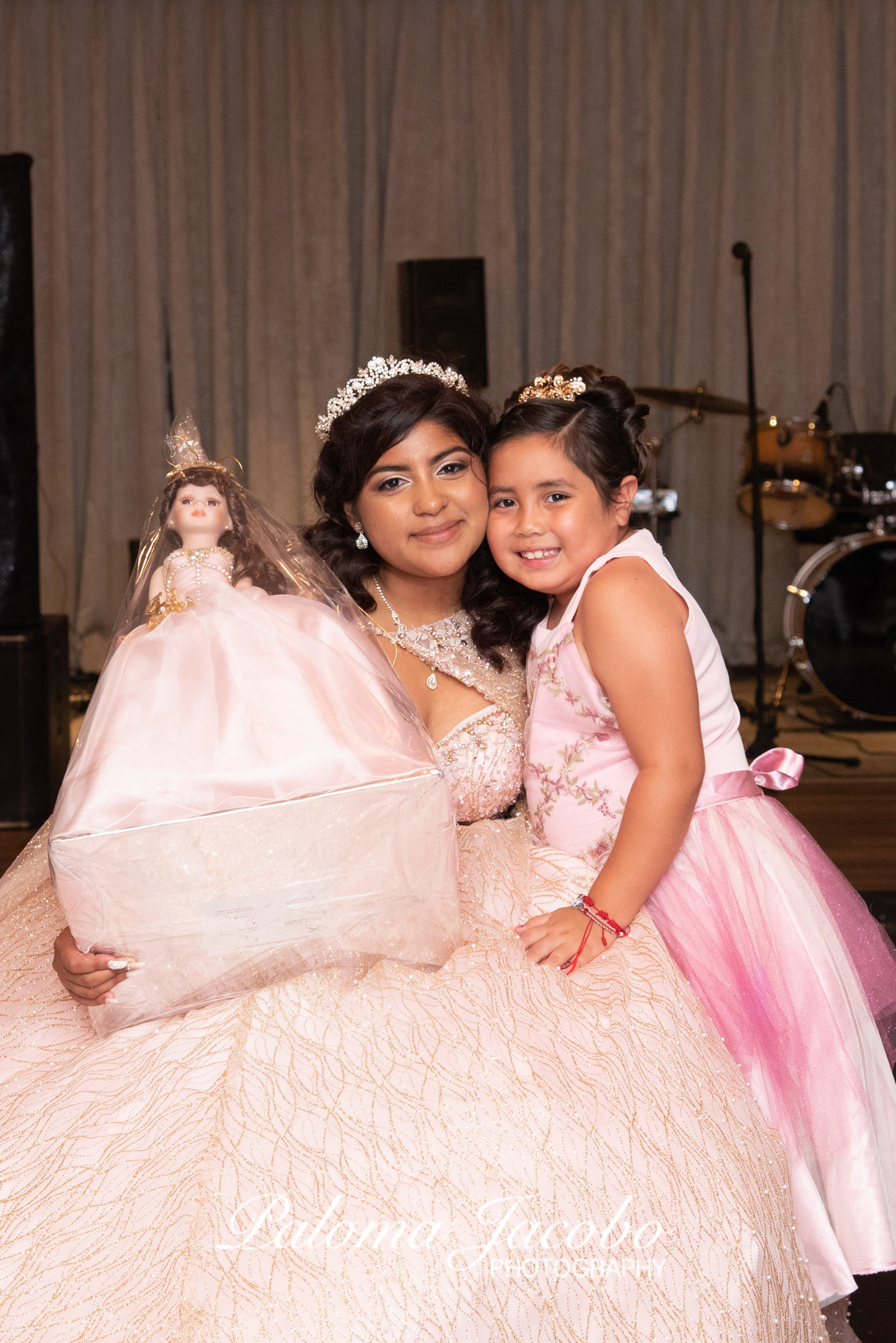 Ring and Pendant or Medalla
I have seen some Quinceaneras do this at the reception instead of at the ceremony.
It is really up to you to decide where you want to do it. Your padrinos will do the same thing, they will put the ring and pendant on you.
This is usually done at the same time as all the Quinceanera Traditions.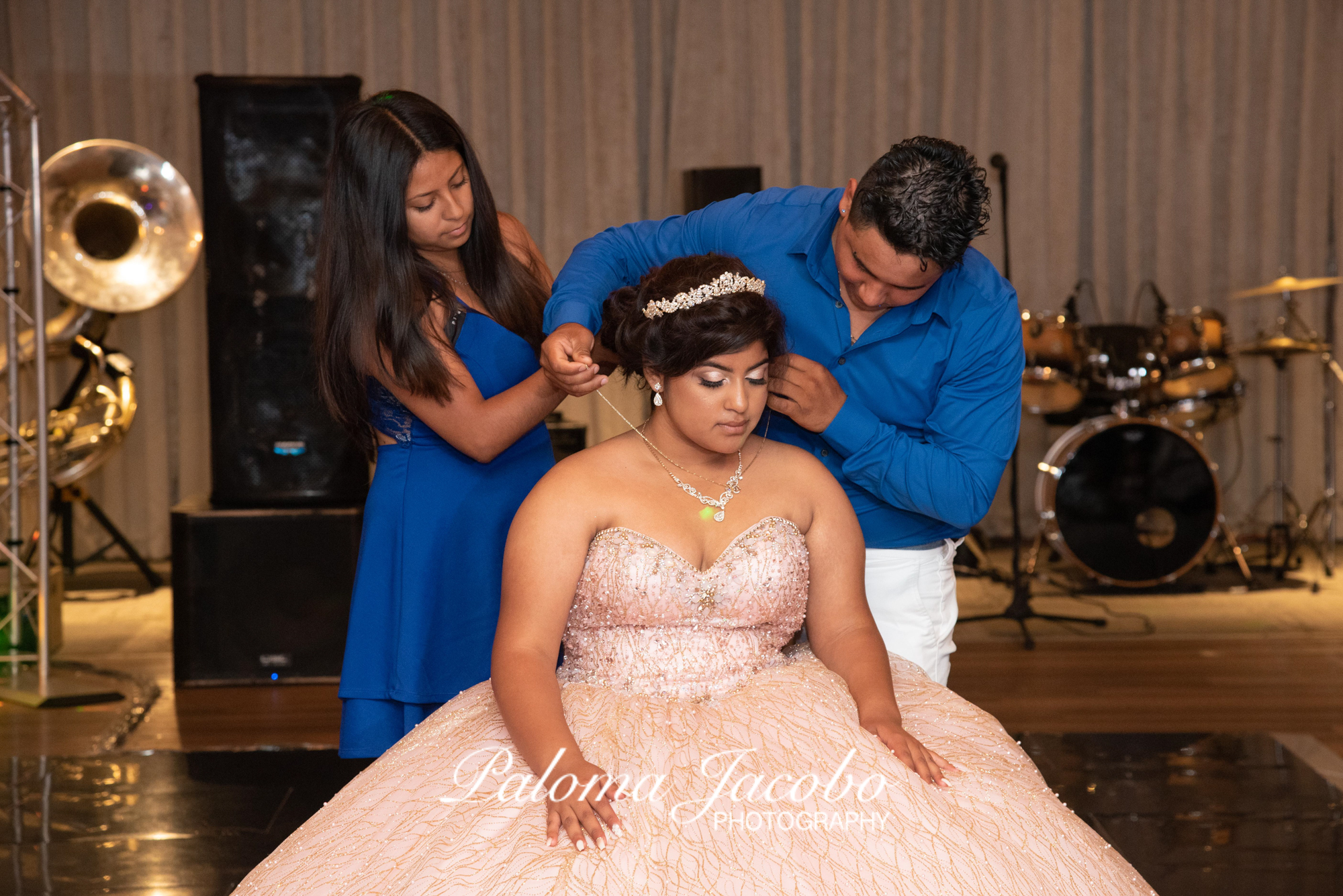 Surprise Gift
If you want to do a surprise gift you will also need a padrino or Madrina to give you this surprise gift, this is usually given at the very end like after all the Traditions.
Quinceanera Toast Padrinos
If you are only having your main set of padrinos like the padrinos de Honor.
They will be the ones standing at the front with your parents and you.
But I have also seen other Quinceaneras who have Padrinos de Brindis or Toast and what they do is they purchase the glasses and everything for the toast.
And they stand with you during the brindis or toast.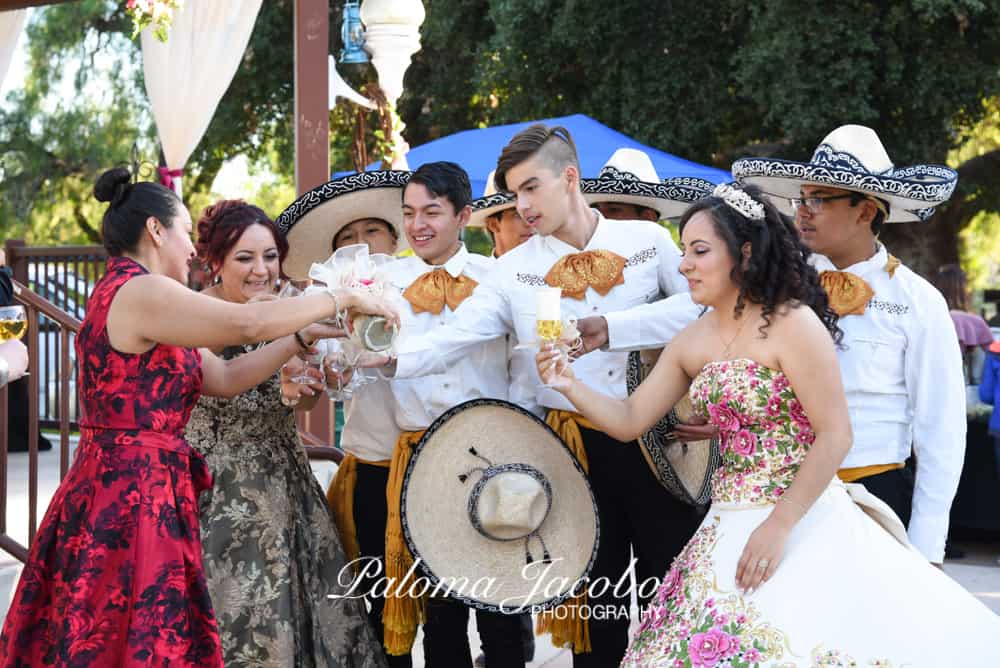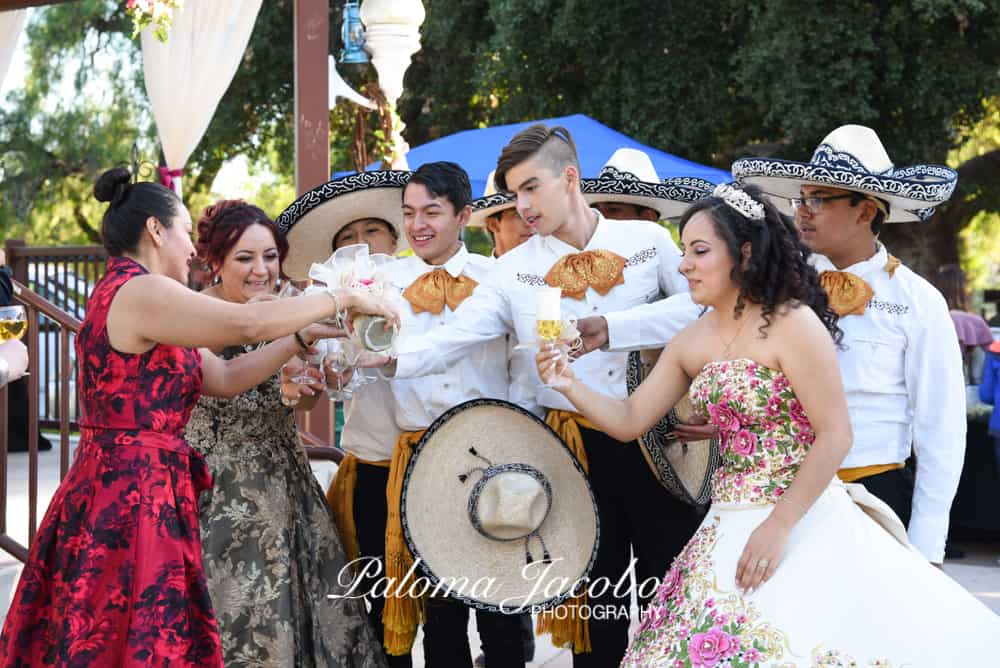 Like I mentioned before you can have Padrinos or sponsors for everything that you need for your quinceanera.
I have photographed Quinceaneras where they have this super super super long list of Padrinos:
Dress, shoes, necklace,  Mariachi,  DJ, guest book, photography and video, catering, album, pillow, hair and makeup, and more.
You can have a padrino for pretty much anything and everything but once again that it's really up to you.
I know this is a lot to cover but don't worry I got you!
I have a list of all the Padrinos that you are going to need. Click here to get it!
* Remember all padrinos are optional*
If you are planning your Quinceanera, I recommend you to check out this blog post next about the order of events for your Quince party!