Learn how to create a timeline for your Quinceanera day, step by step. I will also share some useful tips with you so you can make the best use of your time on your Quinceanera day.
If you are new here my name is Paloma, I am a Quinceanera photographer. Welcome to my blog where you learn everything about a Quinceanera and how to plan one.
This is just going to be a guideline, every Quinceanera is different so you can make some adjustments according to your very own quinceanera.
Parts of a Quinceanera Timeline
1 Quinceanera Getting Ready
The first thing that you are going to do on your Quinceanera day is get ready.
It is extremely important to give yourself and your hair and makeup artist enough time to get your hair and makeup done.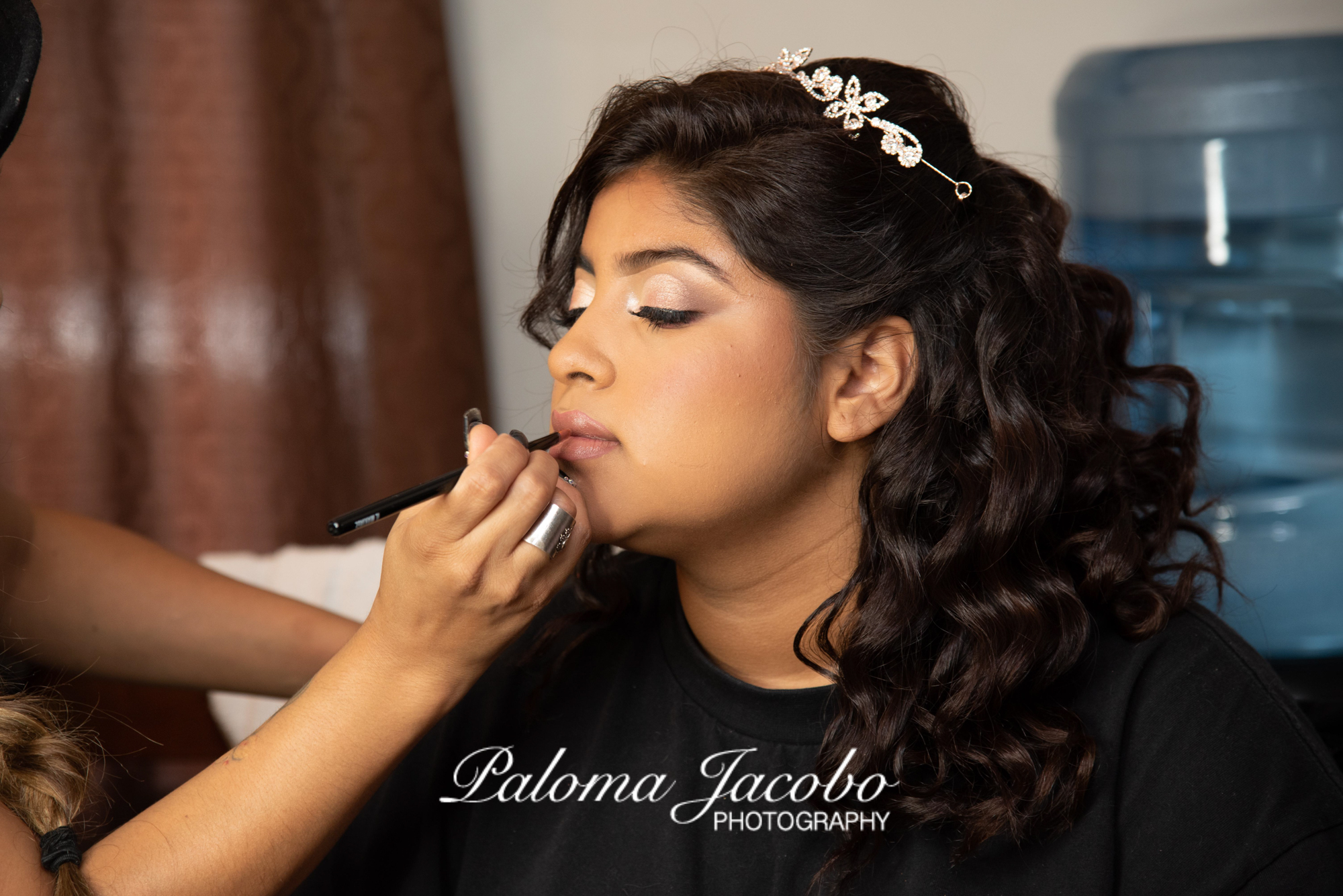 And give yourself plenty of time to get in your Quinceanera dress.
Because getting dressed for your Quinceanera won't be like getting dresses for any other day it's not like; putting on jeans and a t-shirt.
You will have to put on a petticoat or 2, then you have to get in your dress while making sure that you don't mess up your hair and you don't mess up your makeup.
Someone will have to tie up your corset and it is a whole different process. And this process takes time.
Click here to watch a video of a Quinceanera getting ready.
2 Quinceanera Ceremony
Once you are done getting ready you will head out to the Ceremony, if you are having one.
They might ask you to be there 20 to 15 minutes before so make sure to take into account this time when you are planning and booking your limo or party bus.
You will want to be there a little bit ahead of time, it is always a good idea to be early.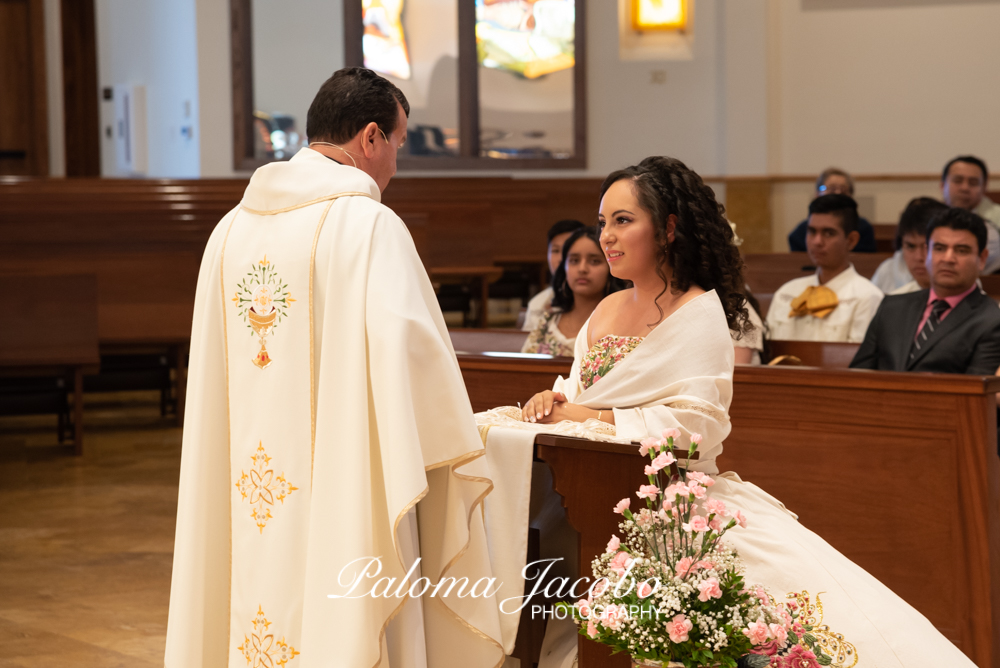 The Ceremony usually lasts about 1 hour, depending on the kind of ceremony you are having.
After the ceremony is over we will get pictures with your family and friends. We usually need around 15 to 20 minutes after the ceremony depending on how big your family is.
Click here to watch a short video of the most important parts of a Catholic Quinceanera Mass
3 Quinceanera Photo Shoot
After the ceremony, we usually do the photoshoot.
You can go wherever you want to go, if you have no idea where to go to take your pictures; ask your photographer, we usually know a lot of good spots.
For example, here in San Diego, we have so many beautiful places for a quinceanera photo shoot.
Check out this blog post for some of the best locations for pictures in San Diego.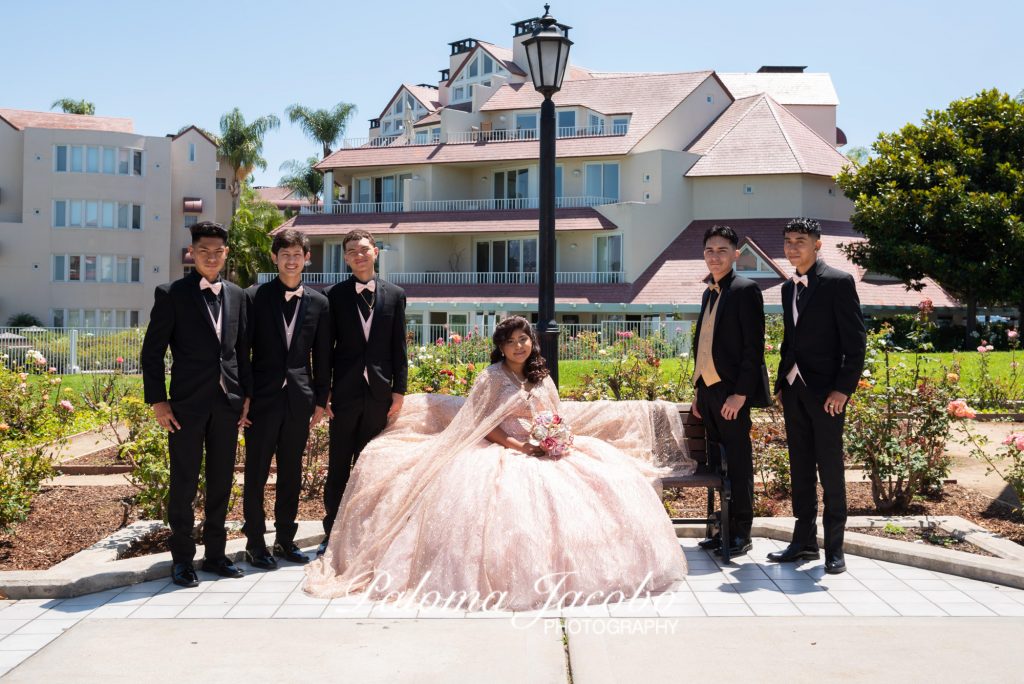 I recommend doing the photo shoot either close to the hall or close to the church, so you don't have to waste a lot of time just driving around on your quinceanera day.
The photo should last about one hour and you will be accompanied by your court and close family.
Click here to watch a Quinceanera photo shoot
4 Quinceanera Party
After the photo shoot, we will go to your reception.
Parts of a Quinceanera Party Timeline
I will share briefly what happens at a Quinceanera party, I recommend you to check out this blog post to create your Quinceanera party timeline where I go in detail into every part of a Quinceanera party.
Quinceara Grand Entrance
I recommend to all of my Quinceaneras to do their grand entrance about 30 minutes 45 minutes after you told everyone else to be there.
Because if you give yourself that buffer of time; by the time you do your grand entrance, people are going to be there already.
You are going to have people clapping and cheering in the background instead of an empty hall.
Click here to watch a real Quinceanera doing her Grand Entrance
Dinner
Dinner will last one or two hours depending on your quinceanera.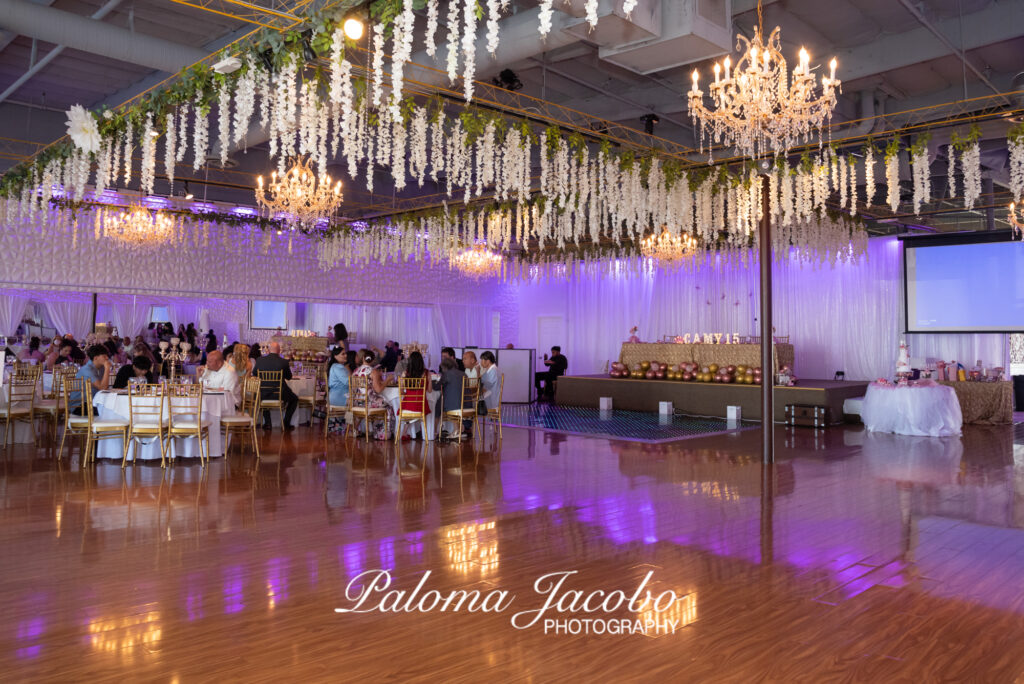 Quinceanera baby pictures slideshow
After that, people usually play the slideshow. It is either during dinner or right after dinner and it is a super cute part of a Quinceanera Party
Quinceanera Traditions
After dinner, you will start what is known as the Quinceanera protocol or Quinceanera traditions.
It usually starts with the quinceanera entering the Hall again, walking to the center of the dance floor, and receiving the following gifts from her parents or padrinos:
Crowning
Change of shoes
Last doll
Ring and pendant
Surprise gift
*Everything in this list is optional*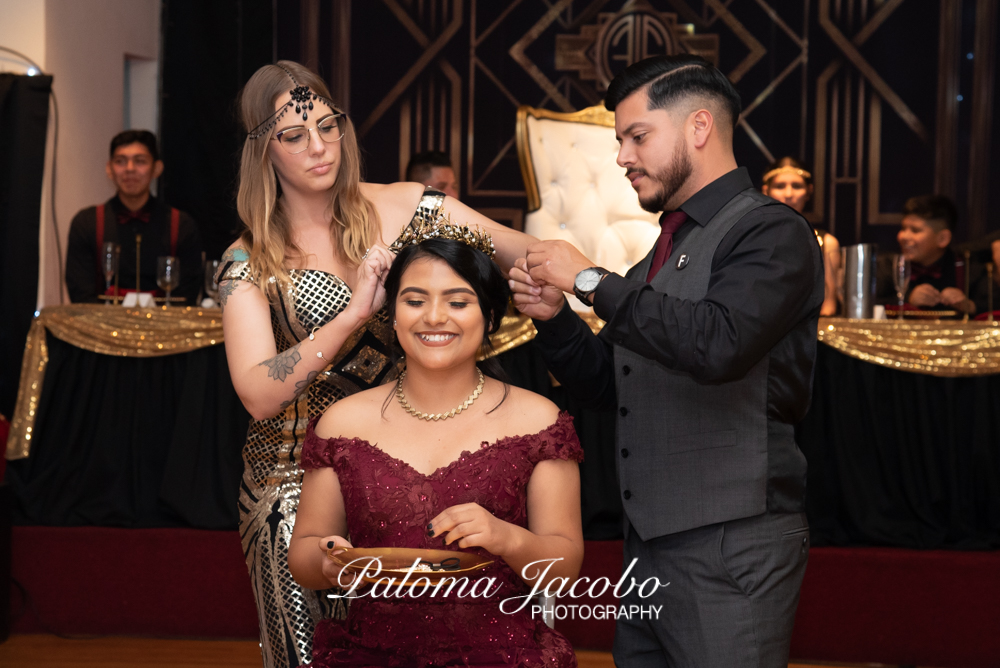 You can watch all the Quinceanera Traditions in this video, just click here.
Quinceanera Vals and dances
Vals with dad
Vals with tios, padrios and/or family Vals
Vals with mom
Main Vals with court
*Everything in this list is optional*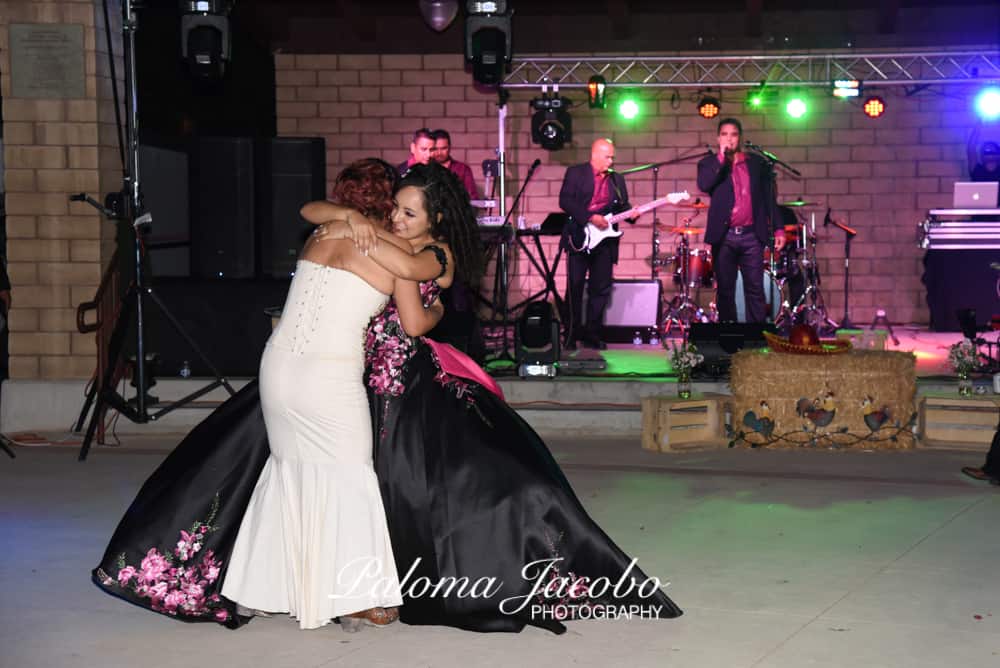 Toast and cake cutting
I recommend doing the toast and cake cutting before the surprise dance so you don't have to change your outfits twice.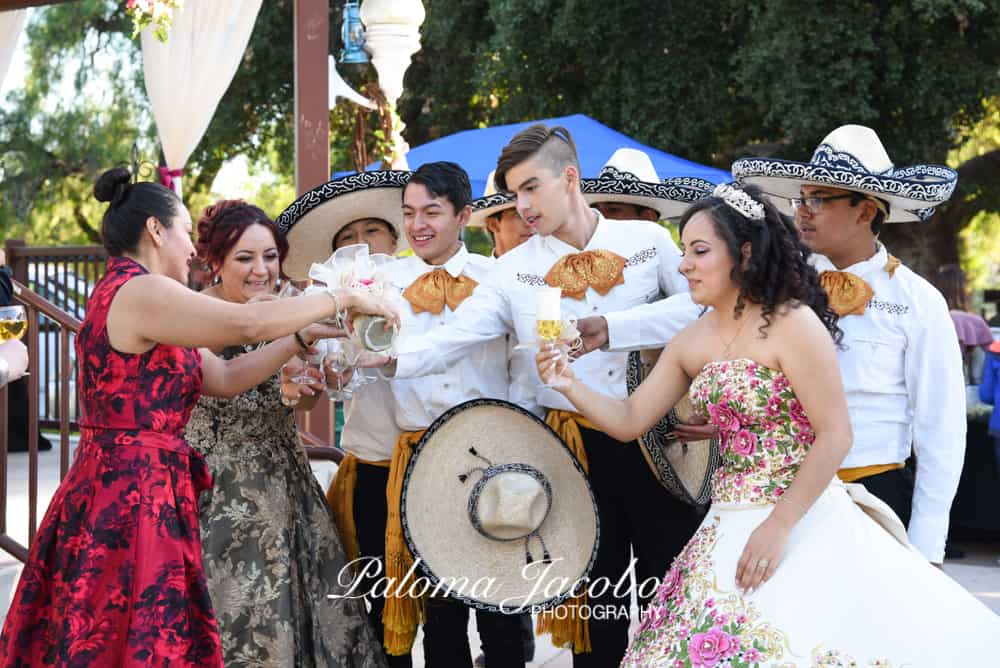 Surprise Dance
Do the surprise at the very end, right before you open the dance floor for all the guests. Actually some Quinceaneras finish the surprise dance bringing the guests to the dance floor so you can get the party started right away.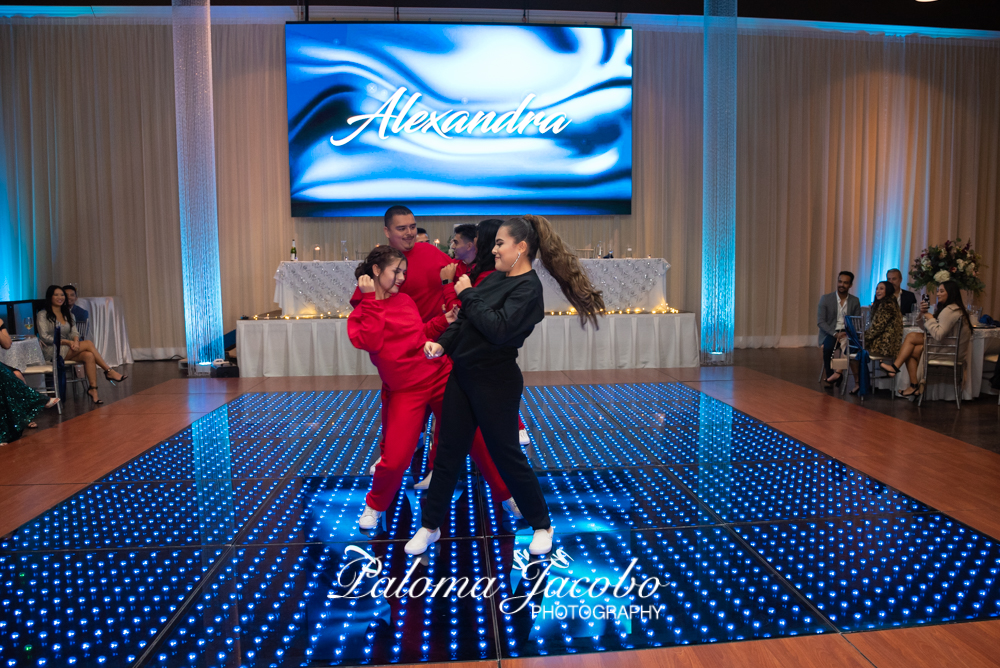 Party time!!!
This is the most fun part of your party!
All there is left to do is have fun and enjoy your party!!!
I know this is a lot to cover but don't worry I got you!
I have a timeline template where you can fill out all your times and locations. Click here to get yours!
Thank you for reading and I hope you have a wonderful Quinceanera!!!