This Adventist Quinceanera Party is a great example of how you can celebrate your Quinceanera.
You will see pictures of the whole Quinceanera day, from getting ready to the Ceremony at San Diego Broadway Spanish SDA Church, photo shoot at Balboa Park and Reception.
You can also watch the Quinceanera Party video on the Youtube channel
Quinceanera Getting ready
The Quinceanera chose a beautiful blue dress paired with silver shoes and silver and blue accessories. Here you can see some pictures of her dress, shoes and the beautiful natural flower bouquet.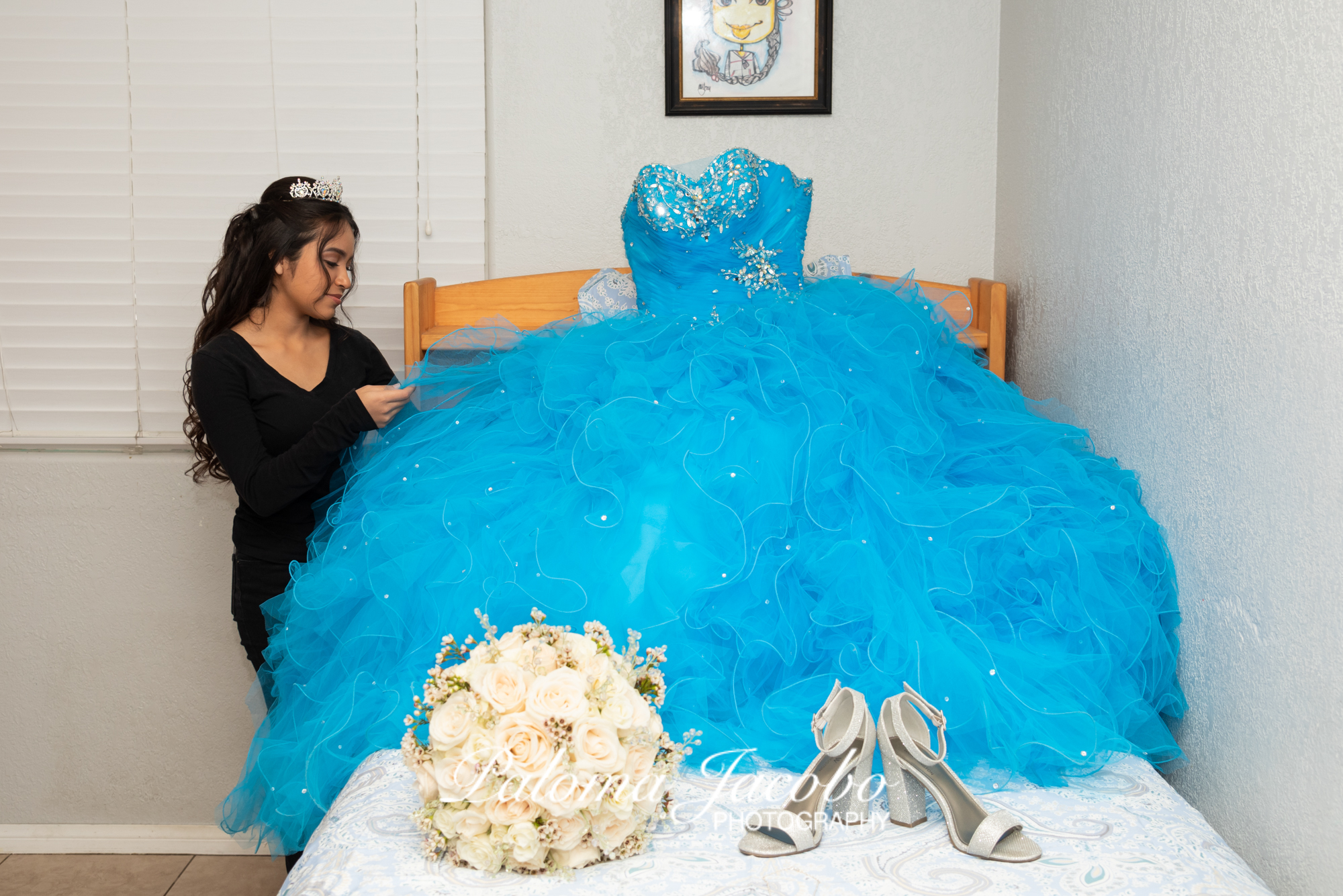 Here is the Quinceanera getting ready and walking out of her bedroom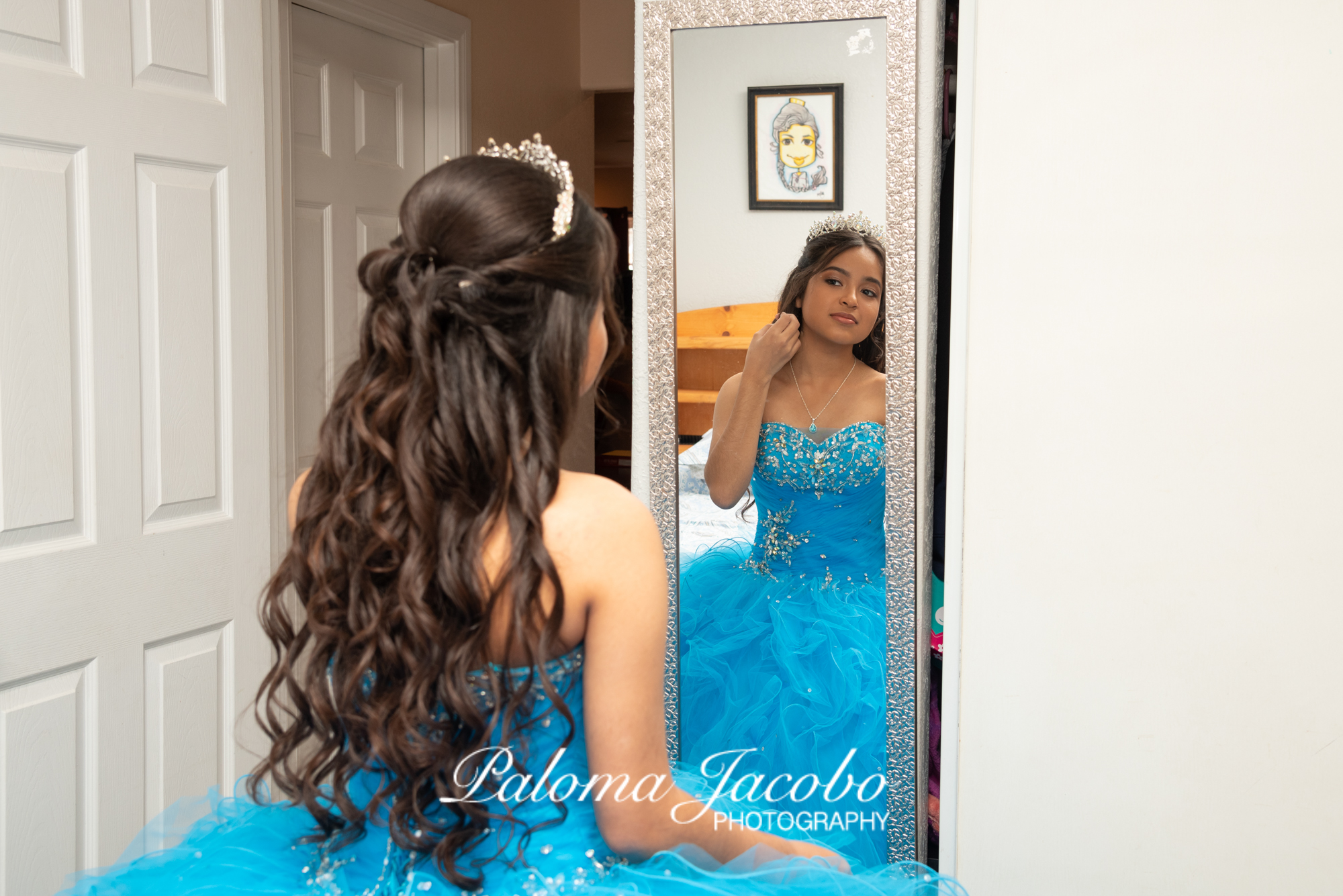 We took some pictures home and we even managed to get a great picture with this super cute family dog!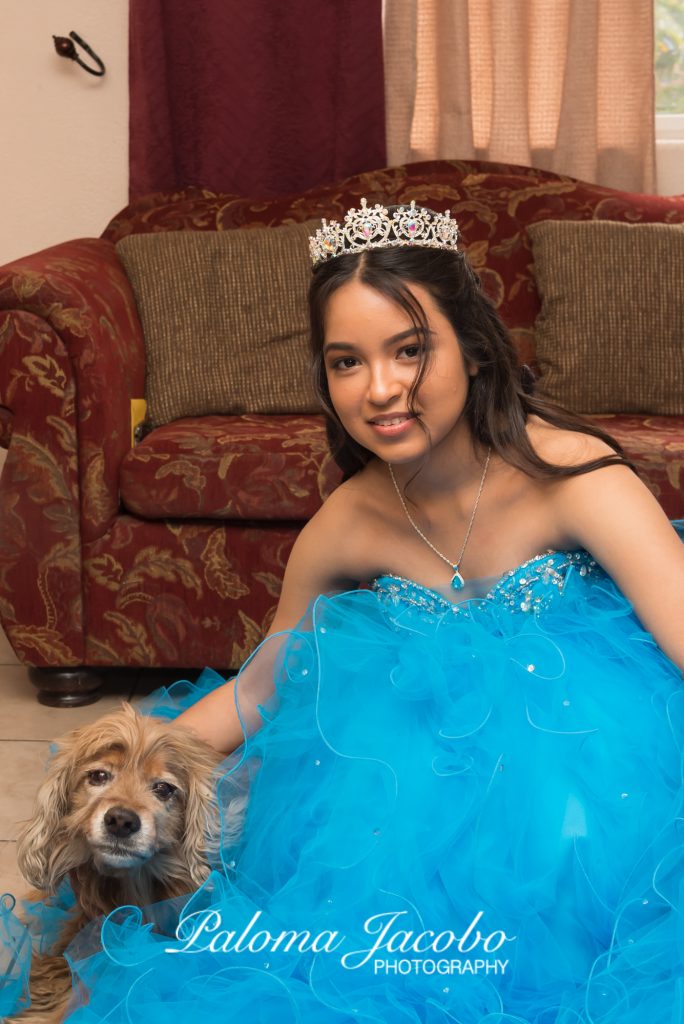 Quinceanera Photo Shoot
It is very usual to do a photo shoot on the XV day. In this case we did the Photo Shoot before the ceremony but you could also do it after.
For this photo shoot we went to Balboa park, it does not really rain in San Diego but this day it did. It was pouring while we were at the Quinceanera's house and it calmed down a bit after so we decided to head to Balboa Park to get some pictures at the covered parts of the park.
Here you can see the water on the ground.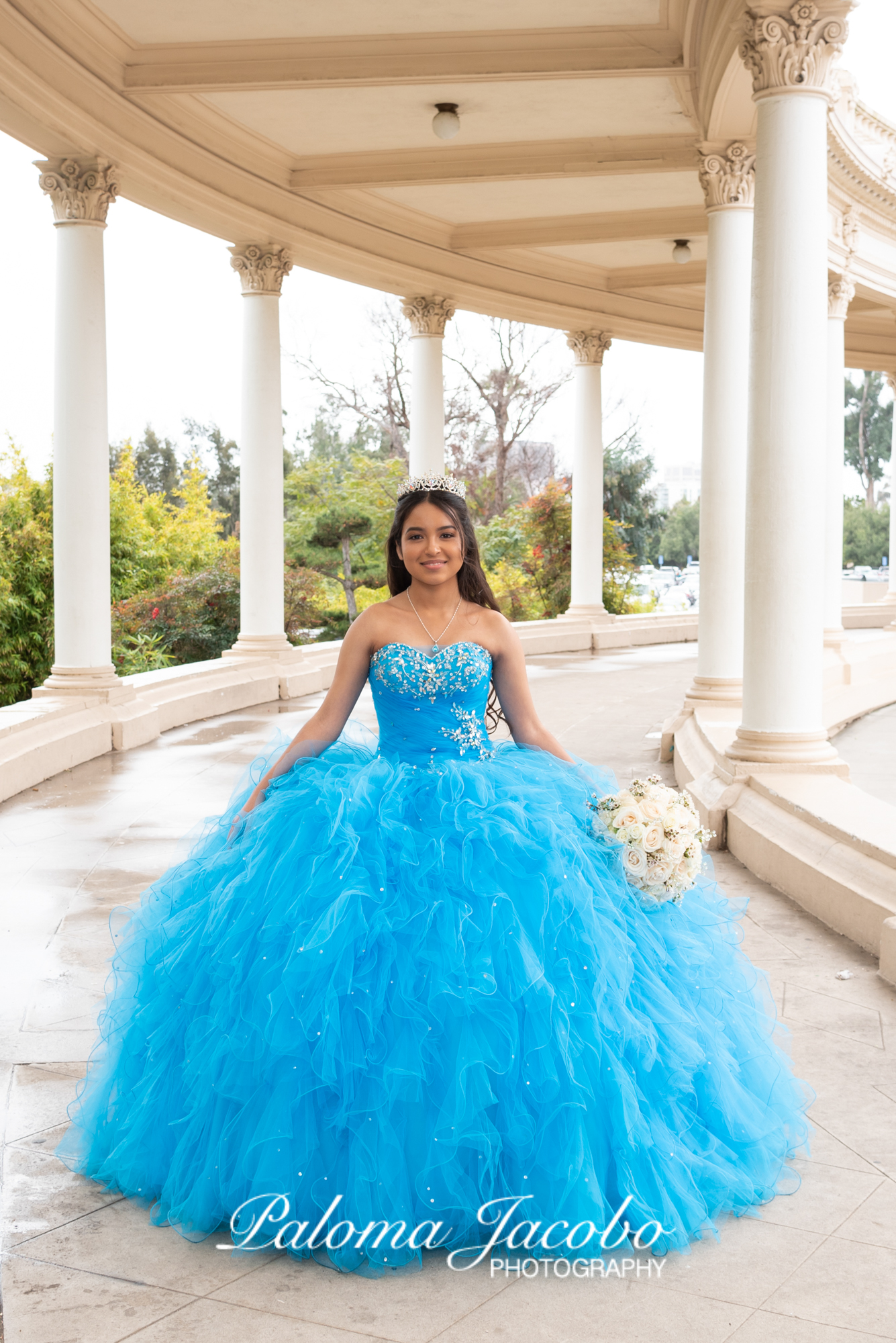 She was accompanied by her damas. They wore beautiful matching pale pink dresses and they had bouquets with blue roses to match the Quinceanera's dress. Here you can see the Quinceanera and her 7 Damas.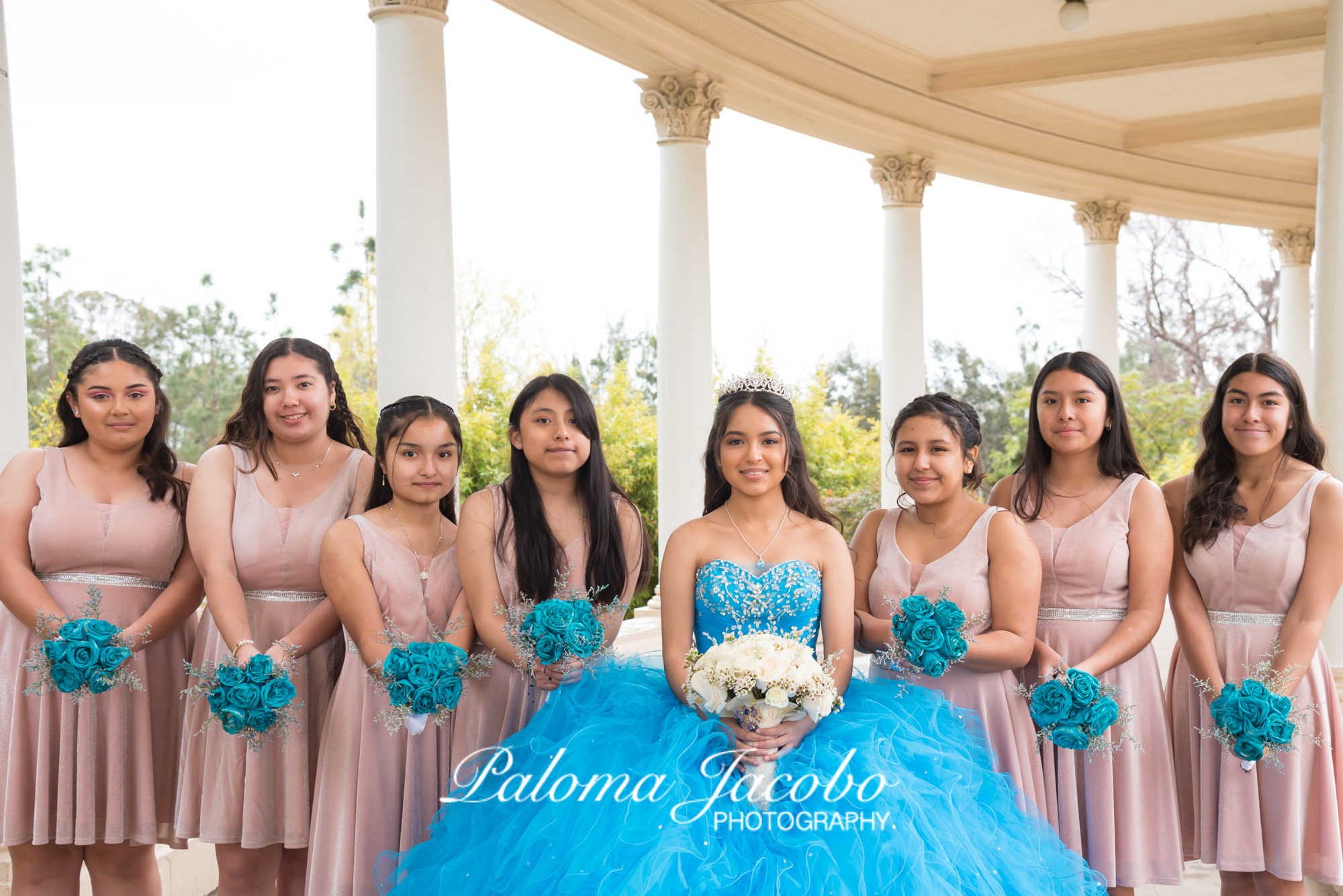 At the end of the photo shoot it stopped raining and we got some pictures by the Organ Pavilion too, here you can see the pictures.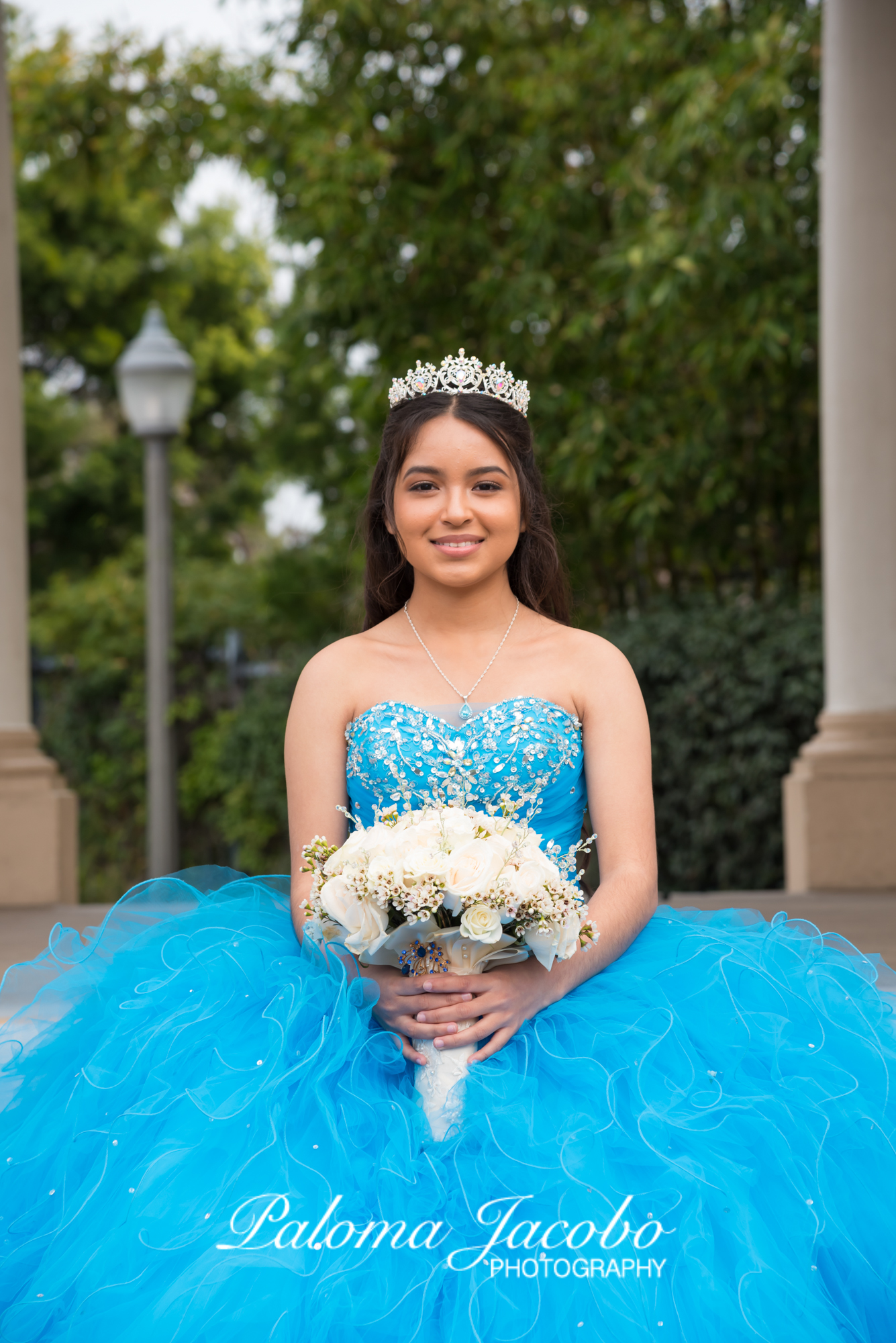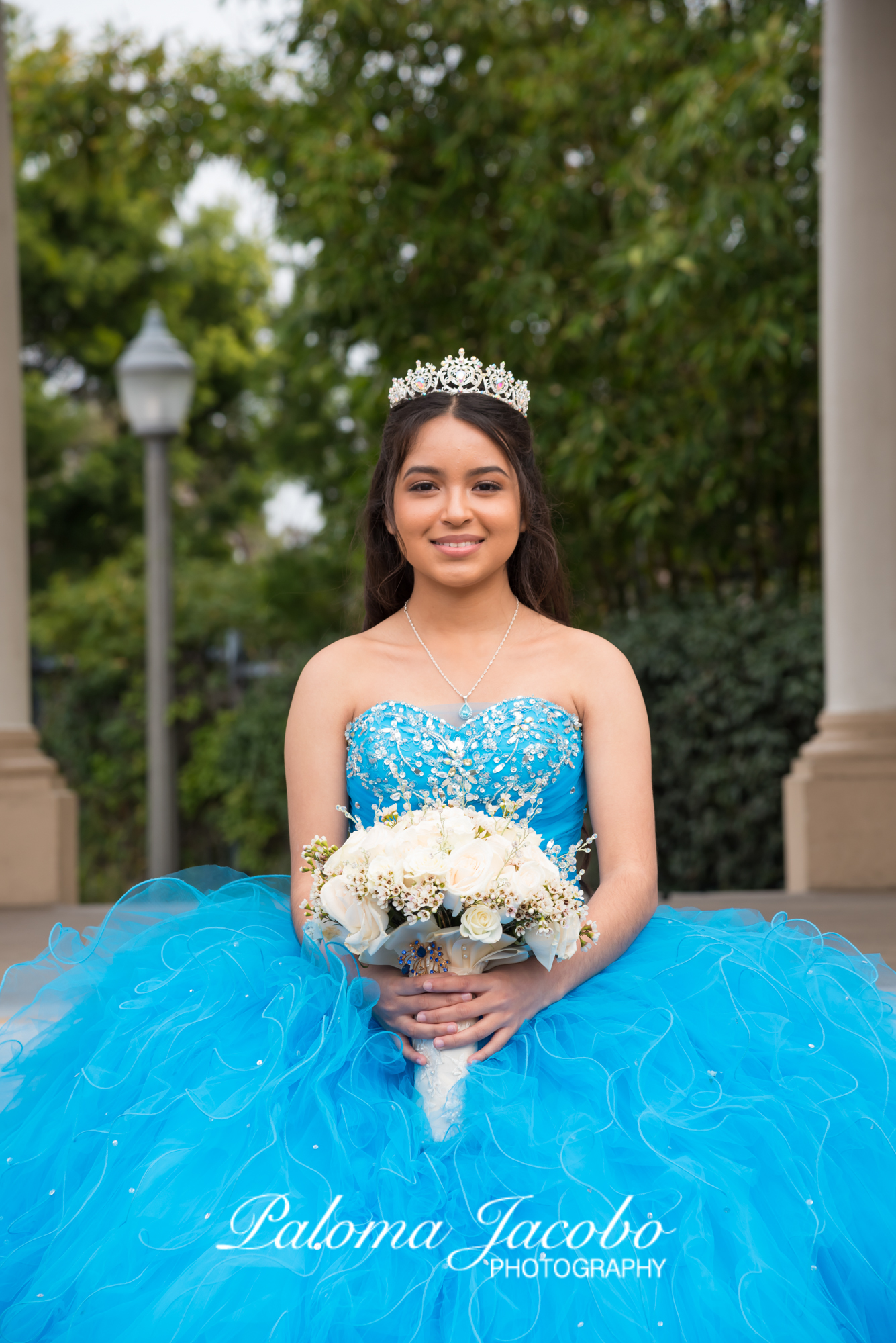 If you are looking for the best places to take your Quinceanera pictures click here to check out the blog post.
Or click here to watch the Video.
Adventist Quinceanera Ceremony
After the photo shoot the limo took her to the Ceremony location, the ceremony was held at San Diego Broadway Spanish SDA Church.
The church is so big and I absolutely love how it was decorated, all with natural white roses and the aisle was decorated with fabric on white and blue, of course to match the Quinceanera's dress.
Here are some pictures of the Quinceanera receiving a blessing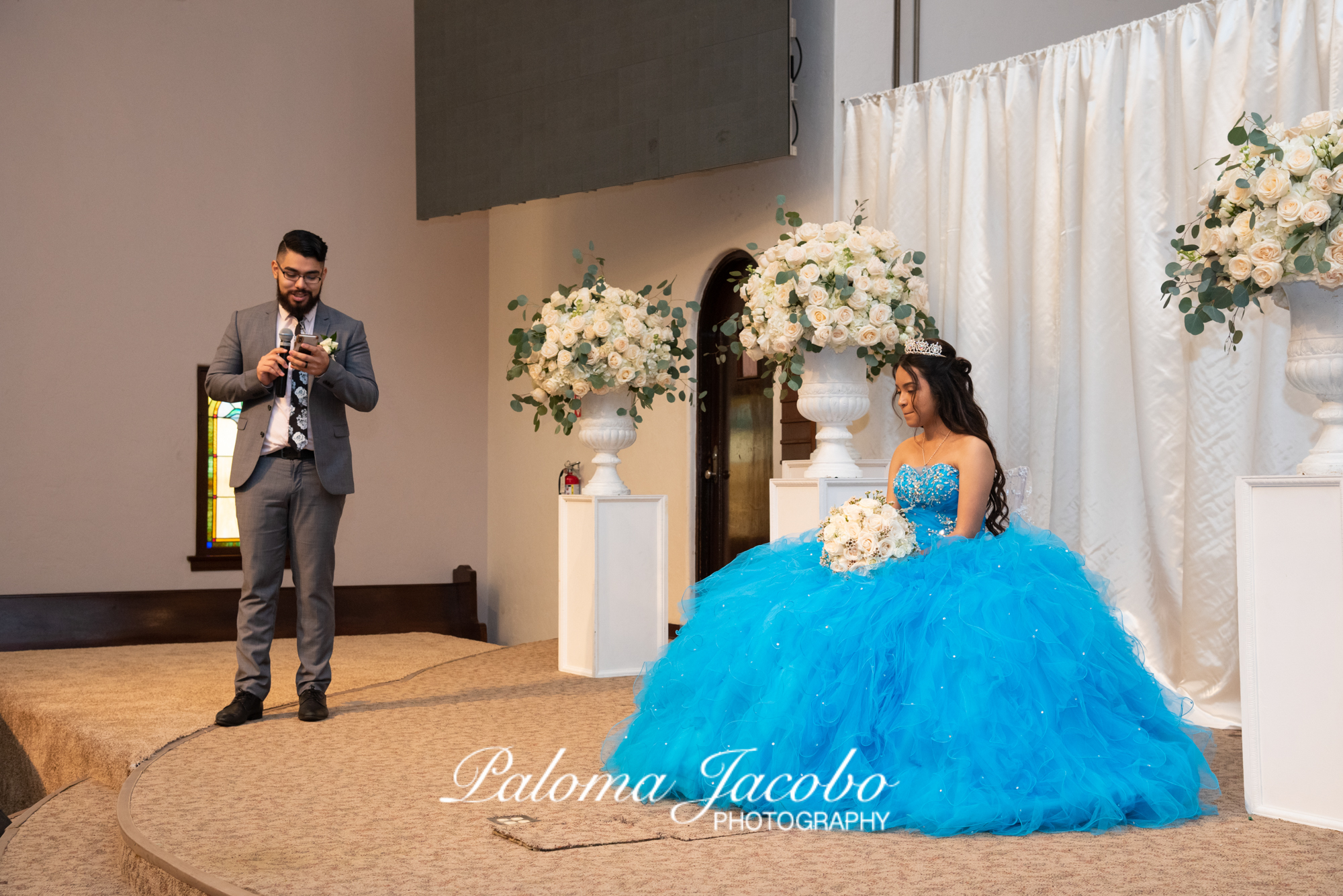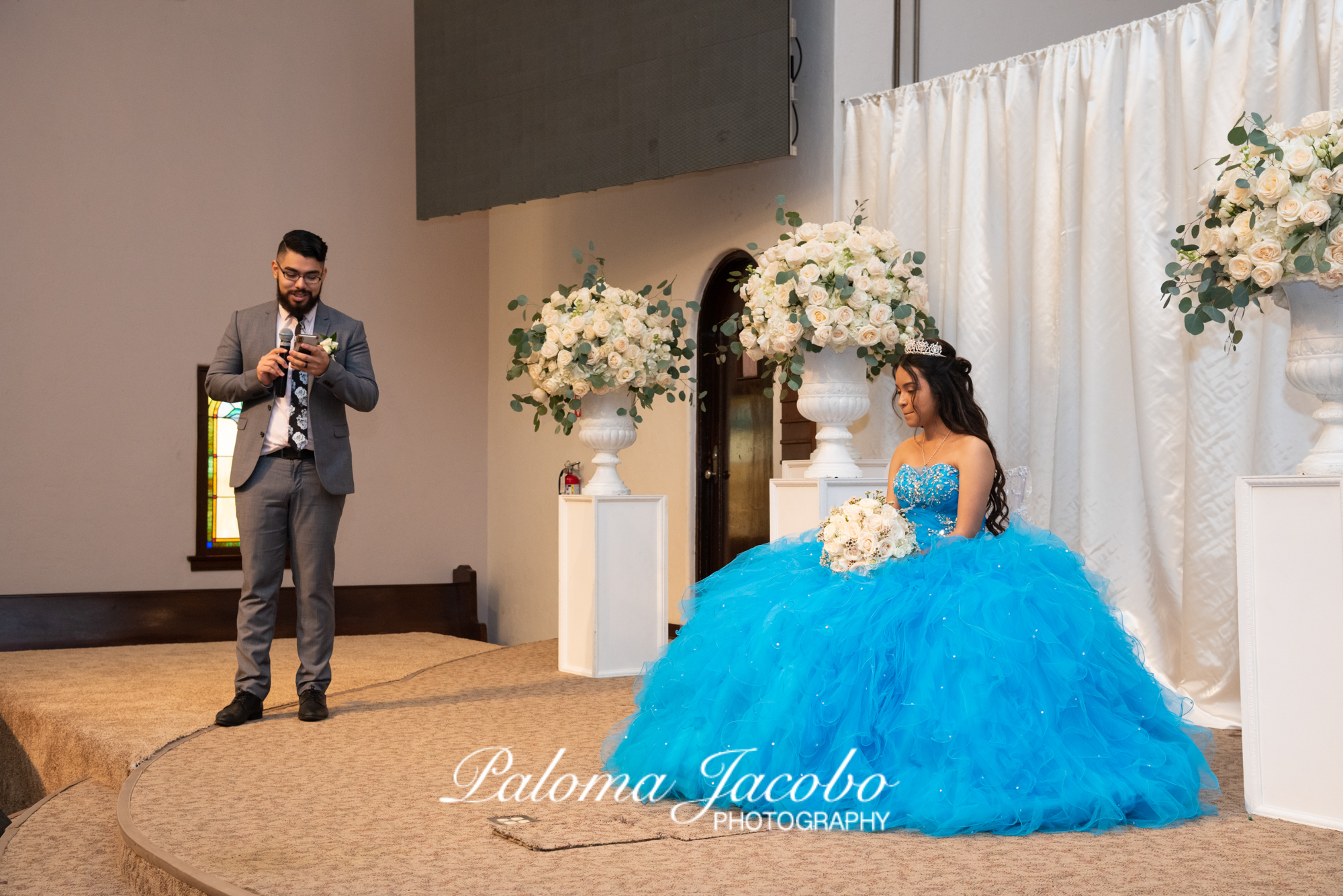 And of course I had to include a picture of the Dama's bouquets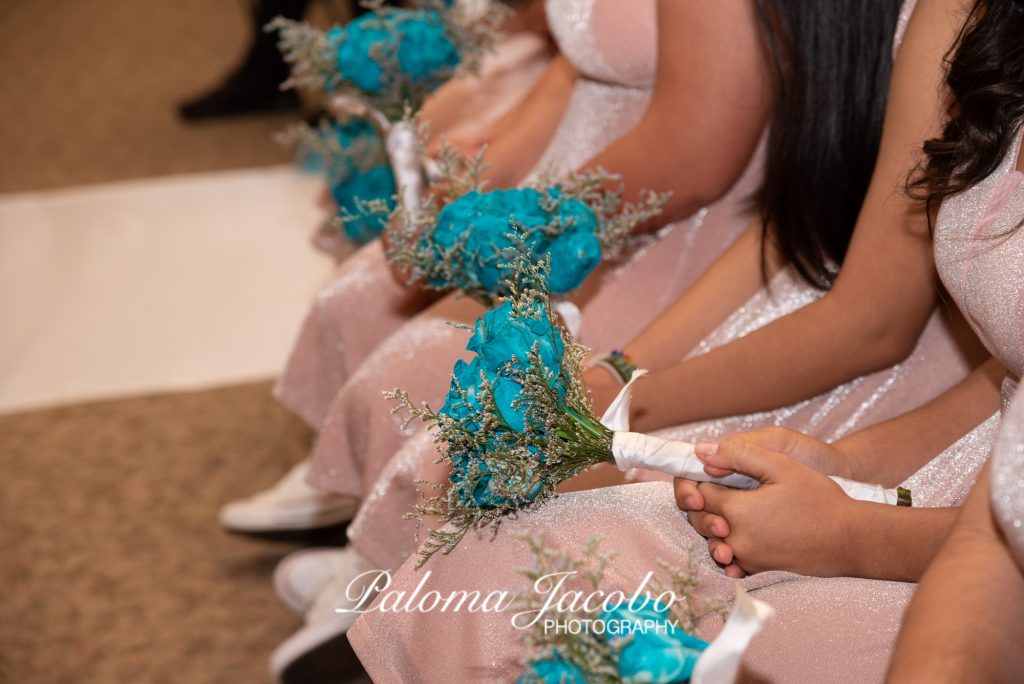 Adventist Quinceanera Reception
The whole room was decorated with natural white roses and white and blue, once again to match the Quinceanera's dress. Here is the main table.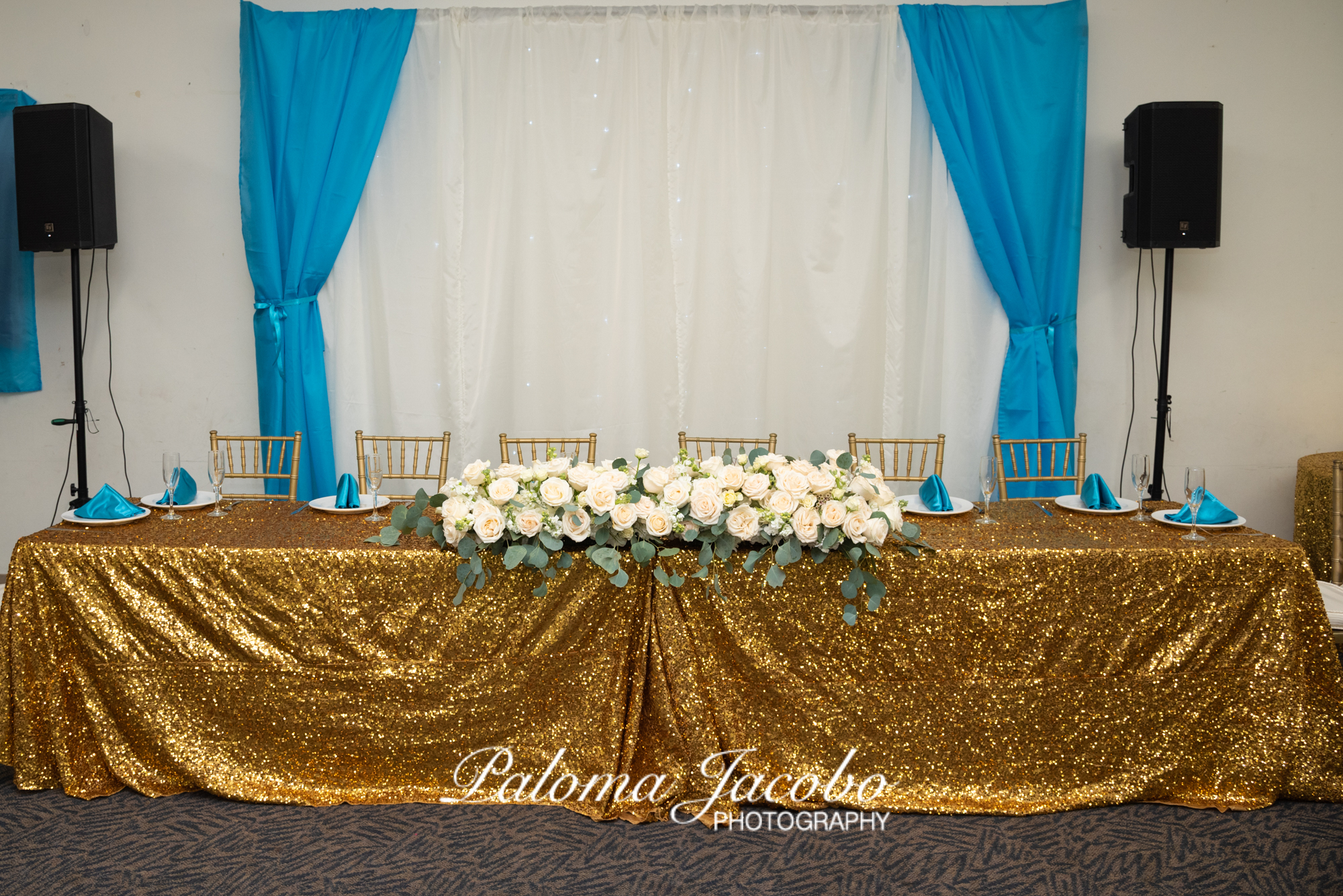 The rest of the table setups was with a white table cloth and blue napkins and the centerpieces were natural roses.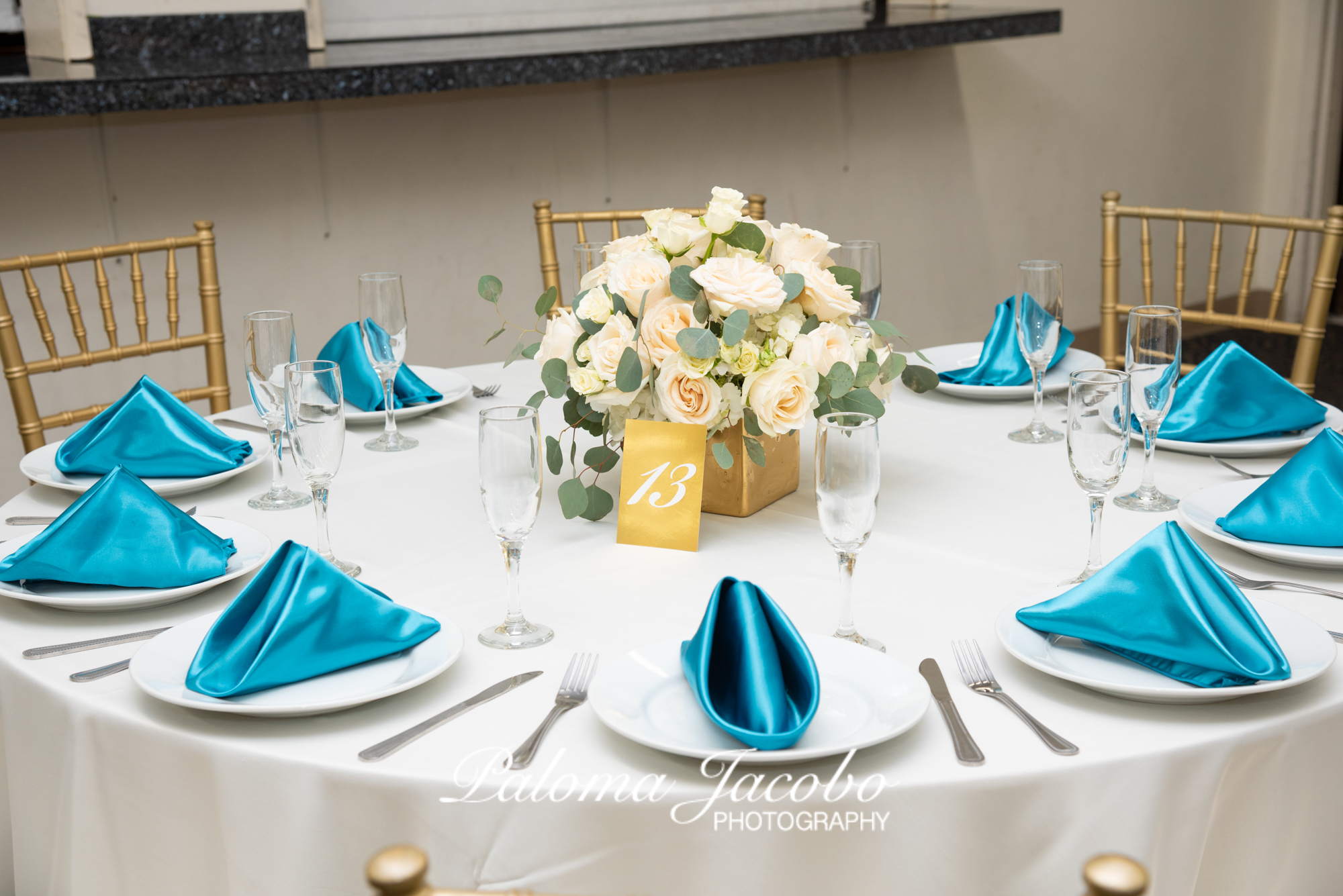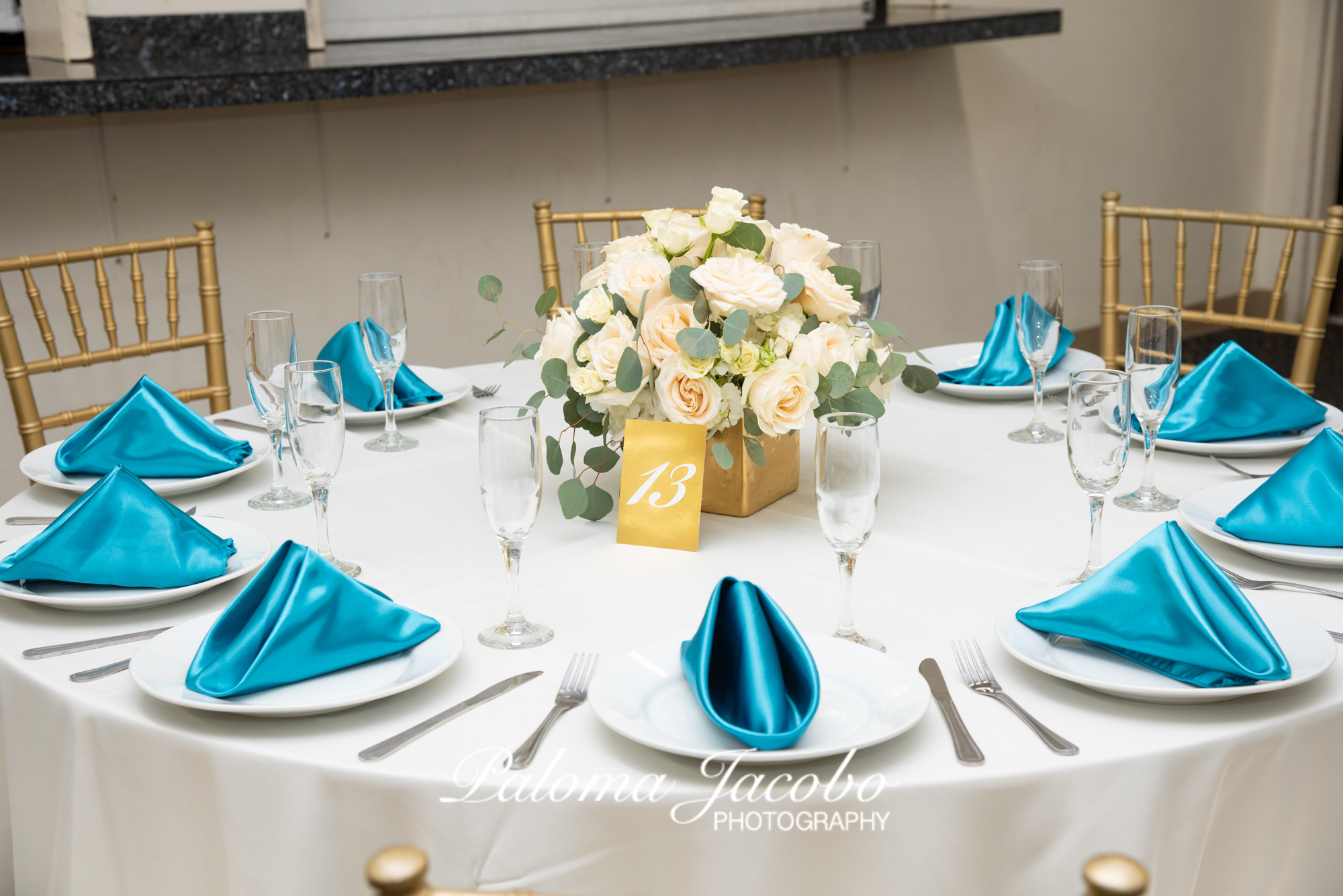 And because I love taking sunset pictures and the sun was going down right when the Quinceanera was waiting to walk in the Hall I took a couple of quick pictures with her denim jacket, an urban city background and that characteristic San Diego sunset.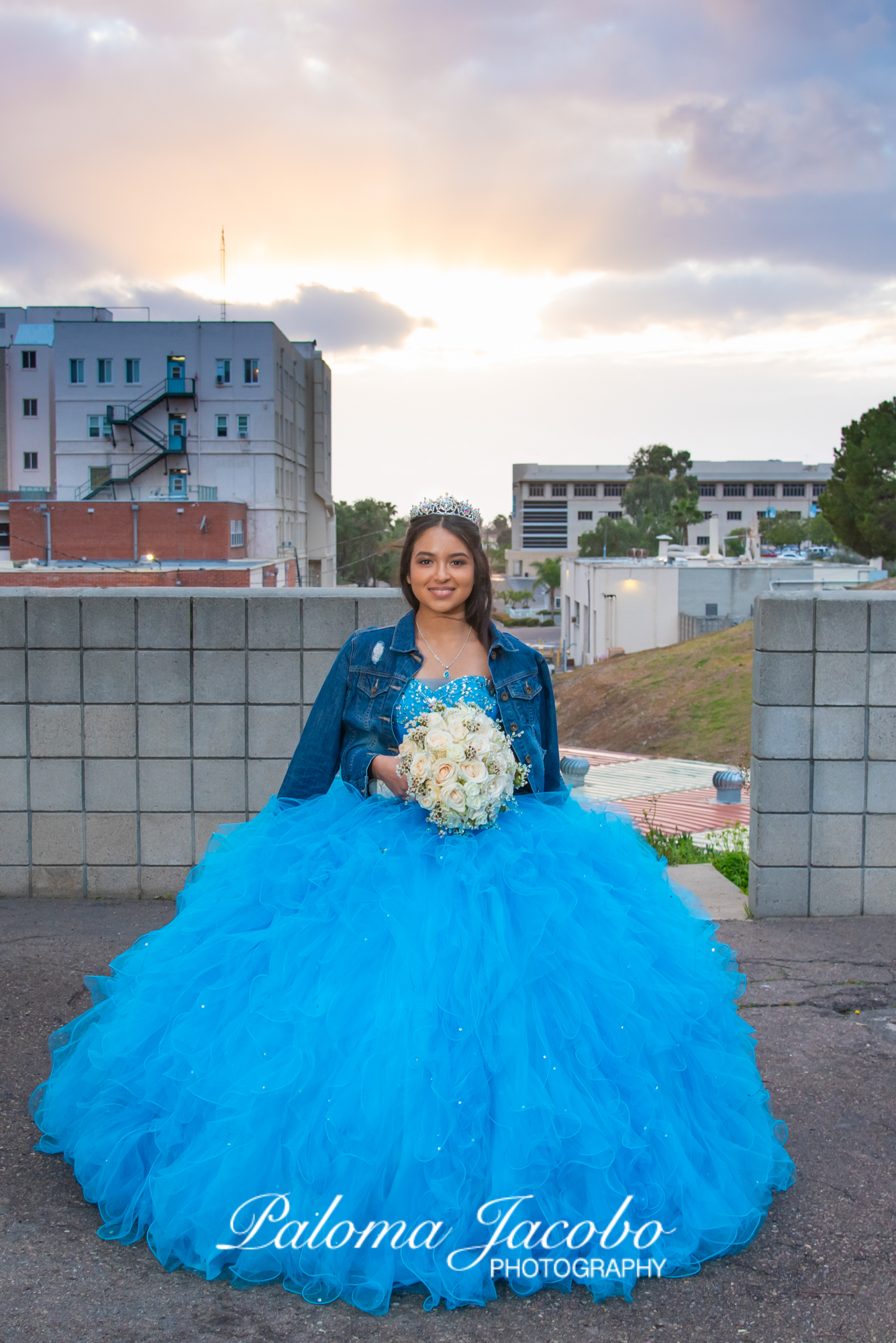 Here is a picture of her cake
I am wrapping up this post with a picture of the Quinceanera cutting her cake.
Check out another Quinceanera Party in San Diego! Click here for the blog post.
If you are planning your Quinceanera party, check out this video to help you to plan your timeline:
I hope you liked this Adventist Quinceanera Party in San Diego!
Are you planning your Quinceanera? Let me know in the comments.
And if you are looking for a Quinceanera Photographer or Videographer in San Diego, CA get in touch!
https://palomajacobophotography.com/contact
I'd be delighted to document your super special Quinceanera!