San Diego Quinceanera Party Mardi Gras theme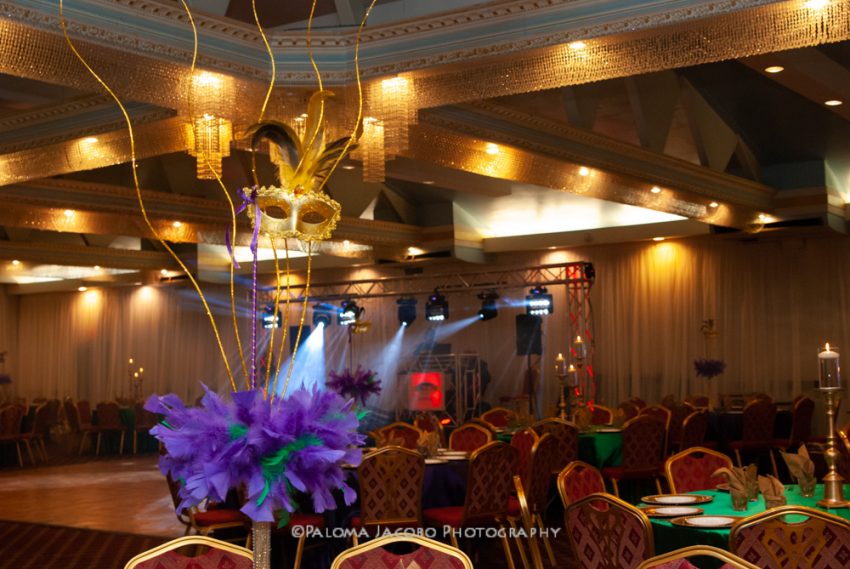 This Quinceanera Party in San Diego was so much fun! It was a Mardi Gras XV Party!You will see pictures of the whole Quinceanera day, from getting ready to Mass at Saint Michael Catholic Church, photo shoot at Presidio Park and Reception at Royal Palace Banquet Hall at El Cajon.
You can also watch the Quinceanera Party video on the Youtube channel: https://youtu.be/jYO8KQfczHg
The Quinceanera was picked up from her house by a big party bus, the whole party was able to get a ride from the Quinceanera's family to her Chambelan and friends.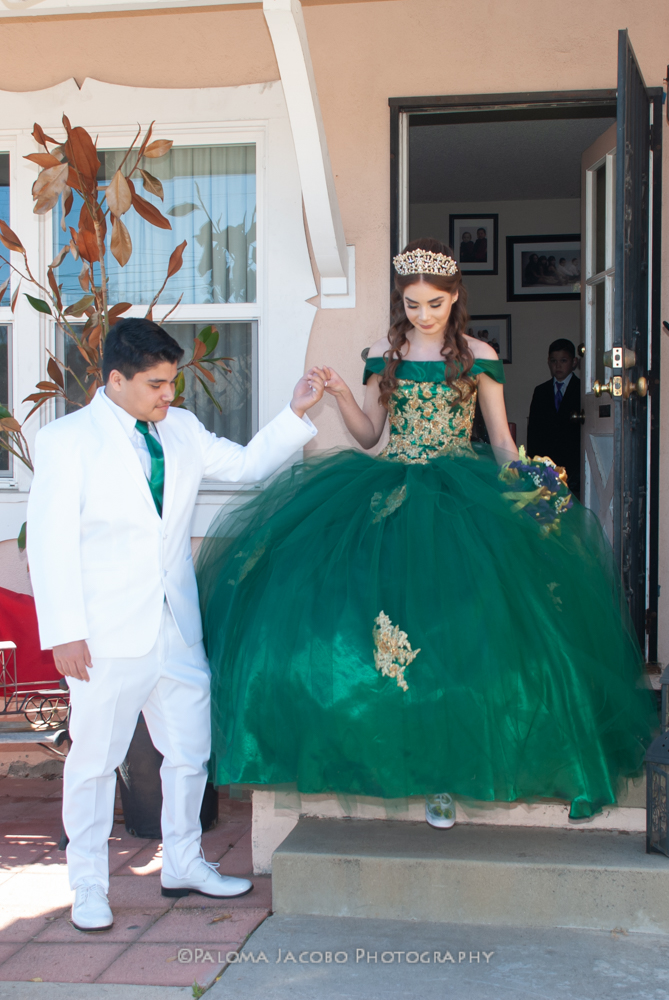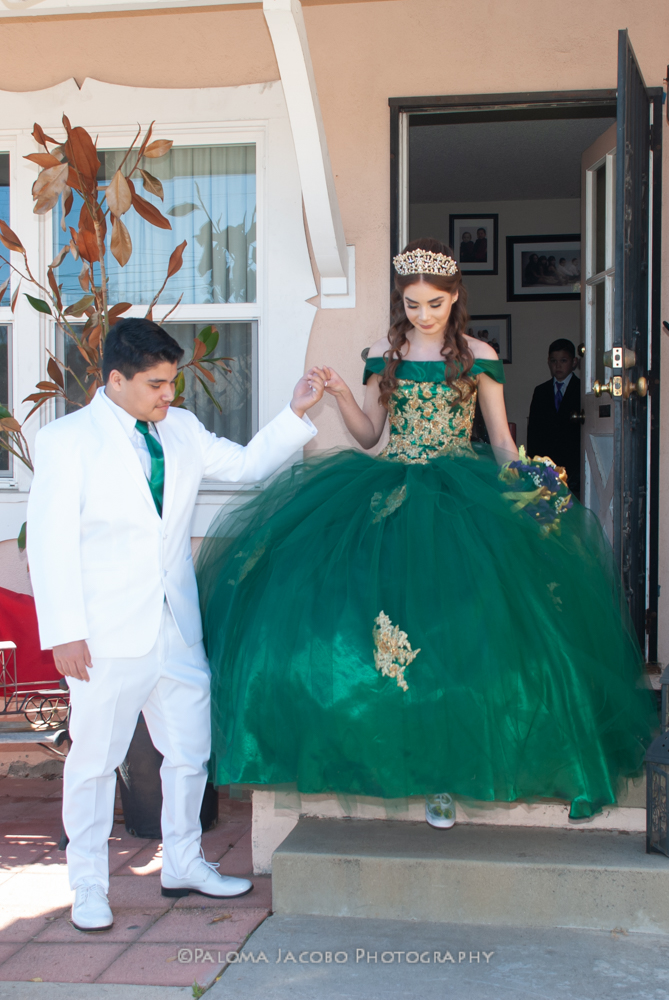 Party Bus was by Diego Party Bus, here is a link to their website: https://www.sandiegopartylimo.com/
The party bus took her to the Mass location, the ceremony was held at Saint Michael Catholic Church.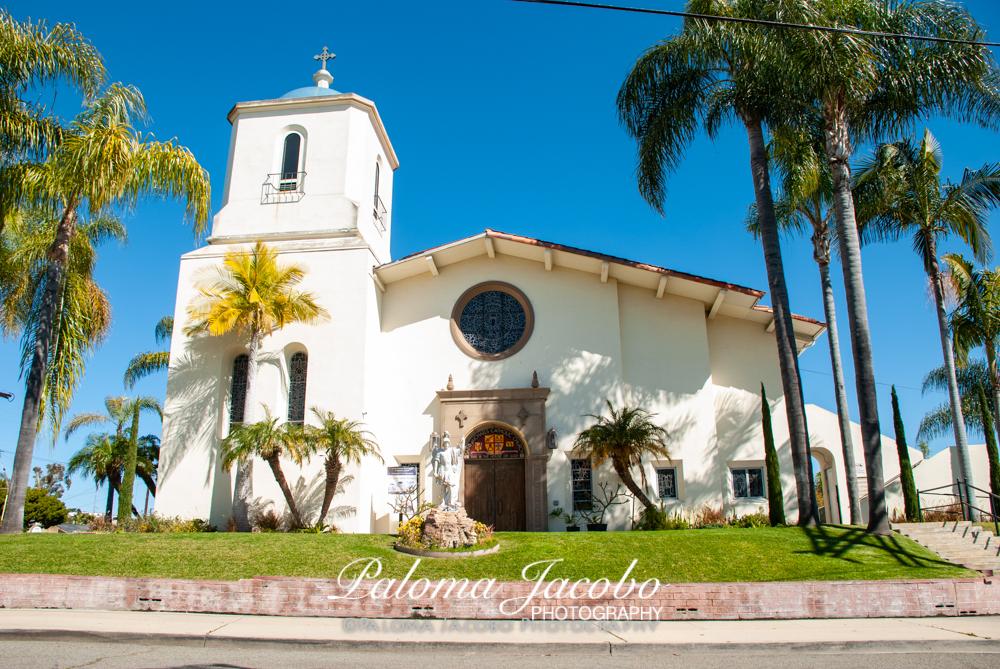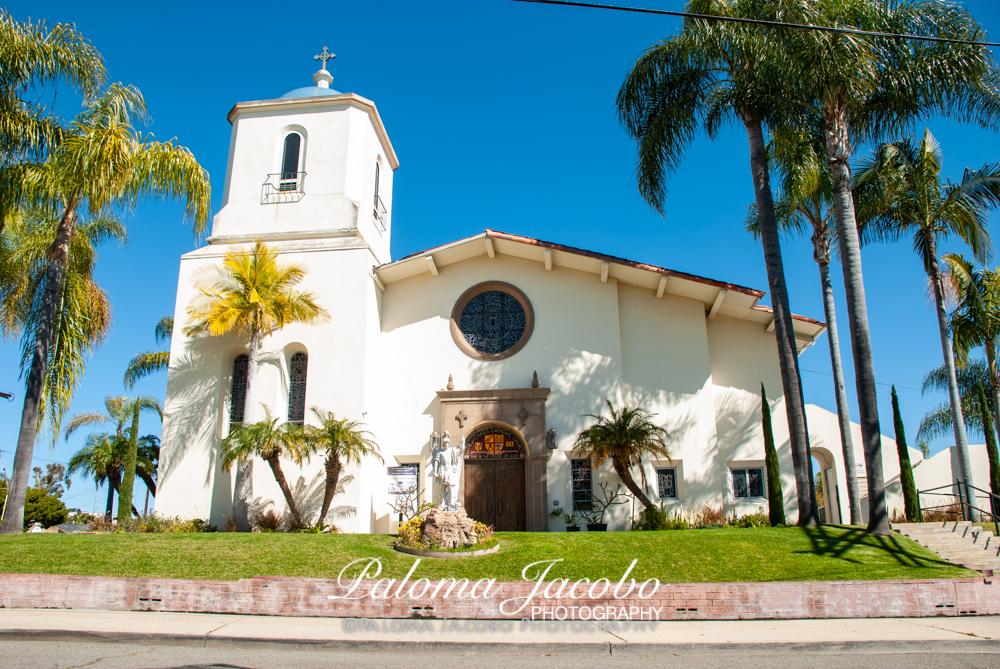 The church has a really well taken care of garden and they even have a fountain, this is a perfect spot for pictures.
Another pretty cool detail about this Quinceanera are her tennis shoes because they perfectly fit the theme and she was able to stay comfortable the whole day.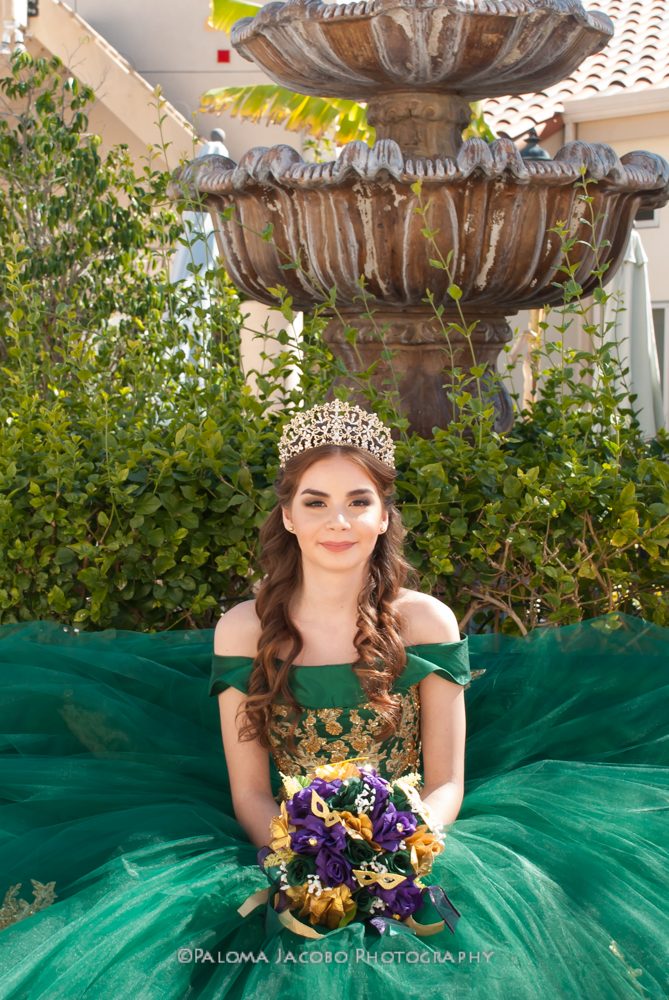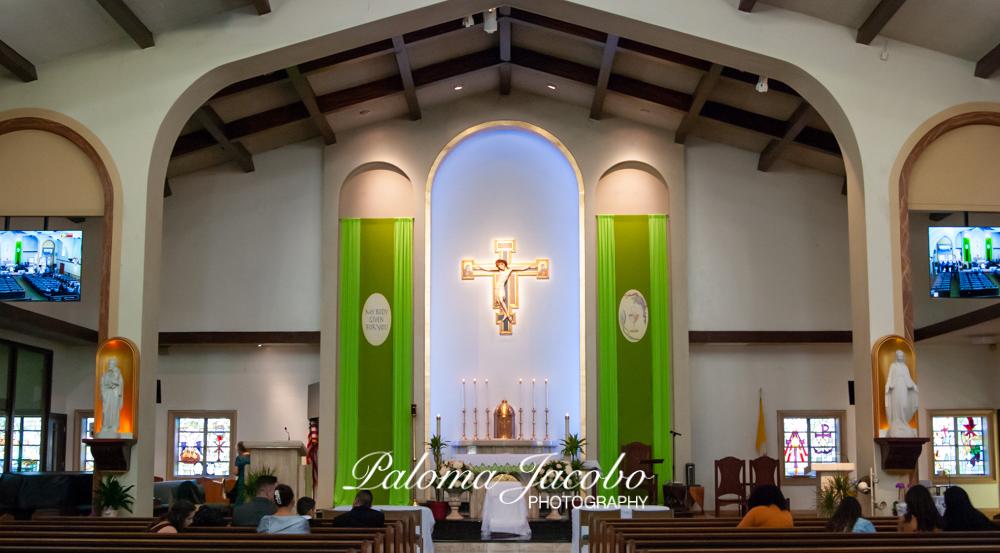 If you are looking for Catholic Churches in San Diego for your Quinceanera Mass. Click here to check out the blog post.
Click here if you prefer to watch the video.
Quinceanera Photo Shoot
It is very usual to do a photo shoot before the Quinceanera Party. For this photo shoot we went to Presidio Park.
This is a beautiful spot for pictures because the construction is like a traditional adobe construction very similar to the ones you can see at Old Town San Diego.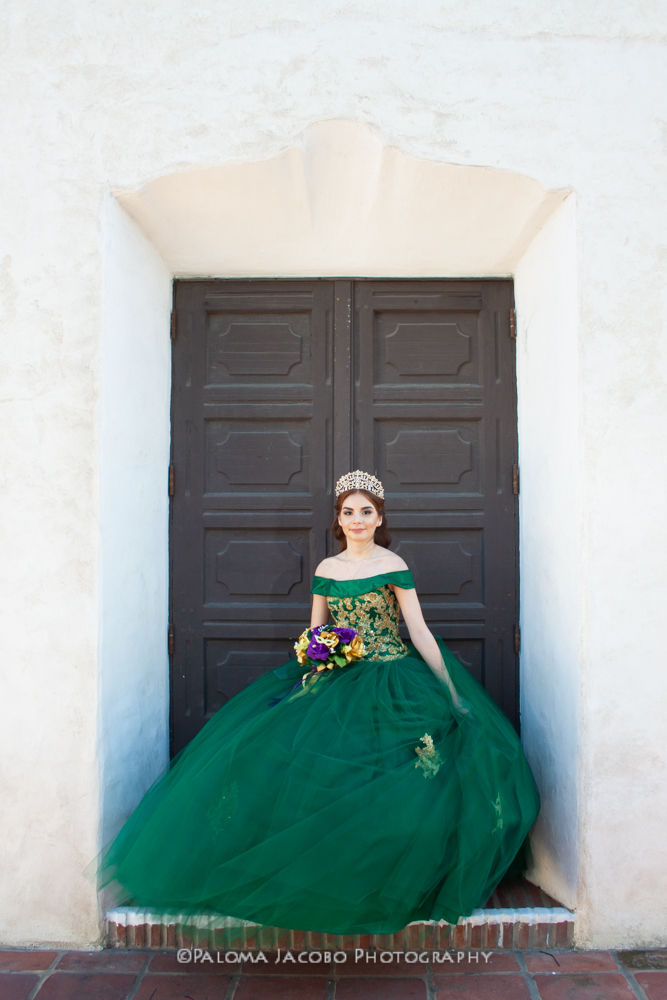 If you are looking for the best places to take your Quinceanera pictures click here to check out the blog post.
Or click here to watch the Video.
MARDI GRAS QUINCEANERA PARTY
Like I mentioned before this Quince party was held at the Royal Palace Banquet Hall at El Cajon. It's a really large Venue where you accommodate a really large party.
Every single detail was carefully crafted.
The entrance was decorated with a big green wall decorated with purple, green and golden balloons. It was a perfect photo backdrop as you can see here.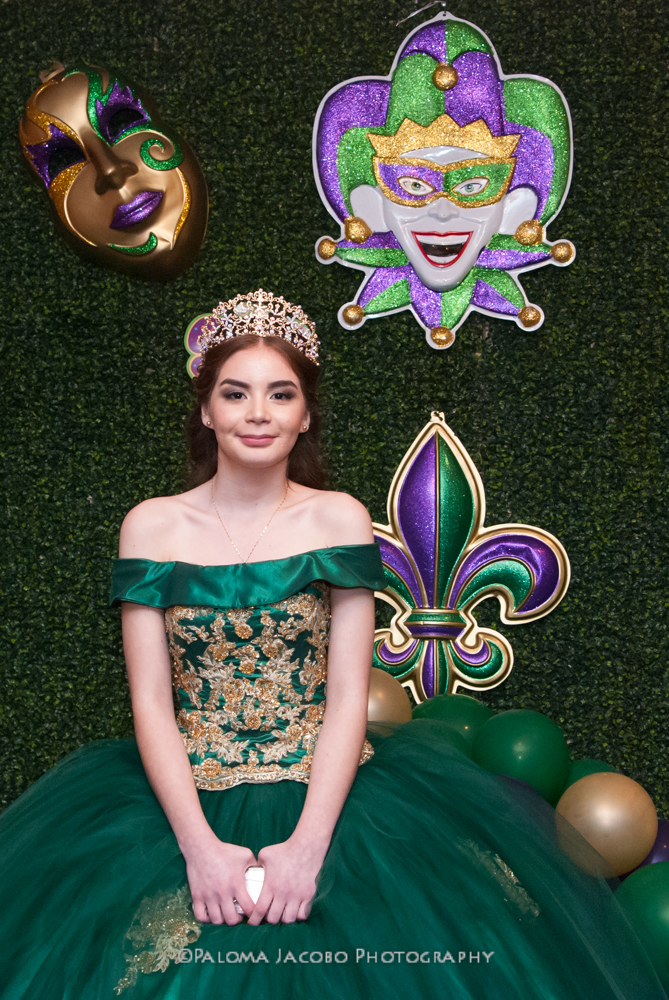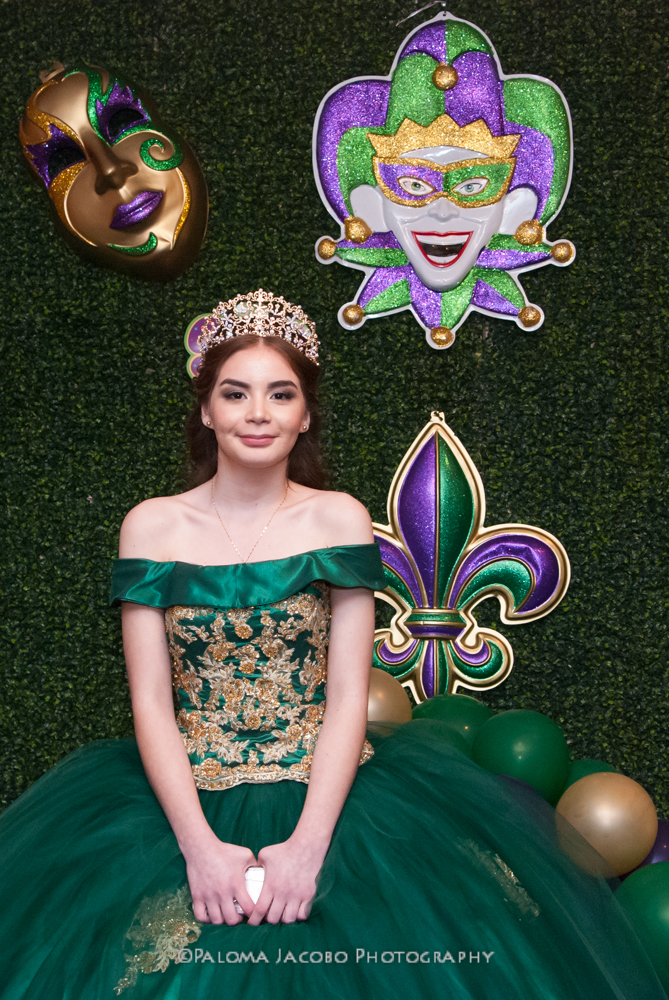 At the entrance we had the Quinceanera's picture and this is pretty cool because the guests can sign her picture and it's a keepsake for her.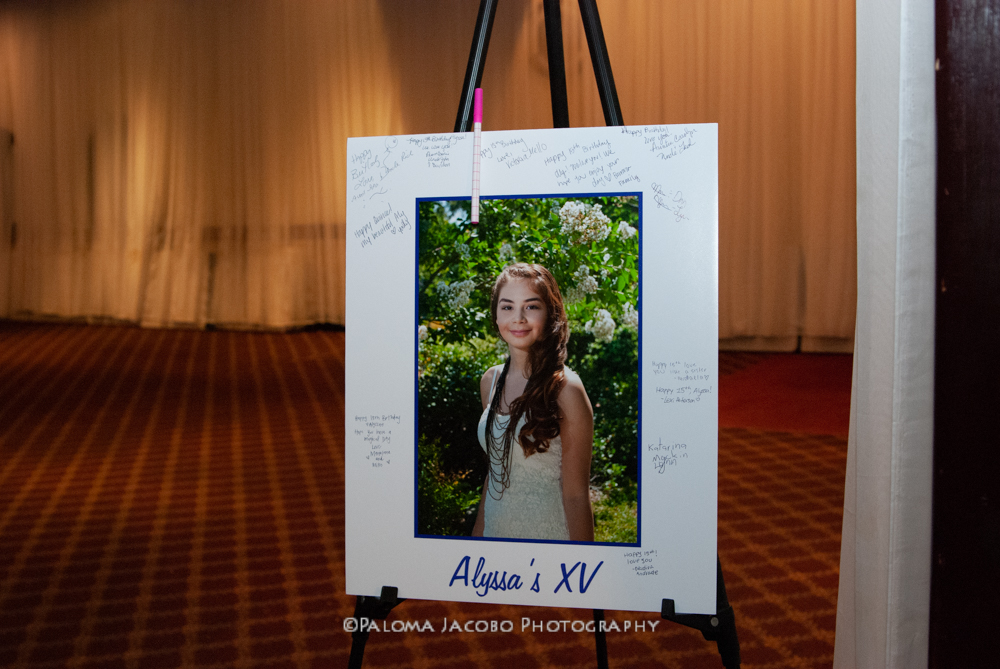 The whole room was decorated with colorful and festive masks in purple, golden and green.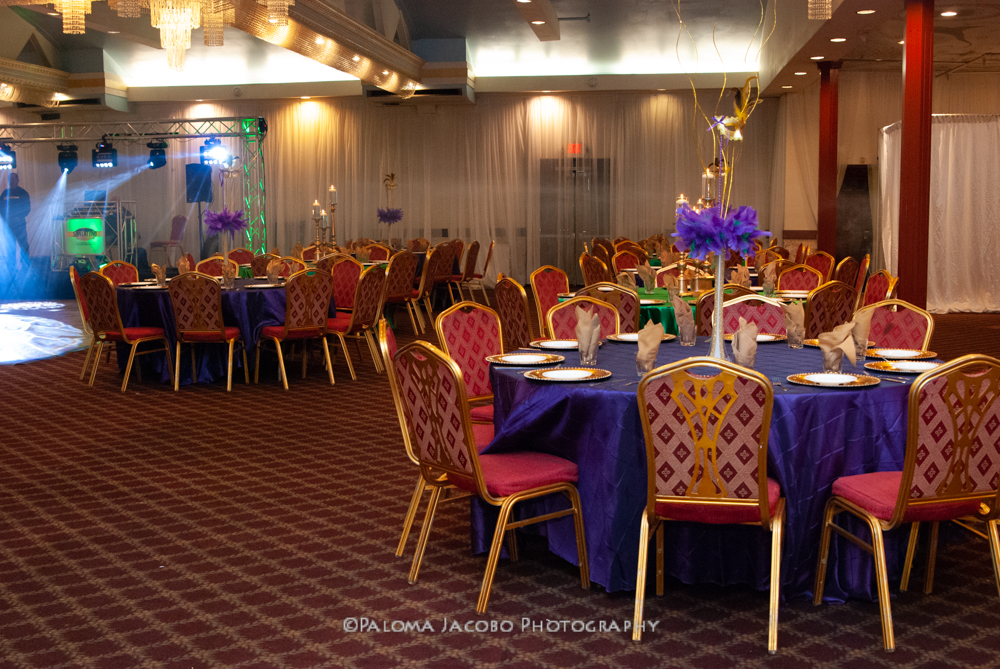 And OMG the dessert table! It was so beautifully decorated with a huge festive backdrop and masks and lots of delicious sweet treats.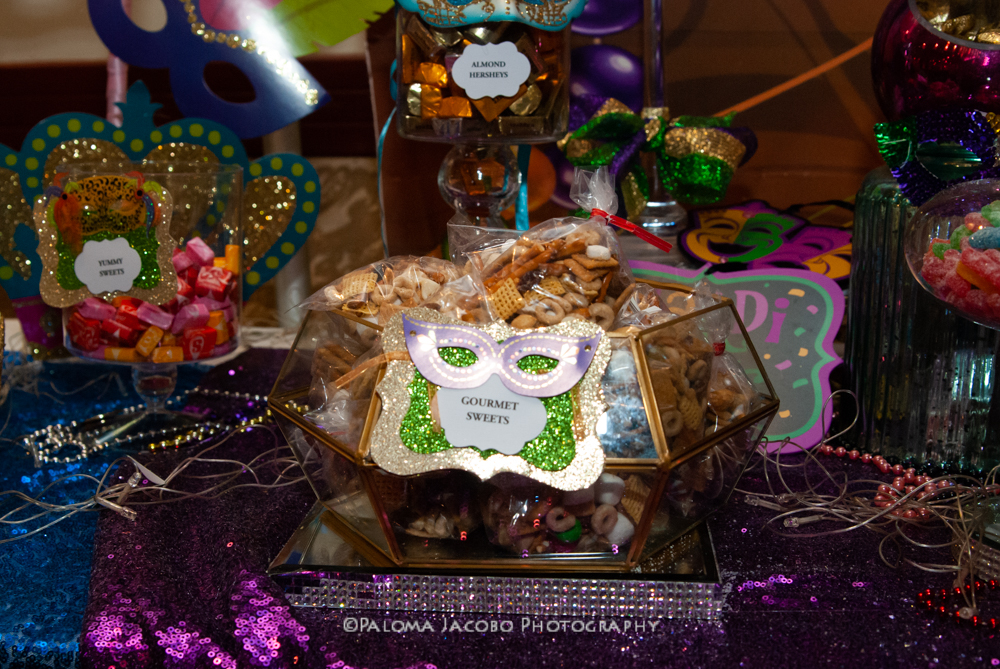 And the desserts did not stop there, she had a wait for it … Ice cream bar!!!I had never seen one at a Quinceanera and it looked fantastic!They had different flavors and plenty of yummy toppings.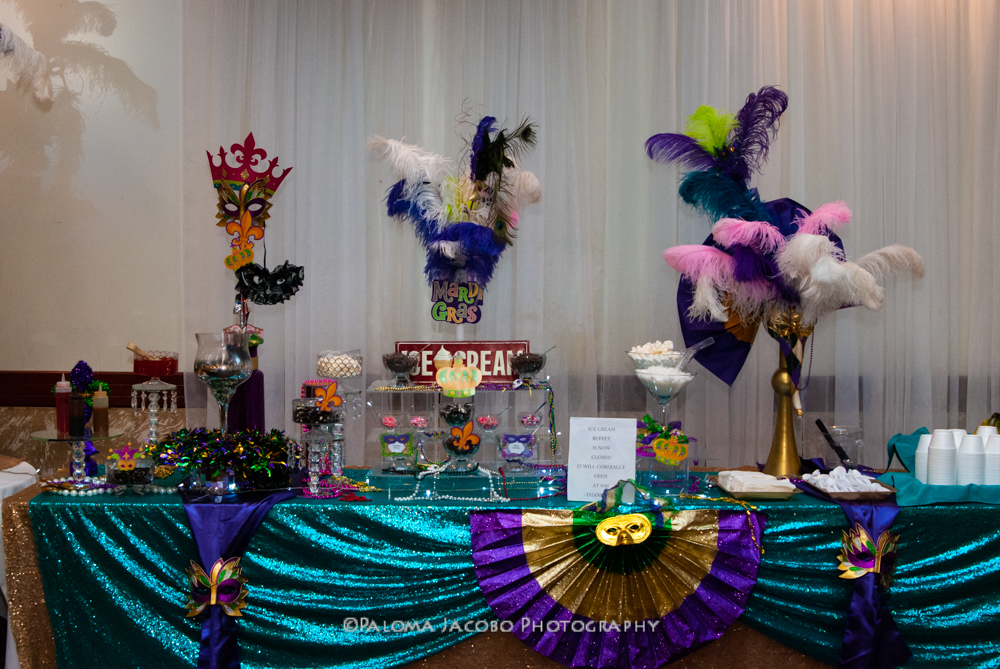 Now onto the cake table, look at that setup! Perfect for the theme and I think it was such a great idea to have cupcakes that guests can easily grab and enjoy. No need for cate cutting, plates or silverware.
Of course all cupcakes were decorated accordingly with purple, yellow and green frosting and masks.
The absolutely amazing beauty of this Quinceanera Party didn't stop there. Every single time I go to this Hall they have a breathtaking floral setup. I mean look at this!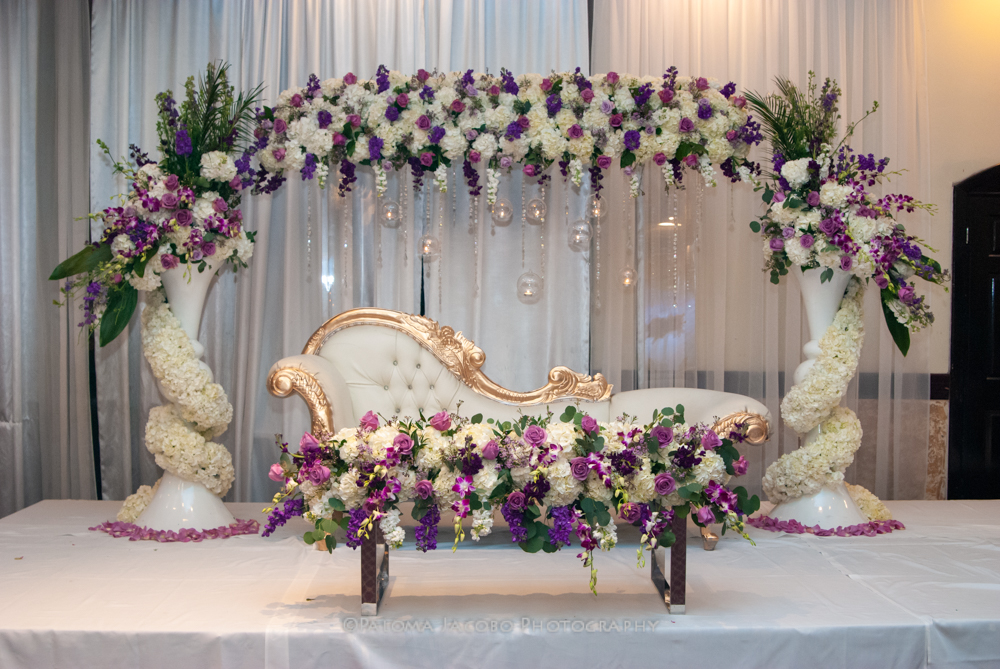 This was a great spot for family pictures and a perfect spot for the Quinceanera to sit down for a bit.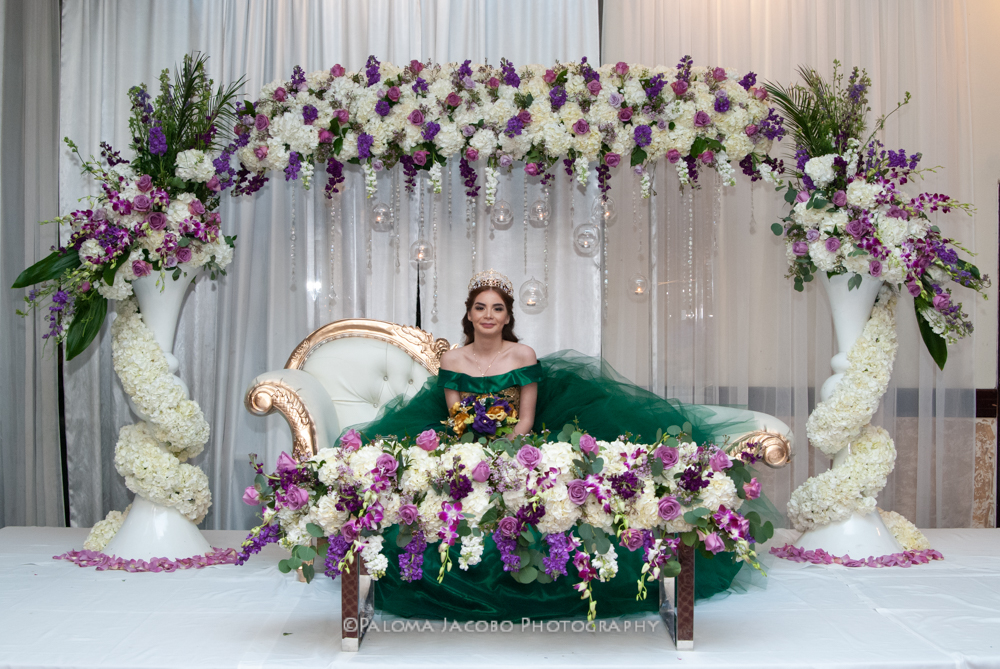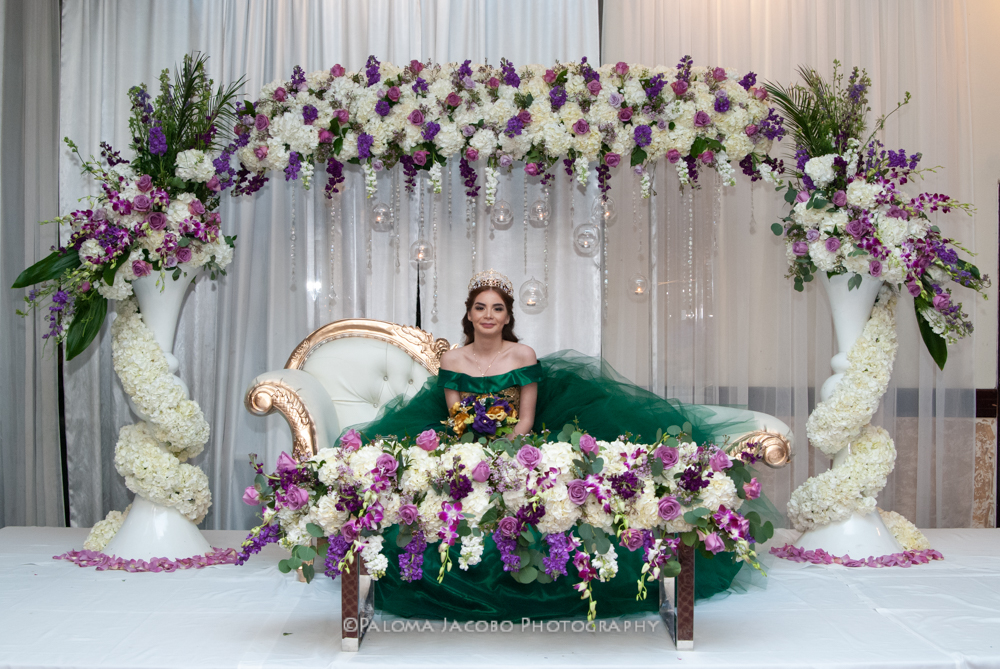 Another amazing part of this party was the stilt man (zanquero) of course it went perfectly with the theme. Here are some pictures of the party: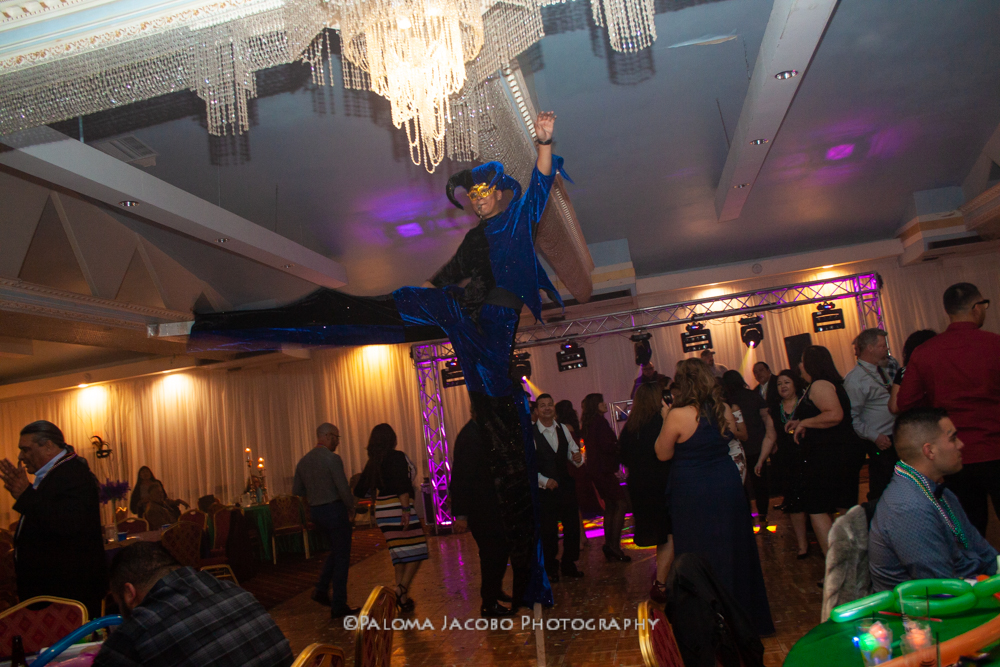 Check out another Quinceanera Party in San Diego! Click here for the blog post.
If you are planning your Quinceanera party, check out this video to help you to plan your timeline.
I hope you liked this Mardi Gras Quinceanera Party in San Diego!
Are you planning your Quinceanera? Let me know in the comments.
And if you are looking for a Quinceanera Photographer or Videographer in San Diego, CA get in touch! https://palomajacobophotography.com/contact
I'd be delighted to document your super special Quinceanera!