In this blog, I'm going to share with you five questions that you have to ask your Quinceanera photographer.
Hello, my name is Paloma. I am a quinceanera photographer. Welcome to my blog where you are going to learn everything about a Quinceanera and how to plan one.
Since we are talking about questions if you have any questions throughout this blog just leave them in the comments and I'll make sure to answer all of them.
FIRST QUESTION TO ASK TO A QUINCEANERA PHOTOGRAPHER
The first question you are going to ask is:
What is your experience with Quinceaneras?
If you have already seen the portfolio, you have already seen their website. Maybe they have an about section where they tell you how long they have been a Quinceanera photographer.
You have already seen their portfolio and they have a variety of different Quinceaneras and different examples of their work and you really like their pictures. You are probably good to go.
But it's always good to ask like especially if they don't have a huge variety of Quinceaneras or if you can't see pictures of the whole quinceanera day.
This question includes for How long they have been a Quinceanera photographer and How many Quinceaneras they have done.
If they have been photographing Quinceaneras for a couple of years, they are good in experience.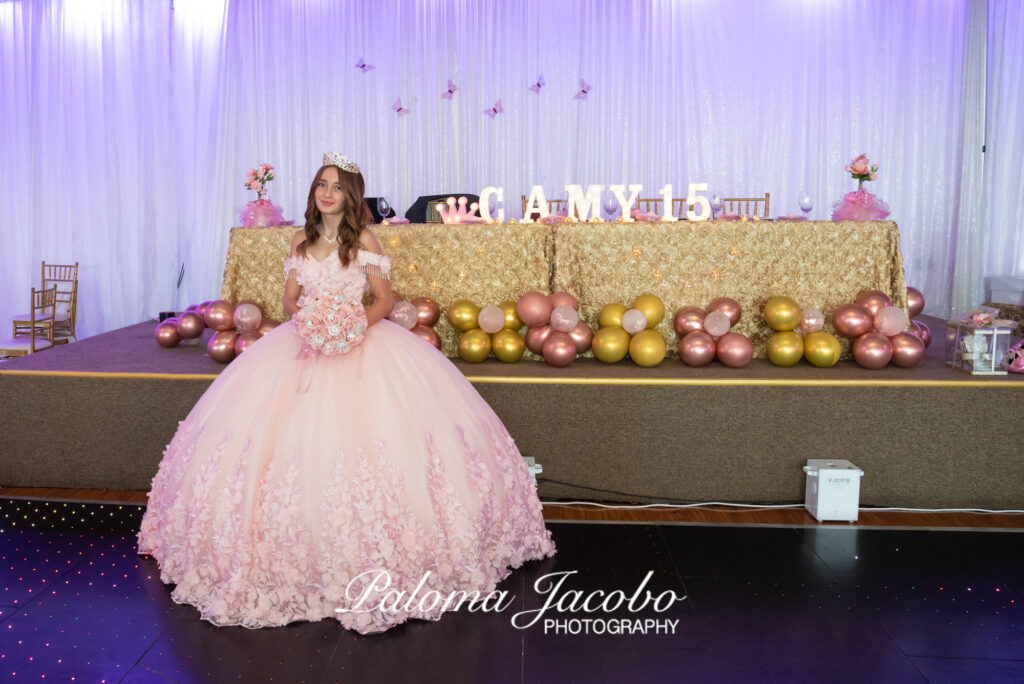 If they are just starting out the photographer should be very open with her clients about it.
The photographer should explain: this will be the first quinceanera that I will be photographing solo but I have second shot Quinceaneras before or I'm somewhat familiar with them.
Nothing wrong with being a beginner, I actually encourage you to go out there and try to diversify your income.
If you are a photographer doing weddings, you already have the skill set but be very upfront with your client.
SECOND QUESTION TO ASK A QUINCEANERA PHOTOGRAPHER
The second question you will as to a Quinceanera photographer is:
What kind of coverage is included?
This will vary from photographer to photographer. We all offer different photography collections.
This will also depend on your specific Quinceanera because not all Quinceaneras have a ceremony, and not all Quinceaneras want to have the getting ready part of the day when we go to the Quinceanera's home and take pictures of her dress, bouquet etcetera, and the Quinceanera getting ready with her family and court.
Usually, the coverage that you want to have included will be Ceremony, if you're having one. Photoshoot with your court on the day of the Quinceanera and Reception.
This will be like the very basic, if you are not having a ceremony then it will just be the photo shoot and the reception.
And you can always add on different things like the getting ready or pre-photo shoots.
If you're not sure what all of this is because this is your first quinceanera I have different videos showing every single part of the quinceanera, just click on the different parts of the Quinceanera to watch the videos on youtube:
Party
You can see what each part looks like and get an idea of what you would like to have for your quinceanera and what you would not want to do.
Then you can ask your photographer what kind of coverage they can include for your quinceanera day including the things you definitely want.
At this point, they are going to give you different collections and packages that they offer at different prices.
THIRD QUESTION TO ASK A QUINCEANERA PHOTOGRAPHER
Question number three to ask a Quinceanera photographer is:
What kind of editing is included?
And this is a question that not a lot of Quinceaneras ask but I think it is really, really important!
Because taking a picture with your phone and editing on your phone is very, very different from taking a picture with a professional camera and actually retouching it and editing it on Photoshop.
If you decide to make a huge print from your phone. You make it a 20×30 or a 50×60 inches picture and then you see all the details.
Like why does this tree look all weird you realize that the phone kind of removed one person there and it does not do it with the same kind of care and attention that a human would do.
I have no doubt we will get there but we are not there yet.
It is totally possible to edit a lot of things out of your picture and to fix and correct a lot of things but all of this is very, very, very time-consuming.
At this point, it would be super helpful to see their portfolio so they can show you what the pictures are going to look like.
For example how a 4×6 is going to look like and how a bigger enlargement is going to look like, because the bigger the picture is the more details you will be able to notice.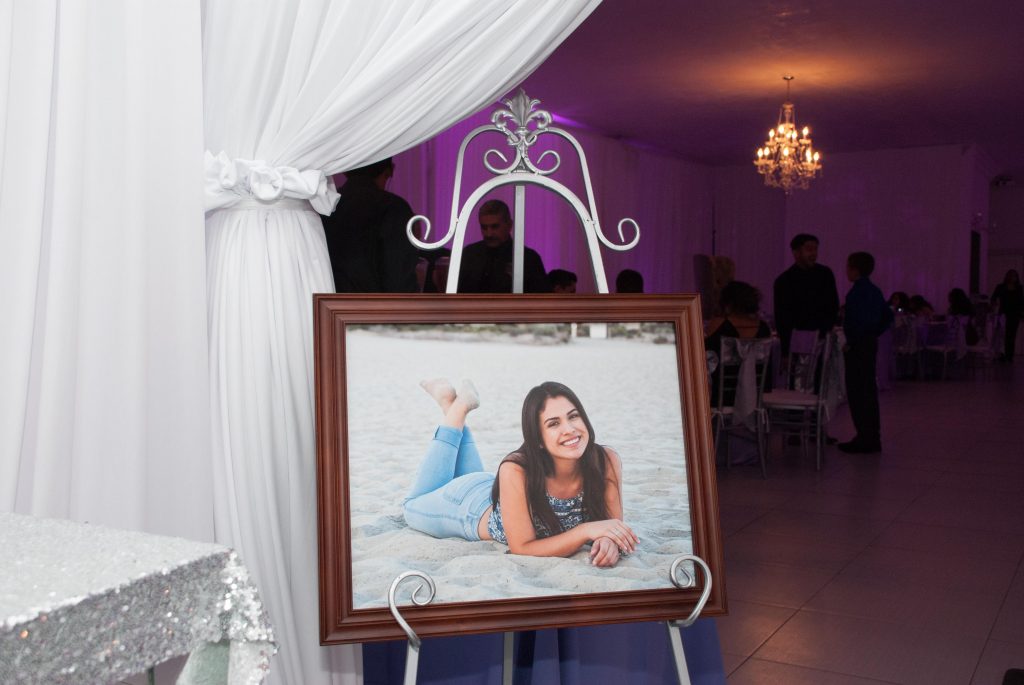 I personally do include more of a high-end retouching for the bigger ones and not so much for the small ones because when you are going to deliver 500 to 800 pictures you cannot possibly spend three hours or five hours retouching each picture.
I have also heard about clients who receive their pictures with no editing at all. Once again each photographer is different so just make sure to ask so you know what kind of pictures you can expect.
QUESTION NUMBER 4 TO ASK A QUINCEANERA PHOTOGRAPHER
The fourth question to ask will be:
Can you help me to choose a location for my pictures?
This is important because we as photographers can give you different insights into different locations.
Even if you have a location in mind already your photographer can tell you when the lighting looks better or I recommend going on this day better because it will be less crowded.
We can also give you some recommendations according to your timelines.
For example, if there is a super nice location that not a lot of people know about and it's actually on the way between the church and the reception venue and we can stop there so we can give you all those insights.
We can help you with all of this, once again especially if it's an experienced photographer they are going to be able to help you with all of this and it's going to be a huge, huge help when you are planning your Quinceanera.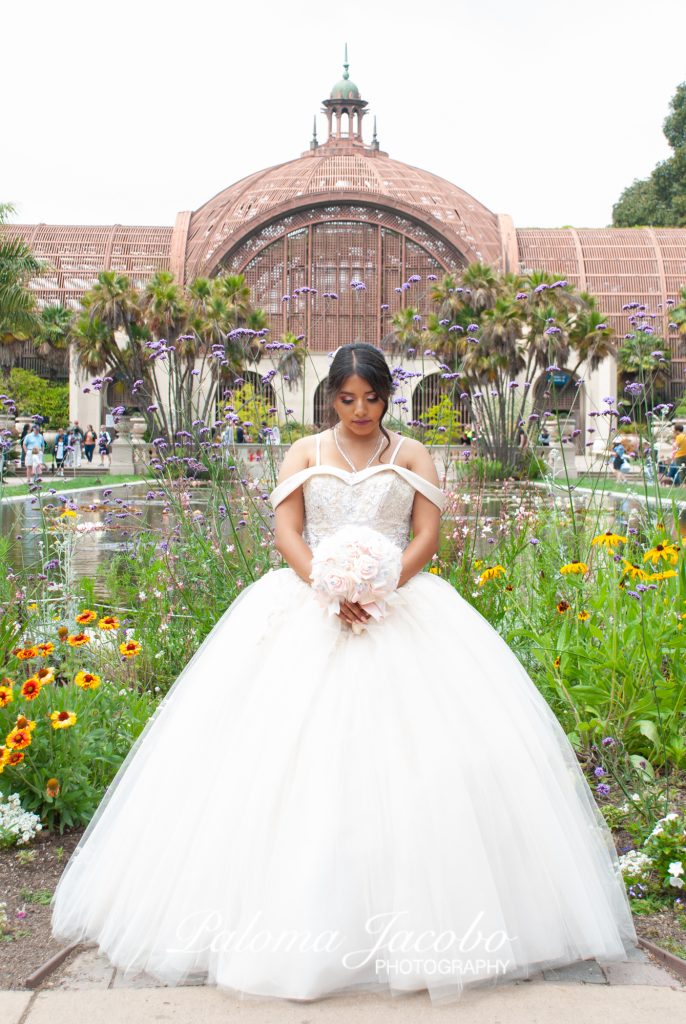 If you are looking for locations for your pictures in San Diego, check out this post for suggestions.
QUESTION NUMBER 5 TO ASK A QUINCEANERA PHOTOGRAPHER
Question number five to ask is:
How long does it take to get my pictures back?
This is something that I have seen people struggle with, not only on the client's side but also on the photographer's side.
I have heard horror stories of people who hire a photographer who seems like it's super, super affordable like it seems like it's way too good to be true.
Then they pay the deposit and once they try to start scheduling the other photo shoots they just can't because they are gone. They never get back to them or they never show up to the event.
And it doesn't only apply to photographers, this applies to every single vendor that you are going to need.
If it seems too good to be true it probably isn't.
When you go with a more established photographer usually the issue is that there is no clear communication between the photographer and the client.
If you're a photographer, you want to communicate very openly like it is going to take this long to get your pictures back.
And if you're the client, Ask! How long is it going to take my pictures back?
In my photography business, personally, I do have different deadlines.
I have a deadline for the online delivery of the pictures. I give my clients an exact date on when they are going to be able to see their pictures online.
From there they are going to choose what pictures they want to use in the photo enlargements in their albums and everything and I also give them another date when they are going to receive their printed pictures and albums.
As a client you don't want to be wondering: Are my pictures gone? Am I ever going to be able to see the super-important memories to me?
And as a photographer, you don't want your client to be wondering all of this.
You will always want to give your clients peace of mind.
BONUS QUESTION TO ASK A QUINCEANERA PHOTOGRAPHER
I have a bonus question for you:
Do you offer prints, albums, canvases, and wall art that I can display in my home?
This is important because there is a whole process that goes into preparing a picture for printing it's not just taking it to a drugstore.
A professional photographer will go through a different process. We color-match them to each printer color profile, and our monitors are calibrated.
That is also why when you quote a 4×6 print from your photographer it is definitely going to be more expensive than what you could print. If it's not more expensive then don't get your prints there because chances are they're not gonna be good.
Any other questions that you think we should add here?
If you're in the middle of planning your quinceanera I recommend you to check out this blog post next: How to create a timeline for my Quinceanera
Thank you for reading and I hope you have a wonderful quinceanera!