Have been wondering how to plan a Quinceanera step by step?
What are the first 3 things you need to know before booking any vendors?
Where to start planning?
You are in the right place, because I am going to answer all those questions for you in this: How to Plan a Quinceanera blog series.
I have a step by step guide for you, in this blog series where I will explain to you in detail what you need to do so grab a drink and a notebook to take notes because I am giving you lots of useful info.
If you prefer to watch the video version of this blog post, here is the video:
This is the first part in the series, in this blog I am going to cover:
The first 3 things you need to do before booking any vendors when planning your Quinceanera
Starting a Quinceanera inspo board
First 2 big things you need to book (at the same time)
Deciding on Padrinos and court
Ideally you will want to start planning your Quinceanera 1 year in advance. 1 year is usually enough time to look for all your vendors and get everything you need for your party.
I am starting this planning guide at the 12-14 month mark before your Quinceanera, let's get started!
The first 3 things you need to do before booking any vendors
Those are the first 3 things you need to do when planning your Quinceanera before you even start looking for vendors or any planning at all. You need to know the following:
1Set a budget
You need to know how much you can realistically spend on a Quinceanera Party.
2Make a guest list
This is not going to be the final guest list, the main goal of doing this guest list is knowing if you need a venue for 100 people or 300 people just a rough count on the number of guests you are planning on hosting.
3Select two possible dates
I highly recommend you having 2 different possible dates for your Quinceanera. For example, if your actual 15th birthday is on a Wednesday consider the weekend before and the weekend after. Keep in mind you can totally do your Quinceanera party on a Friday, Saturday or Sunday.
How to plan a Quinceanera – Starting a Quinceanera inspo board
At this point I also recommend you starting a Quinceanera inspiration board to help you to plan your Quinceanera.
I recommend using Pinterest but if you prefer to make an actual inspiration board using magazines cutouts go for it!
The goal here is to gather ideas and inspo for your party, from colors and decor to dresses and shoes.
Pinterest is great because you can easily access your boards on your desktop, laptop, tablet and phone. You can also share those boards so it would be ideal to share a board between Quinceanera's mom and Quinceanera so you both are on the same page.
Here you will find ideas including: Quinceanera dresses, decoration, crowns, hair and makeup and pretty much everything you need.
If you don't know where to start, here is a link to my Pinterest account. You will find different Quinceanera decoration boards, dresses, planning tips, etcetera.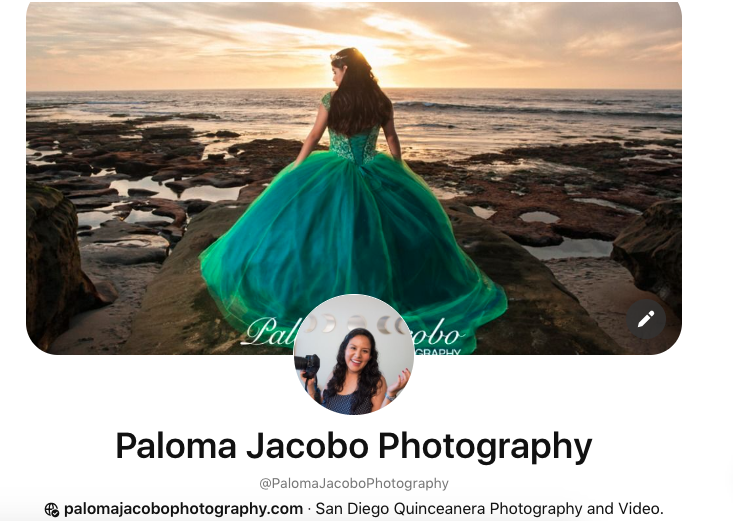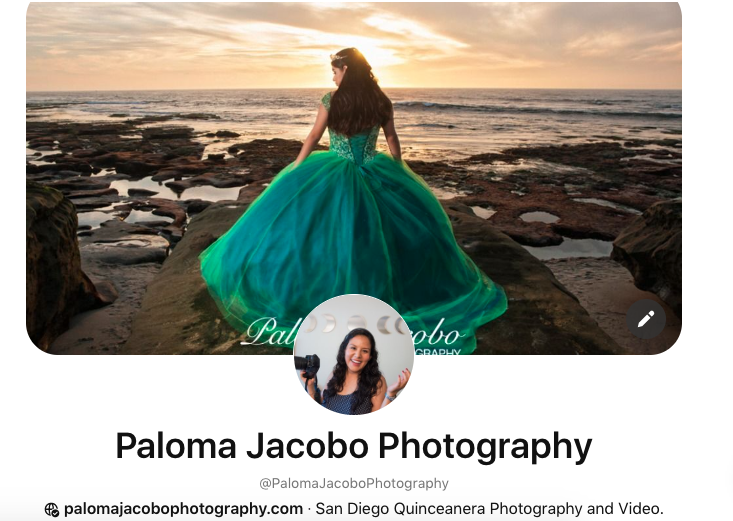 First 2 big things you need to book (at the same time) when planning a Quinceanera
Now that you know the kind of Venue you need according to your guest list and budget and the possible dates for your Quinceanera it is time to start looking for Venues.
If you are planning on having a religious Ceremony at a different location you need to start looking for the Church and Hall at the same time; to make sure they are both have your date available for your Quinceanera.
If you are looking for Catholic Churches in San Diego, check out this blog post with the Top 5 Churches for your Quinceanera.
Start your search online and keep in mind the following points:
Do they have the capacity to host the number of guests you want to have?
Do you want a package? or Do you want to book everything separately?
Getting a package at the Hall can be very helpful because that way you will not have to worry about booking everything separately.
Specially rentals, decorations and catering. Having the Hall taking care of all of these things is going to make the planning process much easier and the day of the Quinceanera less stressful. Specially for the Quinceanera's mom who is usually the one taking care of every single detail.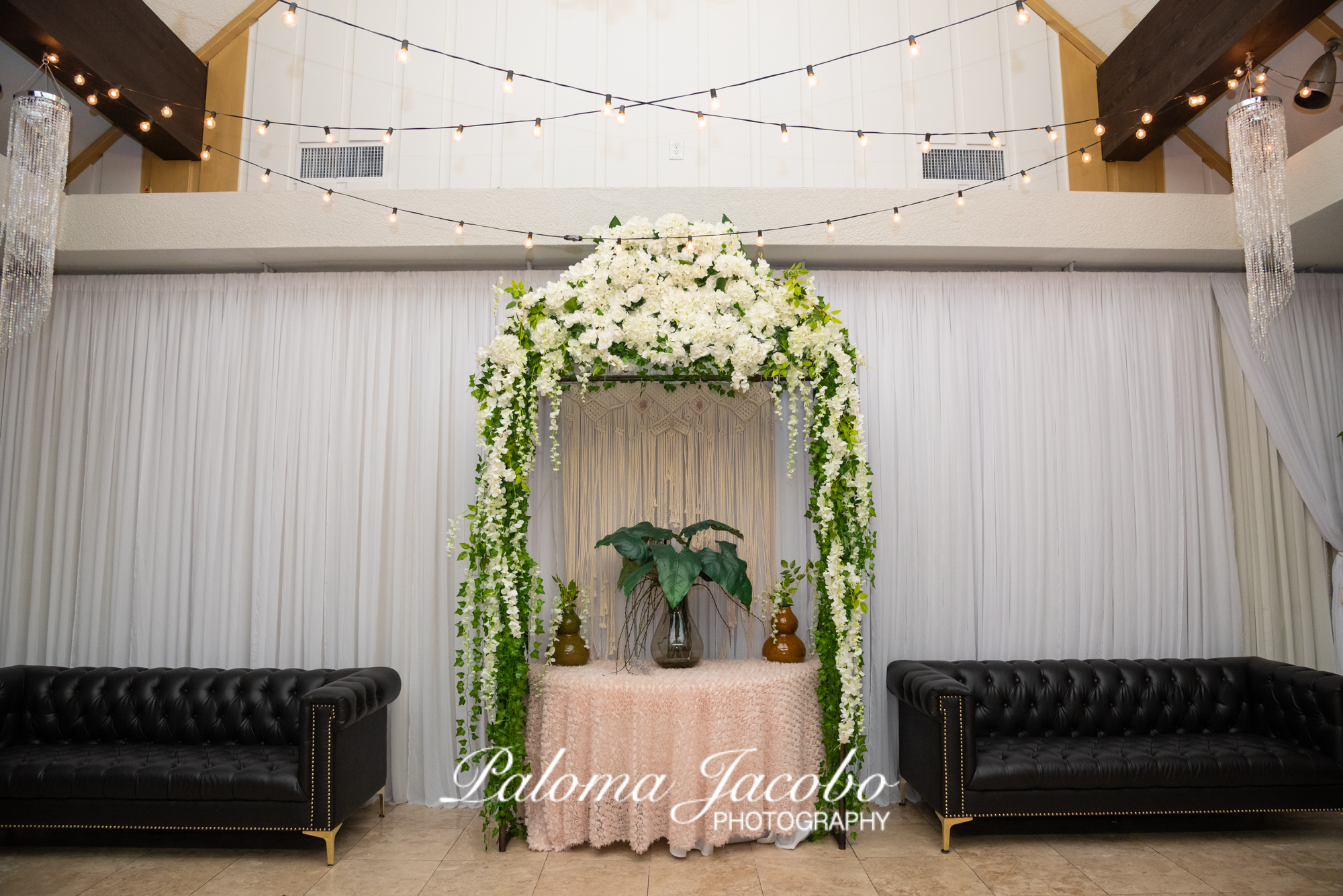 If you prefer booking everything separately I highly recommend hiring an event planner to help you and guide you throughout the whole process or at least for the day of the Quinceanera.
Hiring a planner will relieve the pressure of making sure that every vendor is doing what they are supposed to and that everything is running on time.
Another point to take into account is the Venue's location, you want to avoid having your guests and yourself driving around too much. I recommend choosing a Venue and Church that are not super far apart.
Because on the day of your Quinceanera you will want to to make the best use of your time. Remember you only have a limited number of hours so make the most of them!
Padrinos and Court
Now it is time to start thinking about your Padrinos and Court. I know some Quinceaneras have a lot of Padrinos and sponsors or you could have one set of Padrinos only "Padrinos de Honor".
I know some Quinceaneras have a lot of Madrinas and Padrinos offering to be sponsors. I know some Quinceanera's parents prefer to just pay for everything themselves. It is really up to the Quinceanera and her parents to decide on this subject.
You will need at least one Madrina and one Padrino, los "Padrinos de Honor".
Court
You also need to decide the kind of court you would like to have; Damas only, Chambelanes only or both. And how many Damas and Chambelanes you want to have in your court.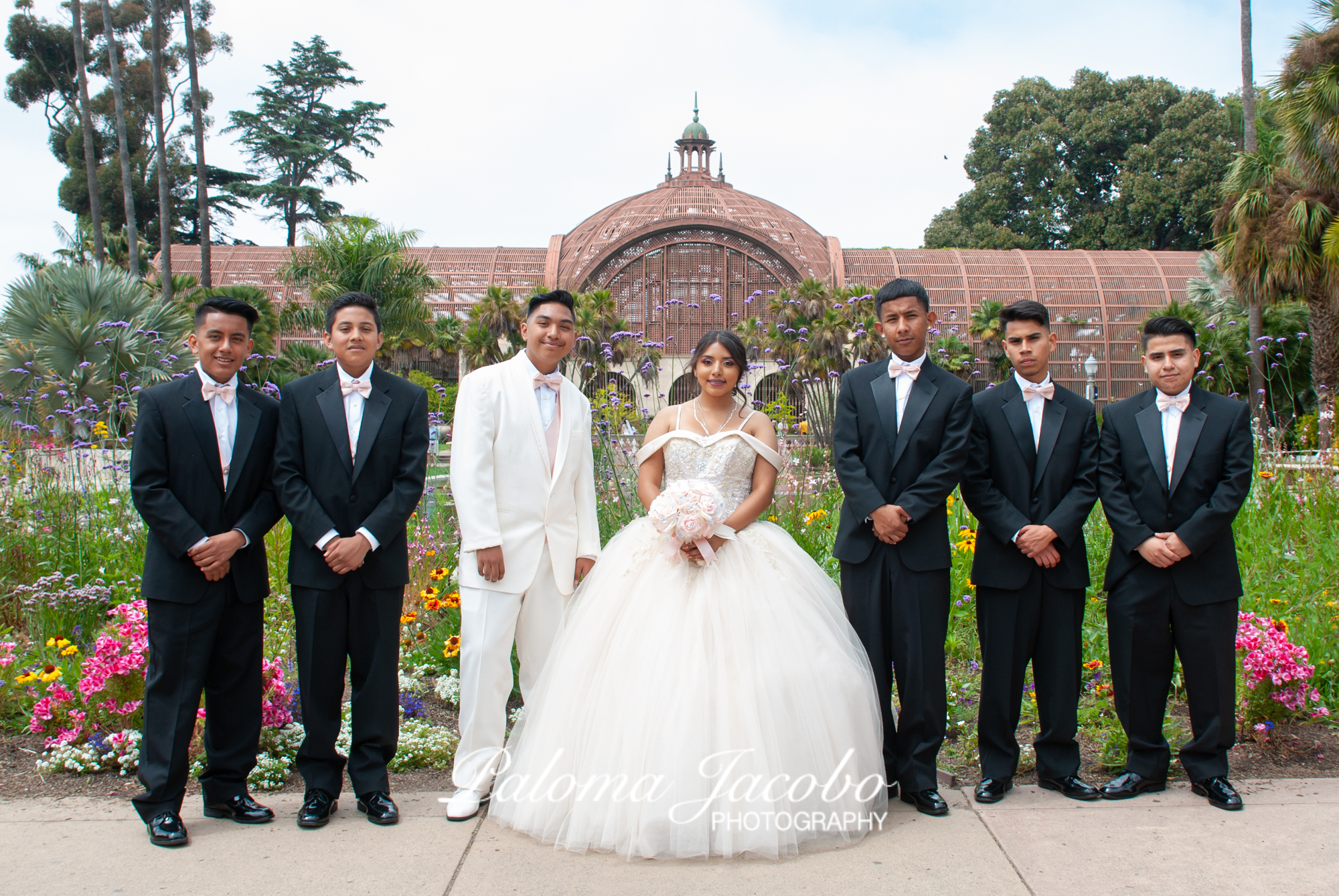 There is no rule dictating the number of Damas and Chambelanes or if you should have one or the other. I have seen Quinceaneras having no court at all so it is really up to you.
You can check out the following videos to see how Quinceanera parties look like with different courts:
Damas only
Click here to heck out the blog post or watch the video of the photo shoot with only Damas.
Chambelanes only
Click here to check out the blog post or watch the video of a Quinceanera dancing her Vals with Chambelanes only.
Damas and Chambelanes
Click here to check out the blog post or watch the highlights video of the Quinceanera party with 7 Damas and 7 Chambelanes.
Make a list of friends and/or family who could possibly be part of your court, keep in mind this is a big commitment. They will have to wear matching dresses and shoes, show up to the rehearsals, be ther for photo shoots, etcetera.
Vendor referrals
Finally start getting vendors referrals, start asking your family and friends if they have any recommendations and if you go to a Quinceanera and you see a vendor that you really like, ask for their info.
This is a great way to find vendors because you already know that they are professional and reliable.
I will go in more detail about all the vendors you need for your Quinceanera in the next blog of this How to Plan your Quinceanera series.
Please leave a comment if this content was helpful and share it!
Thank you and I hope you have a wonderful Quinceanera!